China News Service's exclusive interview with Calvin Choi: to build China's own world-class investment bank
On the occasion of celebrating 70th anniversary of the founding of the People's Republic of China, China News Service conducted an exclusive interview with Calvin Choi, the Chairman of AMTD Group. The news reported that Calvin has been leading AMTD to uphold Lion Rock's spirits from heart and transform AMTD into a full fledged financial institution. By empowering the interconnectivity of Mainland of China, Hong Kong and the Global markets, AMTD is aimed to become China's own leading international investment bank and striving for the better future of Hong Kong and great revival of the Chinese nation.
China News Service, or "CNS", is a state-level news agency with foreign reports as its main news business, and an international news agency with compatriots in Taiwan, Hong Kong and Macao, overseas Chinese and foreigners associated with them as its main service objects. On October 1st, 1952, named by Liu Shaoqi, CNS was sponsored and established by Chinese journalists and renowned overseas Chinese experts. Liao Chengzhi, former vice Chairman of the Standing Committee of the National People's Congress, is the founder and leader of China News Agency. CNS is the earliest Chinese online media in Asia. China News Weekly by CNS is one of the most well-known political weekly in China, and China News Jingwei is the new financial media platform of China News Agency.

"As a Hong Kong native, it is a great honor to witness the economic boom and the expansion in financial industry in China. And I feel a strong sense of mission and responsibility on my shoulders." Calvin Choi, Chairman and President of AMTD in Hong Kong, said in an exclusive interview with China News Jingwei.
Now under Calvin's lead, AMTD has grown to Asia's largest full-licensed independent investment bank in Hong Kong and the largest independent investment bank in Asia.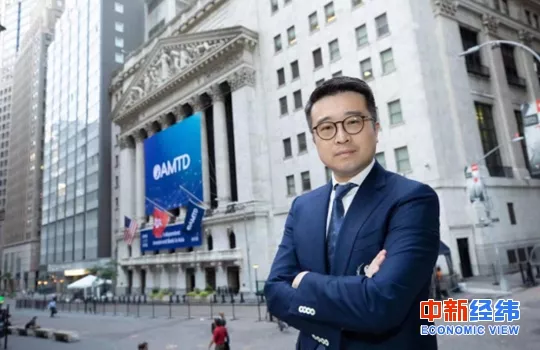 Great opportunities brought by China's rapid development
Every time Calvin Choi talks about his experience, he laments that he is benefiting from the huge opportunities brought by China's rapid development. Calvin Choi was born in Hong Kong in 1978, the year of China's reform and opening up. At the age of 12 in 1990, he moved to Canada with his family and studied in Toronto. Similar to the growth track of many young people in Hong Kong at that time, he studied hard at school and became an all-around "learning star". Before leaving Hong Kong, he was an all-round student scholarship winner of La Salle college. After going to Canada, he was admitted to the Crescent School, a famous local institution, and the University of Waterloo, which is famous for its innovative technology and mathematical economy. At that time, he wanted to be a professional accountant, but he also had different goals.
"I always kept an eye on China's development when I was studying in Canada and hoped to return to China to develop my own business." Although living in a foreign country, Calvin Choi always paid attention to China's development and changes. Since entering university, he made up his mind to return to the mainland to look for development opportunities after graduation, because he believed that the biggest development opportunity in the future lay in China.
When seeking the first summer internship at University, Calvin Choi made a surprising decision to leave Canada and come to Beijing to become a "Beijing Dreamer". Calvin Choi worked in the Beijing Branch of Arthur Andersen as an audit intern. After that, he came to Beijing to work in his every internship period, and started his ties with Beijing.
After Hong Kong's return in 1997, Calvin Choi was one of the earliest batch of Hong Kong people to engage in audit services in the mainland. He participated in the audit work of many domestic financial institutions and gradually participated in the reform and restructuring of Chinese financial institutions at that time. Before 2000, as a member of the main audit team, he participated in the audit of Minsheng Bank, which was founded in 1996. At that time, the total after tax profit of Minsheng Bank was less than 1 billion RMB, but now its total after tax profit is more than 50 billion RMB.
"This experience was very valuable to me. As a Hong Kong citizen, it is very fortunate for me to witness the rapid development of China's financial industry and the economic boom. And through these experience in China, I also gained a deeper understanding of China's development and strengthened my belief in China's future." Calvin Choi said.
After many years of auditing work, Calvin Choi transformed into an investment banker, entered Citibank, and began to participate in the restructuring and reform of a large number of financial institutions. He helped Chinese enterprises to go public in the international capital market and introduced international capital to help Chinese enterprises to expand internationally. Some famous deals led by Calvin are Kuwait Investment Authority's strategic investment in ICBC, Qatar Investment Authority's investment in CITIC Limited, Temasek's investment in China Minsheng Bank etc. In those years, Calvin has assisted many financial institutions and non-financial institutions to grow through capital operations, financing, expansion, and mergers and acquisitions.
"Add, Minus, Times, Divide" and Fintech genes
After continuous and in-depth communication with partners in Mainland China, Hong Kong and around the world, Calvin Choi realized the importance of the interconnectivity between global markets and the convenience brought by digital technology to people's lives. The information is more diverse and transparent, and users have greater power of discourse in the digital world.
Calvin Choi gradually came up with an idea to establish a new financial institution by means of financial technology combined with new methods, new thinking and new ways, to create a world-class investment bank of Chinese people, and to help more Chinese enterprises to go to the international market by using his capital market experiences accumulated over the years and rich domestic and foreign customer resources.
In his previous work, Calvin Choi met many family entrepreneurs in Hong Kong and Southeast Asia and accumulated rich experience in serving these family business groups. Li Ka Shing family's Cheung Kong Group was one of them. Founded in 2003 by CK Asset holdings and Hutchison Whampoa, AMTD stood for "Add, Minus, Times, Divide". At that time, the company's vision was to use technological innovation to change financial services, so that everyone could enjoy the convenience of financial technology. A few years ago, Calvin Choi successfully led the equity restructuring of AMTD, introducing diversified strategic shareholders including Morgan Stanley, L.R. Capital group, etc., and guided AMTD into a new era of development.
Today, AMTD's business covers several major sectors, including investment banking, asset management, insurance brokerage, new economic investment, virtual banking, digital technology, real estate development and management, etc. It is worth to point out that AMTD International, the investment banking arm of AMTD Group, is the only independent investment bank that is rooted in Hong Kong, based in Greater Bay Area and covering global markets with strong support from China. According to the Research Report of independent industry consultant CIC, in terms of both the total number and volume of HK and US IPOs completed, AMTD is the No.1 independent banking firm in Asia. And it is one of the few full-licensed financial institutions in Hong Kong.
In the past two years, AMTD has led a series landmark capital markets and advisory transactions for new economy, biotechnology companies, and Chinese regional banks. In the new economy and biotechnology sector, AMTD completed the listings of Xiaomi Corporation, Meituan Dianping, Meitu, Baby Tree, Tongcheng-Elong, Maoyan Entertainment, Weimob, Fosun Tourism etc. In the financial institution sector, AMTD led the listings of Bank of Qingdao, Guangzhou Rural Commercial Bank, Bank of Tianjin, Zhongyuan Bank, Jinshang Bank, and Bank of Jiangxi etc.
Calvin recalled that when AMTD was just restructured, its net profit was only around HK$20 million. After several years of rapid development, the net profit of AMTD in 2018 was close to 900 million HKD, and it is expected to reach 1.05-1.1 billion HKD this year, with a net asset value of nearly 20 billion HKD.
On August 5th this year, AMTD International (NYSE: HKIB) was officially listed and traded on the New York Stock Exchange, marking the first IPO by a Hong Kong financial institution in NYSE's over 200 years history. The stock code, HKIB, stands for the Hong Kong Investment Bank. "My future goal is to build AMTD as a 'century-old enterprise' as well as a Chinese leading investment bank. In the future, AMTD will better play the role of a Super Connector to connect enterprises, investors and the international capital market, and help more Chinese enterprises continue to innovate, grow and reach its global layout. " said Calvin Choi.
Calvin Choi at the Great Hall of the People in Beijing
Establish a school to prepare talents for "Greater Bay Area"
The 2017 work report of the government pointed out that it is necessary to promote the deepening cooperation between the mainland and Hong Kong and Macao, study and formulate the development plan of the urban agglomeration in the Greater Bay Area of Guangdong, Hong Kong and Macao, give full play to the unique advantages of Hong Kong and Macao, and enhance its position and function in the national economic development and opening up. So far, Guangdong Hong Kong Macao Bay Area has been officially promoted as a national strategy.
In Jan. 2019, AMTD, together with Royole, iFlytek and other leading new economy companies, jointly established the Greater Bay Young Entrepreneurs Association ("GBYEA"), Calvin was elected as the first chairman of the association. At the same time, initiated by Calvin Choi, "Greater Bay Entrepreneurship day" was successfully held on World Economic Forum's annual meeting in Davos. The event created more development opportunities for more young entrepreneurs in the bay area, improved the international influence of innovative enterprises in the bay area, and helped them to tap and develop in the cooperation opportunities around the world.
"We are all looking forward to a more integrated Bay Area in the future and becoming a world-class Bay area." Calvin Choi is full of faith for the future. He said that at present, regional transportation has been fully opened, and the access to basic financial licenses such as insurance is being accessible. We are looking forward that more financial service licenses will be granted in the future. The Greater Bay Area will open up a new world for financial services providers like us. As the implementation of the policy, this Greater Bay Area will be more integrated with greater business opportunities in more scenarios.
AMTD has already begun to lay out the future development. This year in May, AMTD and Xiaomi announced that the jointly established entity, Insight Fintech HK Limited, successfully secured a virtual banking license granted by the Hong Kong Monetary Authority ("HKMA"). Calvin pointed out that with the advent of the digital age, aimed at Asia and the world, financial institutions should be more prepared to integrate finance and technology, bridge China and the global markets, and build a world-class innovative financial institution that belongs to ourselves.
When talked about the landscape of financial institutions in Greater Bay Area, Calvin indicated that it would be crucial to have a deep understanding of citizens' custom and to recognize their needs for financial products and risk tolerance. It was very important to find suitable partners as well. The era for financial institutions to work alone has passed. Cooperation is more popular nowadays. No matter it is cross-border or cross-regional, every participant in the market can empower each other within the ecosystem. Only then financial institutions could have a more complete understanding in customer needs and provide customers with more thorough financial services.
When it comes to the future plan, Calvin Choi firmly believes that talents would be the most important resources to corporations. Last year, AMTD Group and the Hong Kong Polytechnic University (PolyU) jointly launched Hong Kong's first university-industry collaborated Financial Technology (FinTech) centre. The centre was established to promote the innovation and development of Hong Kong and Greater Bay Area, and it is now enrolling the first doctoral student in fintech. In addition, AMTD and its partner are negotiating with an European private school to open a new campus in Greater Bay Area. The new campus will provide better international education and cultivate more talents who will meet the needs of the globe for our country.
"This year marks the 70th anniversary of the founding of the People's Republic of China, and my 40 years of life experience also coincides with the great achievements of China's 40 years of reform and opening up. I am very grateful that I live in an era full of hopes and opportunities, and I live in an increasingly powerful China. I am native to Hong Kong. I love Hong Kong and my motherland, China. I hope to continue to devote efforts to contribute to China's and Hong Kong's development and prosperity. I am also willing to create more opportunities for the next generation." Calvin Choi said that in the future, he would continue to strengthen cooperation between enterprises in Greater Bay Area and Mainland of China, so as to provide opportunities for Hong Kong talents to study and exchange work in the mainland. He hoped that more Hong Kong youth can also seize the opportunities for innovation and entrepreneurship in the Greater Bay Area of Guangdong, Hong Kong and Macao, and contribute to China's construction and innovation.