AMTD Completes the Hong Kong IPO of XD Inc.
On December 12th, 2019, XD Inc. ("XD" or "the Company", Stock Code: 2400.HK), a leading game developer and operator in China, was successfully listed on the main board of Hong Kong Stock Exchange. AMTD acted as a Joint Lead Underwriter, Joint Bookrunner and Joint Lead Manager of XD's IPO, helping the Company successfully go public in Hong Kong. Such transaction marks the 20th IPO issuance of AMTD in 2019, demonstrating AMTD's strength to offer professional services to Chinese leading companies in the international financial markets.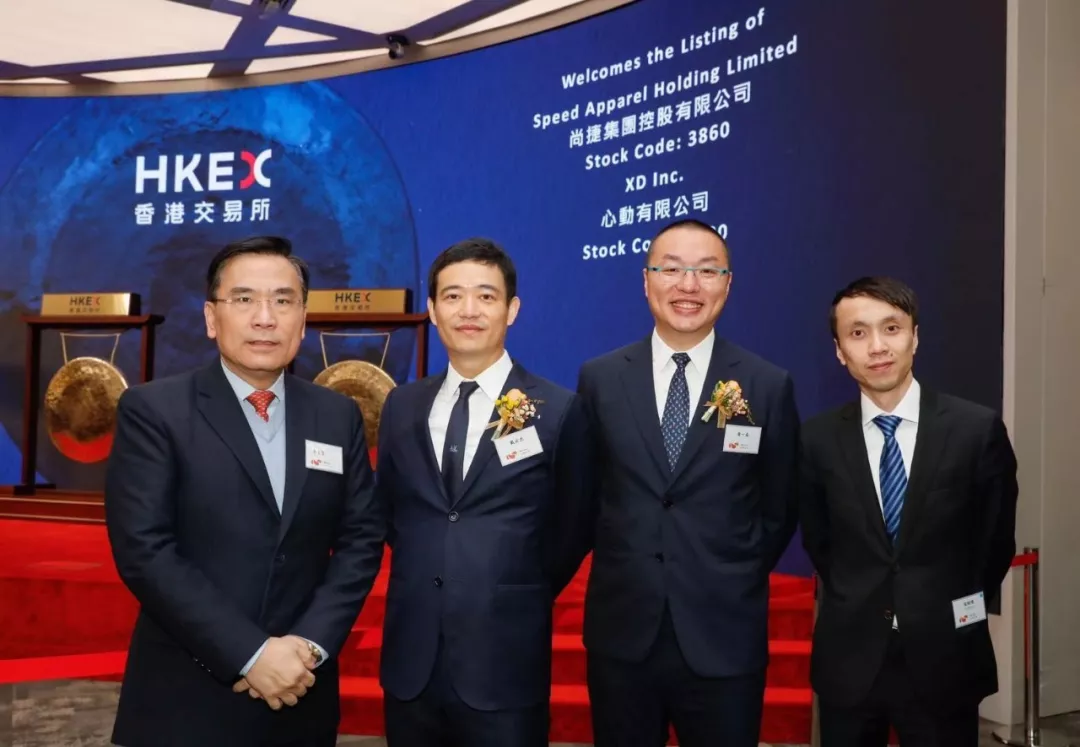 From left: Mr. Sin Yat-Kin, Chief of Staff of AMTD Group; Mr. Yunjie Dai, Co-founder and President of XD; Mr. Yimeng Huang, Co-founder and CEO of XD; Mr. Ming Lin Cheung, Managing Director of Capital Markets & Advisory of AMTD International
Headquartered in Shanghai, XD develops and operates quality games in China and overseas, including TapTap, a leading game community and platform in China. Among PRC game operators who earned a majority of game operating revenue overseas in 2018, XD ranked fifth in terms of revenue from mobile games. And TapTap was the largest game community and platform in China by average MAUs in 2018. As of May 31, 2019, over 84% of TapTap's users were born after 1990, who grew up with improved living standards and better education. They are typically internet savvy and more willing to spend on games.
XD offered 63,600,000 shares globally with an issue price of HK$ 11.10 per share. Four cornerstone investors, namely Bytedance, miHoYo, Lilith Mobile Company and Nikkigames HK subscribed at the offer price within the International Placing. The Hong Kong Public Offering was moderately oversubscribed by 11.19 times. AMTD contributed a number of quality orders, which laid a solid foundation for the success of XD's IPO.
Previously, AMTD has helped leading Chinese companies in the gaming industry such as CMGE (302.HK), China's largest independent mobile game publisher, and 7Road Holdings (797.HK), China's No.1 web game developer to list in Hong Kong. In addition, AMTD has completed a number of Hong Kong and US IPOs for various industry-leading companies in China since 2019, including China Feihe (6186.HK), the largest and most highly recognized Chinese brand infant milk formula company; 36Kr (NASDAQ: KRKR), China's prominent brand and a pioneering platform dedicated to serving New Economy participants, ECMOHO (NASDAQ: MOHO), No.1 non-medical health and wellness integrated solution provider in China, FangDD (NASDAQ: DUO), China's largest online real estate marketplace; Henlius (2696.HK), a leading bio-pharmaceutical manufacturer in China; AMTD International (NYSE: HKIB), a subsidiary of AMTD Group and the No.1 independent investment bank in Asia. AMTD International is not only the first Hong Kong financial institution that is listed in the US capital market, but also the only Asian investment bank listed in the US that was founded by Chinese. AMTD also completed IPOs of Jinshang Bank (2558.HK), the first listed bank in Shanxi Province; Edvantage (382.HK), the largest private tertiary education group for business in the Greater Bay Area; IVD Medical (1931.HK), a leading distributor in the PRC IVD market; Impro (1286.HK), a global top 10 manufacturer of high-precision, high-complexity and mission-critical casting and machined components; Duiba (1753.HK), China's leading user management SaaS provider for online businesses and interactive advertising platform operator; Koolearn (1797.HK), a leading online extracurricular education service provider in China; Up Fintech (NASDAQ: TIGR), a leading online brokerage firm; IntelliCentrics (6819.HK), a leading medical technological platform; Aoyuan Healthy Life (3662.HK), a renowned property management service and commercial operational service provider; Maoyan Entertainment (1896.HK), the first Hong Kong-listed company in China's Internet entertainment service industry; Weimob (2013.HK), the first Hong Kong-listed new economy SaaS company; Weigang (1845.HK), China's leading comprehensive hazardous waste incineration turnkey solution provider.