AMTD Completes US IPO of 36Kr — a pioneering platform in China New Economy ecosystem
On November 8, 2019, EST, 36Kr Holdings Inc. ("36Kr" or "the Company", Ticker: KRKR), a prominent brand and a pioneering platform dedicated to serving New Economy participants in China, was successfully listed on Nasdaq, becoming China's first New Economy services company listed overseas. AMTD acted as a lead underwriter and Joint Bookrunner of 36Kr's US IPO, assisting 36Kr to successfully land in the international capital market. This is the 17th IPO in 2019 and the 24th New Economy IPO completed by AMTD to date, demonstrating AMTD's strength to offer professional services to leading New Economy enterprises from China in the international financial market.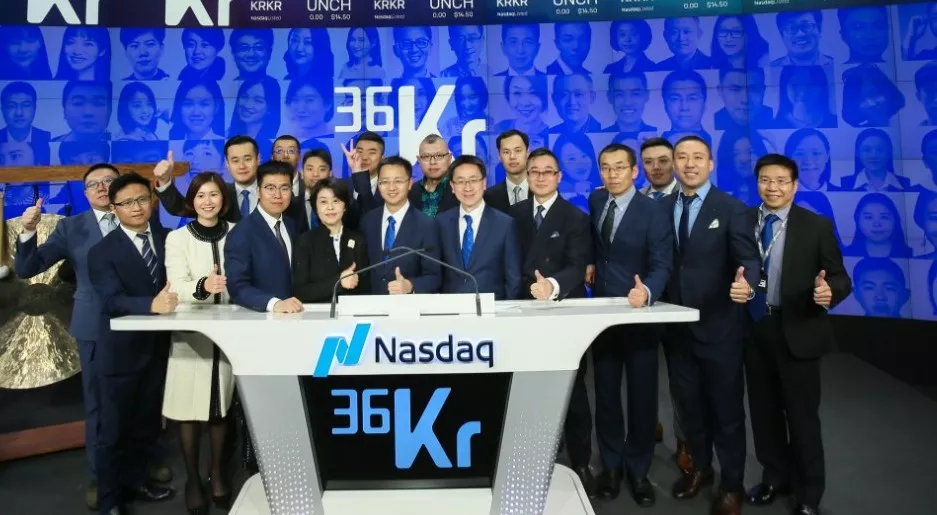 Sidney Ku, CEO of AMTD Strategic Capital Group, attended the listing ceremony
36Kr offered a total of 1,380,000 ADSs with the issue price at US$14.5 per ADS. 36Kr plans to use the net proceeds of this offering to further enhance its content offerings, expand its business service scope, client base and service depth, improve its data analytics and technological capabilities, and supplement its working capital etc. The shareholders of 36Kr include Ant Financial, China Prosperity Capital, Matrix Partners China and other leading investment institutions. The IPO also attracted strategic investment from China's leading Internet companies including Xiaomi and DiDi.
With the mission to empower New Economy participants to achieve more, 36Kr is a prominent brand and a pioneering platform dedicated to serving New Economy participants in China, including startup companies, TMT giants, traditional companies, institutional investors, local governments and individuals. Through expanding business model and providing customized services, 36Kr has improved the linkage and integration between communities, facilitated the acceleration of flow of information, capital, talents and business opportunities, and thus promoted the rapid, stable and sustainable development of New Economy. In the past nine years since inception, with a massive database covering over 800,000 enterprises, 36Kr mainly provides online advertising services, enterprise value-added services and subscription services, linking and serving New Economy communities in various forms including clubs, consulting, integrated marketing and offline events.
Just as 36Kr with the mission to empower New Economy participants to achieve more, AMTD has also acted as a "Super-Connector" to establish a full-service platform for New Economy companies to connect and cooperate with each other and enter global capital markets. AMTD has competed 24 IPOs for New Economy companies so far, including Xiaomi Corporation (1810.HK) and Meituan Dianping (3690.HK), the only two Hong Kong IPOs in which the issuers adopted weighted voting right structures, CMGE (302.HK), which received the largest amount of retail subscription in Hong Kong market so far this year, as well as landmark US IPOs in recent two years, including FangDD (Nasdaq: DUO), the first listed SaaS company in Industrial Internet, 360 Finance (Nasdaq: QFIN), the first listed Fintech company backed by Internet giants, UP Fintech (Nasdaq: TIGR), a leading online broker in a new era, Weidai (NYSE: WEI), the first listed Chinese company focusing on car loans, and X Financial (NYSE: XYF), a leading finance technology company in China.