Asian Financial Forum | Michelle Li, CEO of AMTD Digital: Unleashing Fintech Creativity
The 13th Asian Financial Forum was held at the Hong Kong Convention and Exhibition Centre in Wan Chai on 13-14 January 2020. The theme of this year's forum, "Redefining Growth: Innovation, Breakthrough, Inclusiveness", bring together influential people in the global financial and business sectors to explore the latest developments and trends in the Asian market. A special FintechHK zone was added to this year's forum to bring together fintech companies from Hong Kong and elsewhere. The innovation dialogue and the fintech zone added to last year's forum were also reintroduced.
On January 14, at the Asian Financial Forum, Michelle Li, CEO of AMTD Digital attended the forum "Unleashing Fintech Creativity: Virtual Banking and Trade Finance" hosted by Cyberport and delivered a speech, comprehensively introducing the development strategy and advantages of AMTD Digital. Dr. George Lam, Chairman of Hong Kong Cyberport, Rockson Hsu, CEO of ZA Bank, and Simon Loong, Founder and CEO of WeLab attended the forum.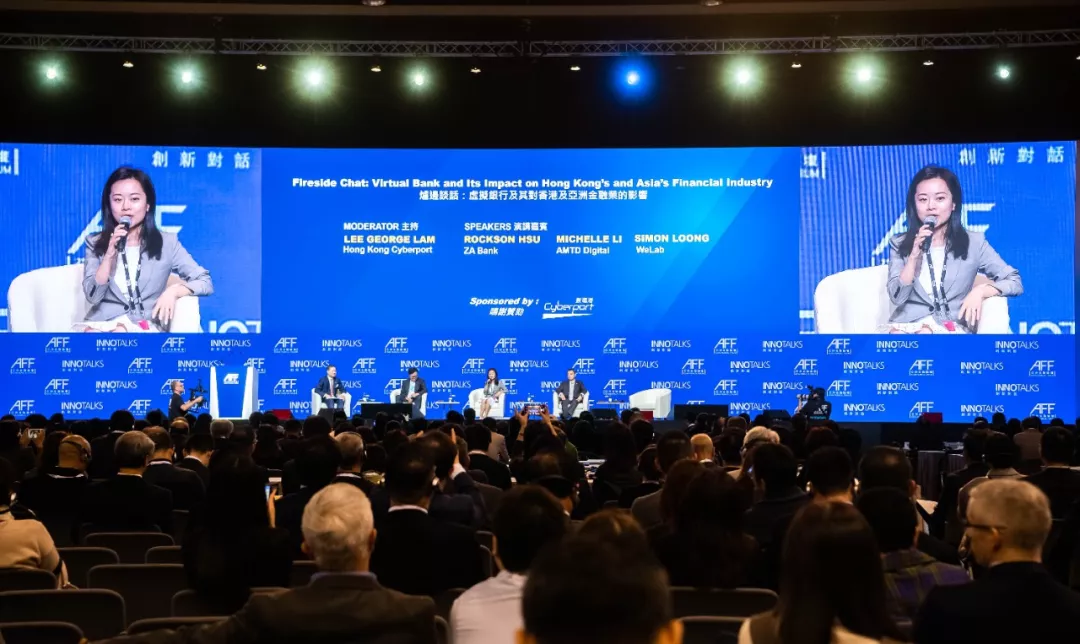 Dr. George Lam, Chairman of Hong Kong Cyberport made the first welcome speech and hosted a fireside chat titled "Development Opportunities, Challenges, and Potential Collaboration Opportunities in the Virtual Banking Industry". Dr. Lam said the digital transformation was an irreversible trend in all sectors of the economy. The line between financial institutions and technology companies is blurring, with many technology companies moving into finance and financial institutions placing a high value on technology. The Cyberport community now has more than 1,500 technology start-ups, about 400 of them are financial science and technology enterprises, which represent two-thirds of the total number of Hong Kong's financial technology start-ups. In terms of talent development, Cyberport has worked with the government to provide fintech related training to active financial practitioners. More than 30 training programmes have been conducted for more than 1,500 participants. The first courses will be launched in early February. The development of the Greater Bay Area has brought great opportunities to Hong Kong. The Greater Bay Area currently has a population of more than 70 million, same GDP size as Australia's but growing at a faster pace, and the Hong Kong Monetary Authority has signed a Memorandum of Understanding with Shenzhen's local financial regulatory authority to boost financial services and fintech innovation.
Cyberport, wholly owned by the government of HKSAR, aims to support start-ups, promote digital technology and create the new economic dynamic for Hong Kong. Cyberport has been striving to nurture young people, entrepreneurs and start-ups; to promote collaboration and create opportunities by linking strategic partners and investors; at the same time to speed up the enterprise and the application of digital technology in small and medium-sized enterprises. AMTD has established a deep partnership with Hong Kong Cyberport, and is committed to contributing the establishment and development of Hong Kong's innovation and technology ecology, the reform and investment in talent education, and the construction and promotion of Hong Kong's international science and innovation center. With the approval of the HKSAR government, Calvin Choi, the Chairman and CEO of AMTD Group, has been appointed as Cyberport Advisory Board Member to advise on the strategic direction of Cyberport.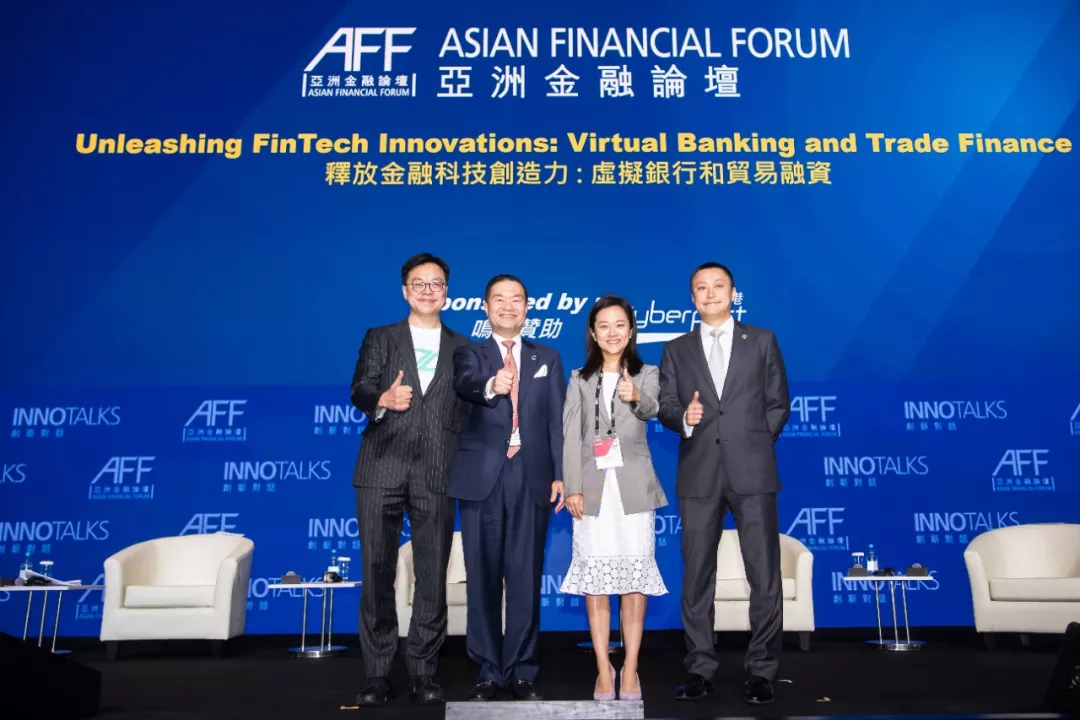 Michelle Li, CEO of AMTD Digital, Dr. George Lam, Chairman of Hong Kong Cyberport, Rockson Hsu, CEO of ZA Bank, and Simon Loong, Founder and CEO of WeLab
During the fireside chat, Michelle Li, CEO of AMTD Digital, said that AMTD Digital aims to build a one-stop, cross-market, multi-product, easy-to-use Digital financial services platform to serve Asian consumers and small to medium-sized enterprises, and integrate Digital banking, Digital insurance, payment and other licensing businesses in Hong Kong and southeast Asia. Among them, Airstar Bank relies on AMTD and Xiaomi, which integrates Xiaomi's strong R&D strength in global intelligent hardware and Internet, huge user base and multiple ecosystem resources. Hardware brings data, and data is the new synergy. In the new era of digital banking, with data, we can better understand our customers and thus provide proactive banking services, as opposed to the more reactive, lagging banking services. AMTD and Xiaomi will build on Xiaomi's huge customer base of about 400 million followers around the world to expand their financial businesses. AMTD Digital hopes to build the bank brand that consumers love and trust, serve the crowd that traditional banks would not cover, and allow bank financial services become more proactive, affordable and personalized. In addition to Hong Kong, AMTD Digital also attaches great importance to the huge opportunities brought by the connectivity between the Greater Bay Area and the southeast Asian market. Hong Kong is the gateway for Chinese enterprises to step out of China and toward southeast Asia. AMTD Digital recently teamed up with Xiaomi, SP Group and Funding Societies to apply for a Digital banking license in Singapore, hoping to further establish the digital financial services in the Greater Bay Area and Southeast Asia. In the end, Michelle Li concluded that the key to the success of virtual banking is transparency, initiative, and emotional connection with users.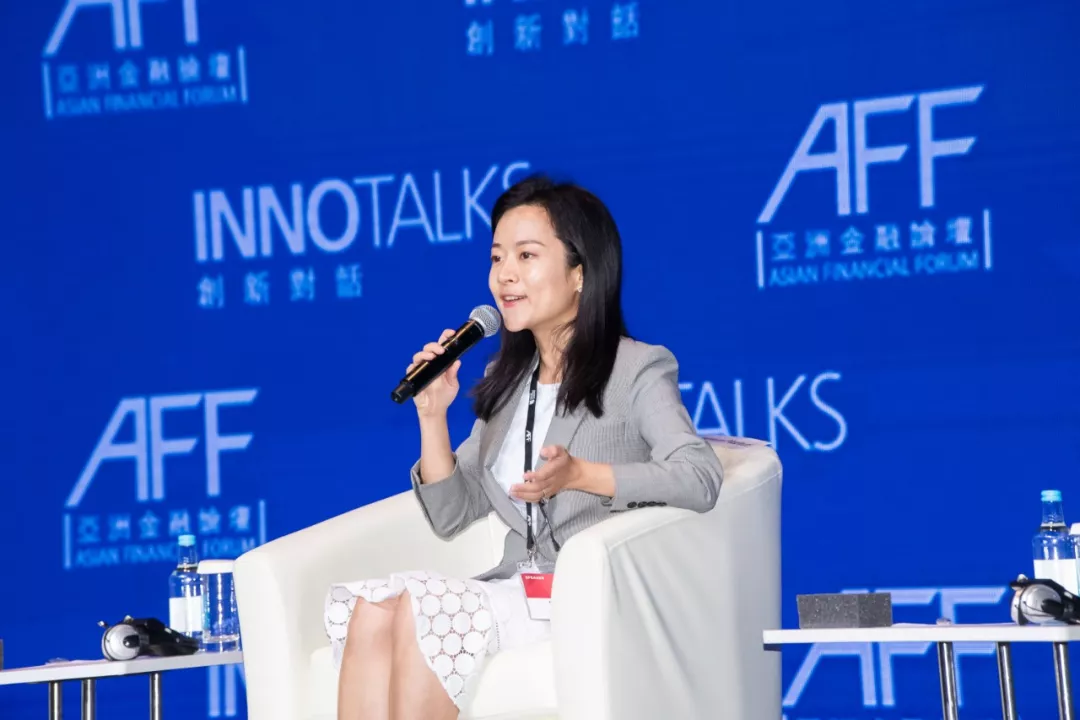 Rockson Hsu, CEO of ZA Bank, and Simon Loong, Founder and CEO of WeLab also separately introduced the achievements of ZA Bank and WeLab in fintech
AMTD Digital is the digital financial service platform of AMTD Group and the core driving engine of AMTD SpiderNet. It covers four major sectors: Digital finance, Digital marketing and data intelligence, Digital network and collaboration, and Digital investment. AMTD SpiderNet, with its diversified business network and huge customer base, forms a "multi-phase" relationship network, which combines different customers, shareholders, partners and invested companies to maximize the ecological network effect, to exchange and cooperate, empower synergy and finally gain a win-win development. In AMTD SpiderNet, AMTD Digital plays an important role as the core driver. With its unique Digital technology, AMTD Digital solves the difficulties and problems encountered by different customers in business development and international layout through resource linkage, provides customized Digital financial solutions, Digital marketing and data intelligent support, and Digital network collaborative services to help customers realizing the Digital leaping development.
The year 2020 will be an important year for the development of fintech in Hong Kong, since the eight virtual banks being licensed last year will gradually commence in operations. The industry's increased acceptance of Open Application Interfaces (APIS) will lead to more unique products and innovative customer experiences. At the same time, fintech also removes barriers to cross-border transactions and promotes international trade. AMTD has always attached great importance to the transformation and power of scientific and technological innovation, and is committed to becoming a bridge of communication and cooperation between the world's leading fintech enterprises, internet technology enterprises and Asian capital markets. AMTD Digital will proactively invest and contribute in the fintech in Hong Kong, the Greater Bay Area and even the international financial technology construction.