Media Focus: Asia's Largest Independent Investment Bank, AMTD International (NYSE: HKIB) Issued US$300 Million Secondary Offering after Listing on NYSE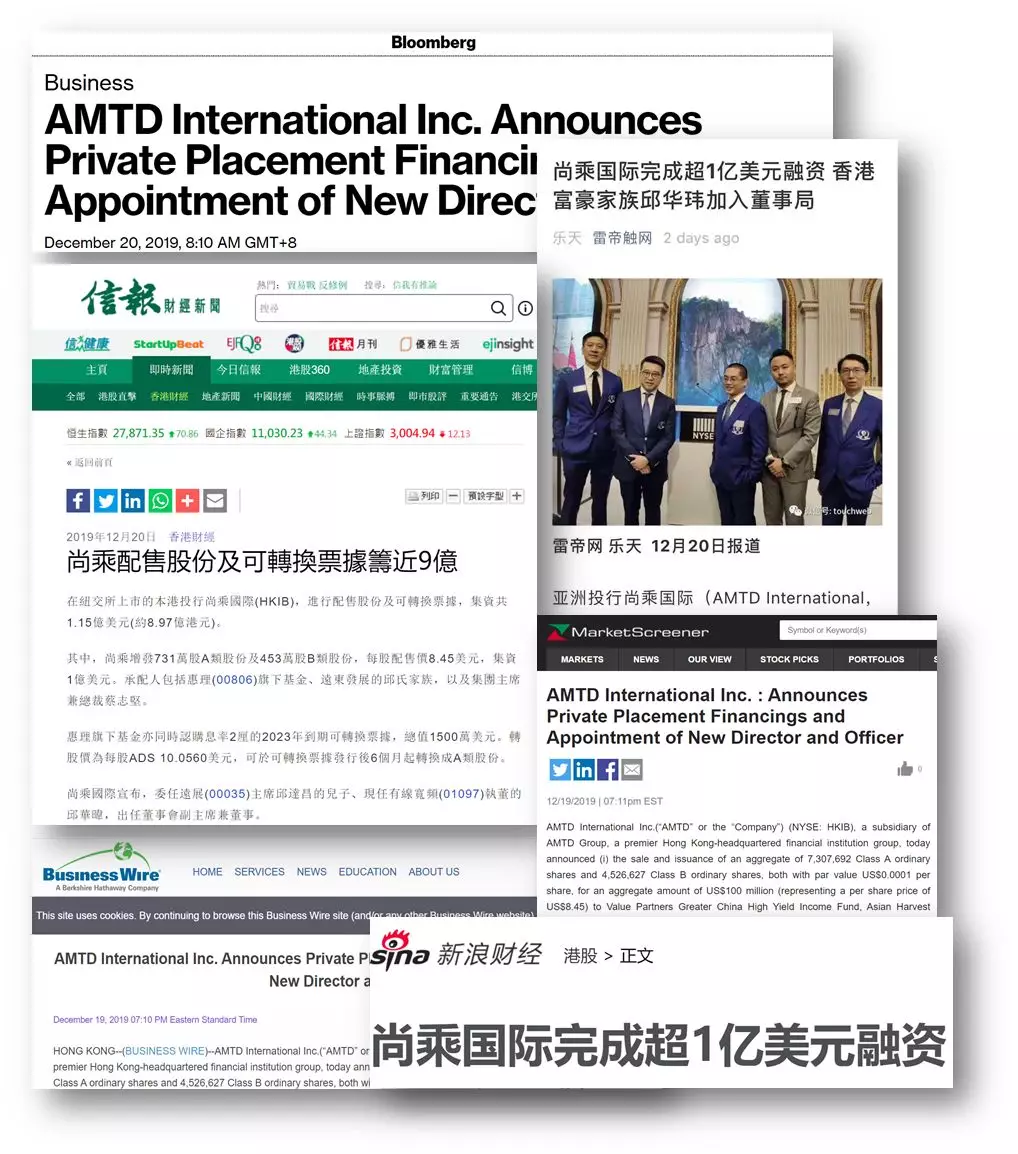 From Leinews.com, a cutting-edge information platform for China's innovative Internet:
The Asian investment bank AMTD International (NYSE: HKIB) announced today that it issued additional 7,307,692 Class A ordinary shares and 4,526,627 Class B ordinary shares, for an aggregate amount of US$100 million representing a per share price of US$8.45, and a targeted US$15 million convertible note due 2023.
The two transactions raised a total of US$115 million. Among them, the convertible note has a coupon rate of 2.0% per annum, and can be converted into Class A ordinary shares at US$10.0560 per share any time after six months of issuance. If not exercised, the convertible note will be due on June 2023.
This is a new financing transaction on international capital market after AMTD International was listed on NYSE raising US$200 million in August 2019. AMTD International is the first Hong Kong financial institution listed in the United States. It is also one of the few Chinese stocks which completed the secondary offering in less than six months post IPO with secondary offering share price higher than the IPO offer price recently, others include Pinduoduo, Luckin Coffee, and 360 Finance. International capital market recognizes the long-term bullishness of AMTD International from its ability to complete its IPO in short term and issue secondary offering with a higher price than the IPO offer price.
On December 19, 2019, the closing share price of AMTD International was US$8.94 (IPO offer price was US$8.38 per share and secondary offering price was US$8.45 per share), and its market capitalization was US$2.062 billion (approximately HK$16 billion).
Participated in the Listings of Xiaomi and Meituan
AMTD International is an Asia's independent investment bank, one of the largest independent asset management companies in Asia, and also an investment institution in the financial and new economic fields, with business in investment banking, asset management, and strategic investment.
The traditional investment banking sector is dominated by U.S. and European investment banks (such as Goldman Sachs and Morgan Stanley etc.). In the past decade, with a large number of state-owned enterprises listed, state-owned investment banks (such as CICC, CITIC Securities etc.) also increased their market shares by taking advantage of their shareholder backgrounds. In recent years, the overseas financing of Chinese companies (mainly HK IPO and US IPOs, bond issuance etc.) is basically advised by foreign investment banks and state-owned investment banks.
AMTD International has made tremendous progress in recent years, and completed the HK IPO under "Weighed Voting Rights" (WVR) structure such as Xiaomi Corporation and Meituan Dianping. Other completed HK and US IPO of leading companies in new economic sector include Maoyan Entertainment, Tongcheng-Elong, 360 Finance, Koolearn Technology, CMGE, Fangdd.com and 36 Kr.
AMTD International completed overseas financing of PRC regional banks such as Bank of Qingdao, Bank of Tianjin, Guangzhou Rural Commercial Bank, ZhongYuan Bank, Jiangxi Bank, Jinshang Bank and Bank of Guizhou as Joint Global Coordinator, advising nearly all PRC regional banks' HK IPO in recent years. In 2019, AMTD acted as the only Joint Global Coordinator (the most senior role in underwriting) of the HK IPOs of Bank of Guizhou and Jinshang Bank, serving companies to successfully land on the international capital market.
AMTD International also completed the IPOs of leading companies in various industries including Feihe Dairy, Fosun Tourism, Shanghai Henlius Biotech, Impro Precision, Aoyuan Healthy Life, and China Logistics Property.
Calvin Choi, Chairman and CEO of AMTD International, said that AMTD International has established its unique AMTD SpiderNet ecosystem. With its diversified business network and huge client base, it has formed a "multi-phase" relationship network, combining different customers, shareholders, partners and portfolio companies to maximize the ecological network effect, to exchange and cooperate, empower synergy, and finally gain a win-win development.
Diversified shareholder structure: Hong Kong tycoon families and tech giants
AMTD International has a rich and diverse shareholder structure, including CK Hutchison Holdings of Li Ka-shing family, Peter Lee Ka-Kit, Chairman of the Henderson Land Group, family of David Tan Sri Dato Chiu, Chairman of Far East Consortium, family of Lee Seng-Huang, Chairman of Sun Hung Kai & Co., family of Lo Yuk-Sui, Chairman of Regal Hotels Group, Francis Pak To Leung, "Father of Red Chips", and George Ching Cheong Chan, Co-Founder of STAR Group and PCCW.
Shareholders of AMTD International also include Value Partners, the largest asset management company in Hong Kong, Morgan Stanley Private Equity (MSPE), Chinese TMT leaders and new-economy companies including Xiaomi Corporation, Tongcheng-eLong, and Maoyan Entertainment.
Along with the private placement and the issuance of convertible note, AMTD International also announced the appointment of Andrew Chiu, the third generation successor of Hong Kong tycoon Chiu family of Far East Consortium, as a new director and vice chairman of the board of directors.
Andrew Chiu is grandson of Deacon Chiu, Founder of Far East Consortium and former Chairman of Asia Television, the only son of Tan Sri Dato David Chiu, Chairman of Far East Consortium (SEHK:35) and Vice Chairman of All-China Federation of Industry and Commerce, and the third-generation successor of Chiu family. Andrew Chiu also serves also an executive director of the board at i-Cable Communications (SEHK: 1097), whose primary shareholders include Chiu family and family of Henry Cheng and Adrian Cheng, another Hong Kong tycoon of New World Development and Chow Tai Fook (Holding). In addition, the wife of Andrew Chiu is Sabrina Chao, granddaughter of T.Y. Chao, one of the "Four Lords of Ships" in Hong Kong together with Pao Yue-kong, Tung Chao Yung (father of Tung Chee-hwa, former Chief Executive of HKSAR), and Frank Tsao. Sabrina is also Chairman of Wah Kwong Maritime.
According to public news, AMTD Property Development Group, a subsidiary of AMTD Group, which focuses on real estate development, investment and operation, recently announced that it has joined hands with Dorsett Hospitality International, a subsidiary of Far East Consortium, to complete the comprehensive acquisition of Oakwood Premier Serviced Apartment in OUE Downtown, a landmark building in Singapore.
AMTD International has also provided services many times for the capital market transactions of Far East Consortium, New World Development, Sun Hung Kai & Co., Regal Hotels Group and other Hong Kong tycoon and blue-chip enterprises.
AMTD Group is more than an investment bank
AMTD Group, the holding parent company of AMTD International, was founded by CK Hutchison Holdings (previously Cheung Kong Holdings and Hutchison Whampoa) in 2003, with businesses in investment banking, asset management, strategic investment, virtual banking, insurance brokerage, etc. and non-financial services areas to include real estate development and hospitality, education, innovative technology, and the digital economy.
AMTD is not only an investment bank, but also has strategically expanded to the area of Fintech. Moreover, it cross-borders into other diversified businesses including real estate development and hospitality, education, innovative technology and the digital economy.
•In May 2019, Airstar Bank, a joint venture established by AMTD Group and Xiaomi Corporation, obtained one of the only eight virtual banking licenses granted by the Hong Kong Monetary Authority, and is expected to launch its business soon;
• Calvin Choi, Chairman and CEO of AMTD Group, is Member of Hong Kong Cyberport Advisory Panel, and Director of ASEAN Financial Innovation Network which was co-established by the Monetary Authority of Singapore, the World Bank and ASEAN Bankers Association. Calvin is also a Young Global Leader selected by World Economic Forum;
• AMTD Group has also developed across diversified areas and strategically expanded into real estate development and hospitality, education, innovative technology and the digital economy. AMTD Property Development Group acquired Oakwood Premier Serviced Apartment in OUE Downtown, a landmark building in Singapore, and renamed it as Oakwood Premier AMTD Singapore;
• The education sector under AMTD Group participated in the investment into the international development (outside the UK) of Charterhouse School, one of the nine public schools in the UK;
• AMTD Digital, a subsidiary of AMD Group focusing on digital finance, digital accelerators and new technology incubators, is also undergoing spin-off and a new round of financing as reported.