AMTD Digital Announced Strategic Acquisition of PolicyPal
AMTD Digital, the digital finance one stop platform arm of AMTD Group and the core engine of the AMTD SpiderNet, announced that it will acquire a controlling stake of PolicyPal, a company licensed by the Monetary Authority of Singapore,and the first graduate of MAS fintech regulatory sandbox, which deepens the company's plan to build a Southeast Asian Fintech platform headquartered in Singapore. This acquisition is pending the approval by the Monetary Authority of Singapore. After the acquisition, PolicyPal will become a member company under AMTD Digital, and using its digital insurance broker license granted by the Monetary Authority of Singapore, as well as acting as AMTD Digital's operating vehicle to develop and expand in the Southeast Asia insurtech sector, and in collaboration with AMTD's insurance brokerage company - AMTD Risk Solution, Hong Kong's largest corporate insurance brokerage, drive the innovative development of Asia's insurtech space, and promote an inclusive, green, technological, and professional online insurance service and risk management experience.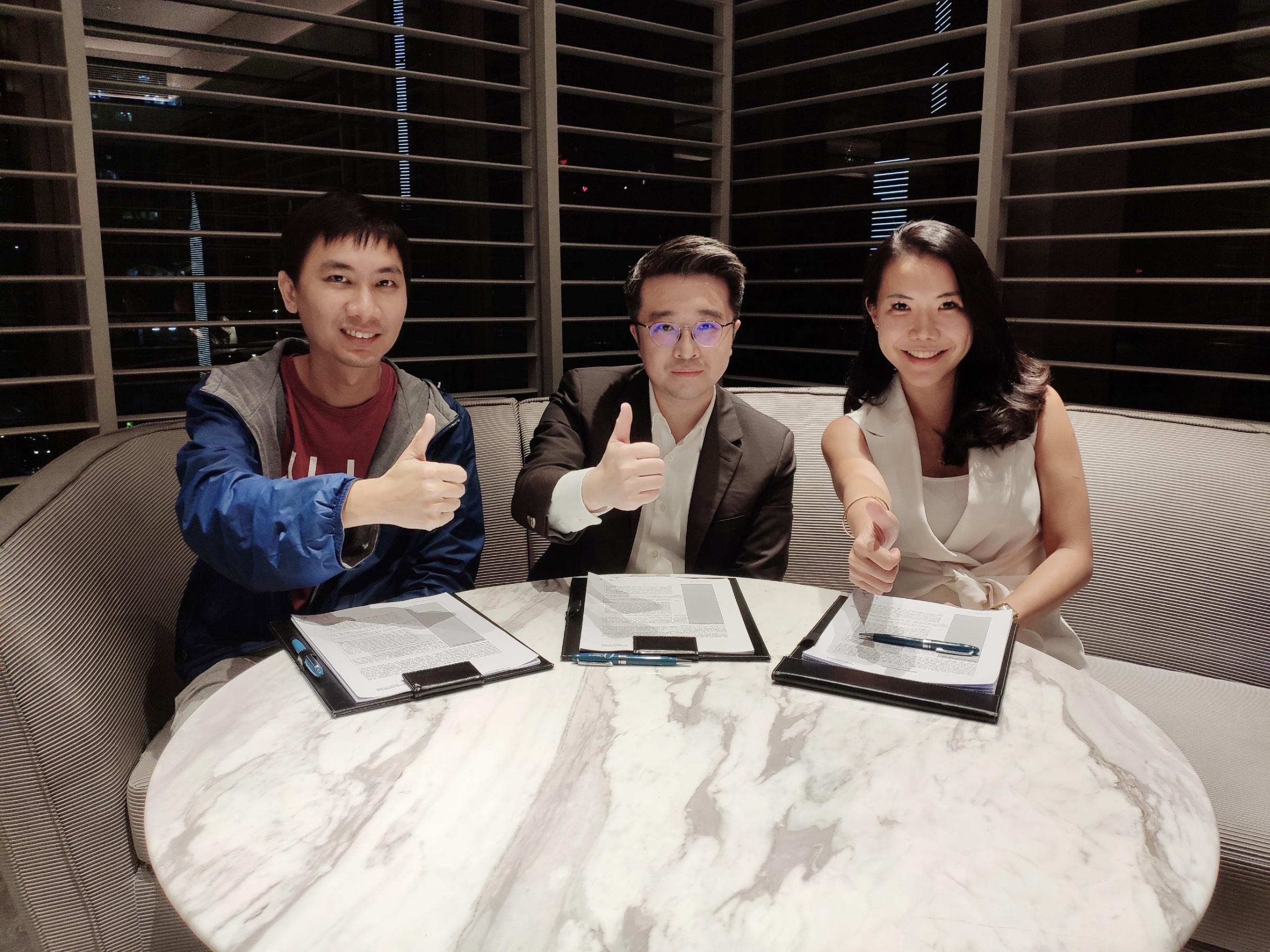 Calvin Choi, Chairman and CEO of AMTD Group (middle), Val Yap, Founder and CEO (right) , and Wong Kai Chin, CTO of PolicyPal
AMTD Digital is the integrated digital finance platform arm of AMTD Group, covering four segments including digital finance licenses, smart data analytic, digital alliance ecosystem, and digital strategic investments. AMTD Digital strives to build a one-stop, cross-market, comprehensive digital financial services platform to serve Asian consumers and small and medium- sized enterprises, integrating digital banking, digital insurance, digital asset exchange, e-payment / remittance, and other licensed businesses in Hong Kong and Southeast Asia. As the central core engine for AMTD SpiderNet, AMTD Digital plays an important and core driving role, through resources matching and empowerment, the company helps different clients solve their pain points and problems in business development and internationalisation in all dimensions, provide customised digital solutions, and achieve breakthrough development in the digital age. In 2019, AMTD together with Xiaomi established Airstar Bank and had successfully obtained one of the first eight virtual banking licenses issued by the Hong Kong Monetary Authority, and will be launching its services to the general public soon; AMTD is also teaming up with SP Group, one of Singapore's largest corporations, Xiaomi, and Funding Societies to jointly apply for the Singapore digital wholesale banking license.
It is worth mentioning that, AMTD Digital's insurance brokerage business has nearly 20 years of long operating history and rich industry experience. It offers all types of insurance products available in the market, and has established long term partnership with dozens of global insurance companies and brokerage, with an extensive network of industry resources. AMTD Risk Solution has for a long time committed, through its professional and comprehensive risk solutions products, extensive cooperation network, unique value add services, to assist more and more Chinese enterprises to expand overseas, assisting them in cross border mergers and acquisitions, overseas investment and development, and uses the full range of insurance products and scientific claim services, to establish a more comprehensive risk control and assessment mechanism, so to minimize losses, prevent risks, and maximize benefits for enterprises and employees.
PolicyPal is an insurtech company, founded by Val Yap, supported by 500 Startups, PayPal and angel investor Koh Boon Hwee. The company is also the first graduate of fintech regulatory sandbox approved by the Monetary Authority of Singapore. PolicyPal works with 30 global insurance companies, with $3 billion sum assured coverage on their platform. The company helps consumers to understand their insurance needs and empowers them with financial planning solutions to protect their health and wealth. PolicyPal was also named by KPMG as one of the leading global Fintech innovators in 2019.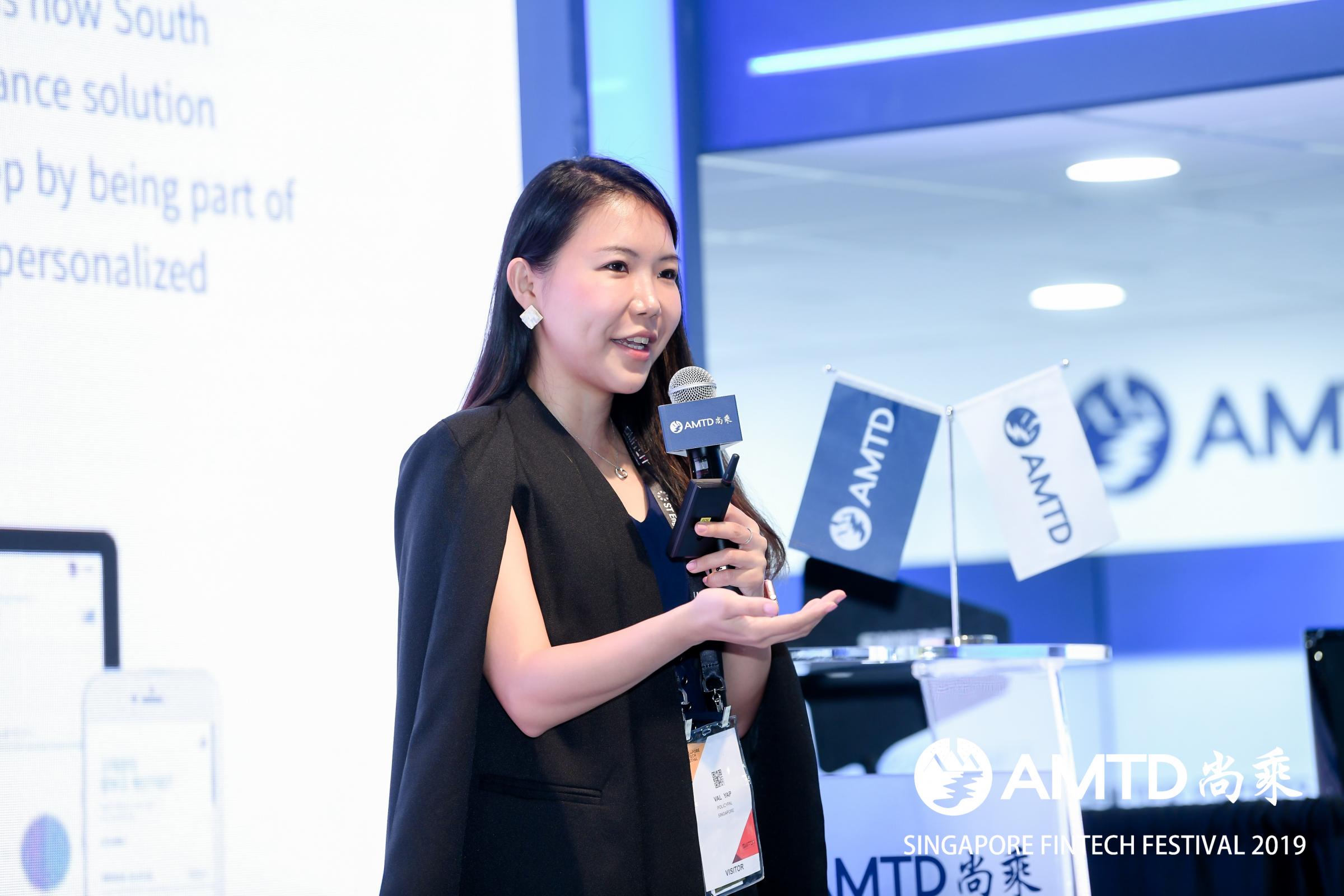 Val Yap at AMTD Hub, Singapore Fintech Festival
Calvin Choi, AMTD Group's Chairman and CEO, AMTD Digital's Chairman said his vision for AMTD Digital is that through establishing a wide-open strategic partnership and alliance ecosystem, the company can create the most innovative and comprehensive digital financial platform without any ceiling. He is confident that these growing corporate customers will continue to enrich the company's alliance ecosystem, and become the most valuable resources with lots of values to unlock in future out of this digital financial platform.
Calvin Choi further said that Singapore is an important hub front and center for Southeast Asian's fintech development, and AMTD highly valued PolicyPal's technological and commercial growth potential in the Southeast Asian insurtech space, and is confident in Val's entrepreneurial spirit and leadership skills as CEO. As a global company, AMTD Digital will use the AMTD SpiderNet's powerful and collaborative resources, especially through its broad experience, professional technology and resource network in the insurance business, to provide unwavering support to PolicyPal in its development across Southeast Asia, and together build an innovative, smart, inclusive, and green digital insurtech platform, injecting new momentum into the digital finance development as well as across Southeast Asia.
"We have seen a rapid 105% growth for our gross premium underwritten in the past few months. Partnering with AMTD to transform the insurance ecosystem will allow us to provide the best protection coverage to consumers." said Val Jihsuan Yap, CEO and Founder of PolicyPal. "Together, working as one team, we will unlock the full potential of digital network and reach more people and new markets to drive our mission together."
AMTD Group has been investing deeply in Singapore for many years, and has established a multi-dimensional and comprehensive development plan for the Singaporean market, using Singapore as the regional headquarter, to expand its development to other economies across Southeast Asia. AMTD Group's core subsidiary, AMTD International (NYSE:HKIB), is the most valuable and profitable independent investment bank in Asia, and the first Hong Kong financial institution listed in US. Furthermore, AMTD Group is also the first corporate founding member of the ASEAN Financial Innovation Network (AFIN) that was established by the Monetary Authority of Singapore, with Calvin Choi invited to be its Board Member. Calvin is also named by the Singapore Fintech Association as the "Asian Fintech Leader". Outside of the contribution and development in the fintech space, AMTD's real estate arm, AMTD Property, has also recently acquired Oakwood Premier AMTD Singapore, an iconic hotel apartment in the central business district, from OUE for S$289 million, and became the controlling shareholder of the property. This transaction with PolicyPal marks a key milestone in AMTD's development and investment into Singapore and Southeast Asian's fintech space.