Airstar Bank Launches Pilot Trial of Virtual Banking Service
Airstar Bank Limited ("Airstar"), one of Hong Kong's new virtual banks, today announced the launch of a pilot trial which is conducted within the Fintech Supervisory Sandbox ("FSS") of the Hong Kong Monetary Authority ("HKMA"). The pilot trial will offer innovative virtual banking services to selected customers in Hong Kong, a precursor to Airstar's full launch of its banking services to the general public. At the same time, Airstar's official website (www.airstarbank.com) has been launched which will provide the public with Airstar's latest product and service information.
During the pilot trial, Airstar will on-board around 2,000 customers from friends and families of the staff of Airstar, Xiaomi Hong Kong and AMTD Group to gather practical user requirements and feedback in order to jointly nurture an innovative and enhanced banking service platform and world-class experience in the digital era.
Airstar will provide its retail customers with superior experience of innovative and financial inclusive banking services on a 24/7 basis and waive all banking fees for its retail banking services*. Airstar's customers will be able to open an account remotely in 5 minutes the soonest using their Hong Kong identity card with no minimum deposit requirement. Airstar's customers can also enjoy free inter-bank transfer through the Faster Payment System (FPS) and Real Time Gross Settlement (RTGS).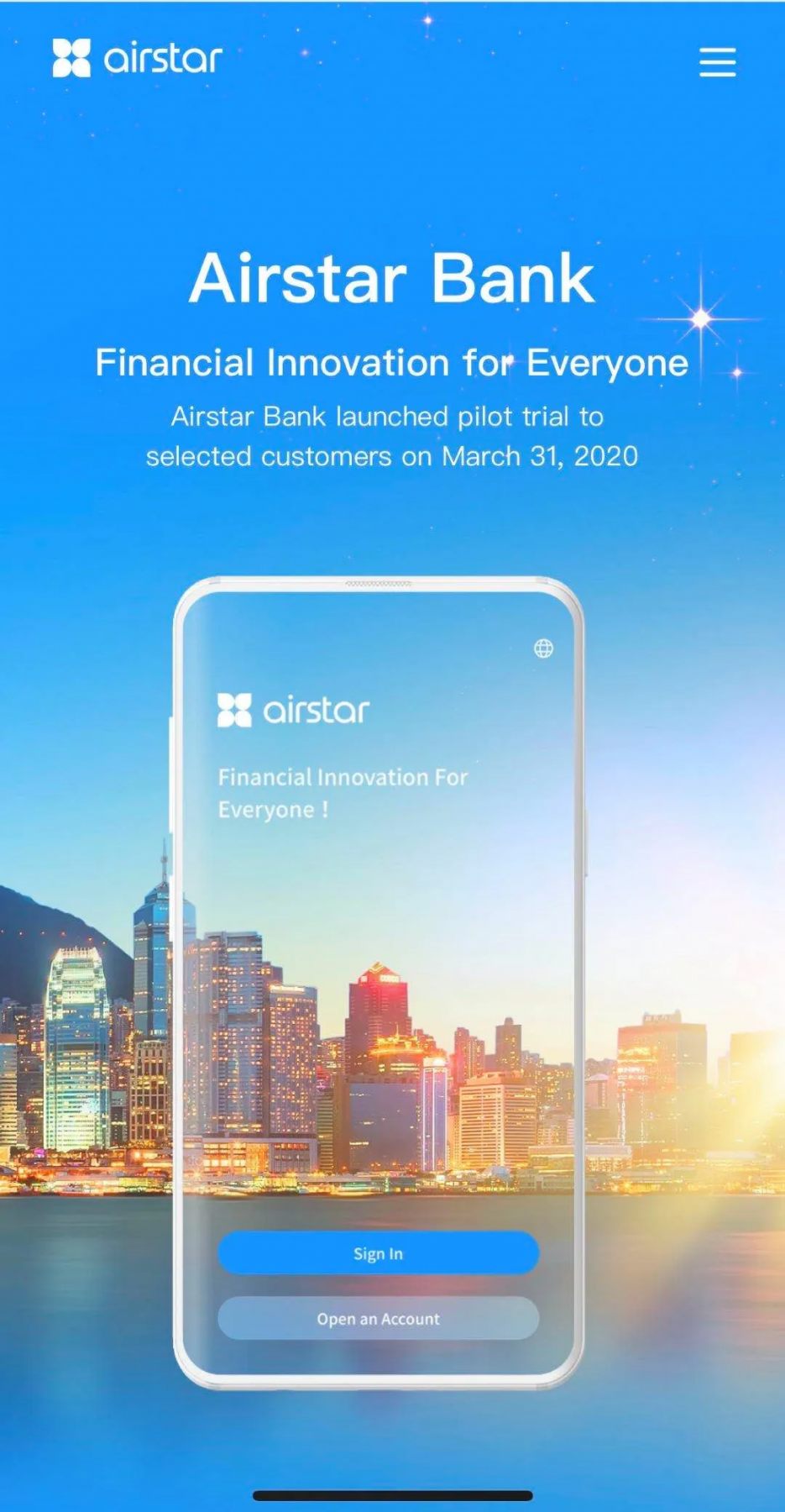 (Note* : As a financialinclusion initiative, Airstar commits to offer this arrangement for at least 3years)

In terms of deposits, Airstar will provide two attractive products during the pilot trial. We offer tiered-pricing savings deposits and customers will enjoy a deposit rate of up to 1% per annum for HKD saving deposits between HKD 500,000 and HKD1,000,000. Customers who place time deposits have the flexibility to customize the time deposit maturity dates, such as a 8-day, 19-day or 27-day time deposit. Customers can even terminate the time deposit anytime prior to maturity without any penalty or surcharge.

Airstar will also provide unsecured lending products for customers at transparent pricing with interest accrual on a daily basis. Customers can repay anytime without any prepayment fee. On the other hand, we shall enhance our product designs and services continuously based on the customer's feedback to be gathered during the pilot trial.

As a licensed bank in Hong Kong, Airstar is regulated by the HKMA and governed by the relevant legal / regulatory requirements. It is also a member of the Deposit Protection Scheme, whereby each customer's eligible deposits are protected up to a maximum amount of HKD500,000.

Airstar's spokesperson said, "Airstar strives to embrace innovation and financial inclusion, and promotes 'Financial Innovation for Everyone'. We truly believe Airstar will be a valuable contributor to the banking industry in Hong Kong, and become 'Everyone's Bank'."

>>>>ABOUT AIRSTAR BANK

Airstar Bank Limited is a jointly established entity by Xiaomi Corporation, global IoT leader, and AMTD Group, Asia's largest independent corporate finance and advisory house. Airstar was granted a banking license by the Hong Kong Monetary Authority on 9 May, 2019. We uphold the virtue of financial inclusion and dedicate to promote financial innovation for everyone, eventually becoming "Everyone's Bank" at the heart of our customers. We pledge to every customer that they will enjoy and benefit from the most convenient virtual banking services unprecedentedly.

>>>>ABOUT XIAOMI

Xiaomi Corporation was founded in April 2010 and listed on the Main Board of the Hong Kong Stock Exchange on 9 July, 2018 (1810.HK). Xiaomi is an internet company with smartphones and smart hardware connected by an IoT platform at its core. With the vision of being friends with its users and being the "coolest company" in the hearts of its users, Xiaomi is committed to continuous innovation, with an unwavering focus on quality and efficiency. The company relentlessly builds amazing products with honest prices to let everyone in the world enjoy a better life through innovative technology.

Xiaomi is currently the world's fourth-largest smartphone brand, and has established the world's leading consumer IoT platform, with more than 213 million smart devices (excluding smartphones and laptops) connected to its platform. Currently, Xiaomi products are present in more than 90 countries and regions around the world and have a leading foothold in many of them. In July 2019, the company made the Fortune Global 500 list for the first time, ranking 468th among all, and 7th among internet companies. Xiaomi is the youngest company on the 2019 Fortune Global 500 list.

>>>>ABOUT AMTD

AMTD Group is a leading comprehensive financial services conglomerate, with businesses incorporate finance and advisory, asset management, virtual banking, insurance brokerage and non-financial services areas including real estate development and hospitality, education, innovative technology, and digital investments.

AMTD International (NYSE: HKIB), a subsidiary of AMTD Group, is the largest independent corporate finance and advisory house in Asia and one of Asia's largest independent asset management companies, and a leading investor in fintech and new economy sector

. AMTD successfully listed on the New York Stock Exchange in 2019, representing the first Hong Kong financial institution to be listed on the U.S. capital market.

AMTD Digital, the digital arm of AMTD Group, is a digital technology platform, covering digital financial services, digital marketing and data intelligence, digital connectors and digital investments. Within this, AMTD Risk Solutions is Hong Kong's largest local corporate insurance brokerage company.