AMTD and AFIN establish S$50 million AMTD ASEAN-Solidarity Fund
AMTD Group and AMTD Charity Foundation (collectively "AMTD") partnered with the ASEAN Financial Innovation Network ("AFIN", a non-profit entity formed by the Monetary Authority of Singapore, International Finance Corporation, a member of the World Bank Group, and the ASEAN Bankers Association. Its Corporate Founding Members are AMTD Foundation and Mastercard) to establish a solidarity fund with a proposed and initially available capital of S$50million to support and anchor eligible Fintech companies registered in the API Exchange Platform ("APIX") in ASEAN countries during this challenging time of the pandemic.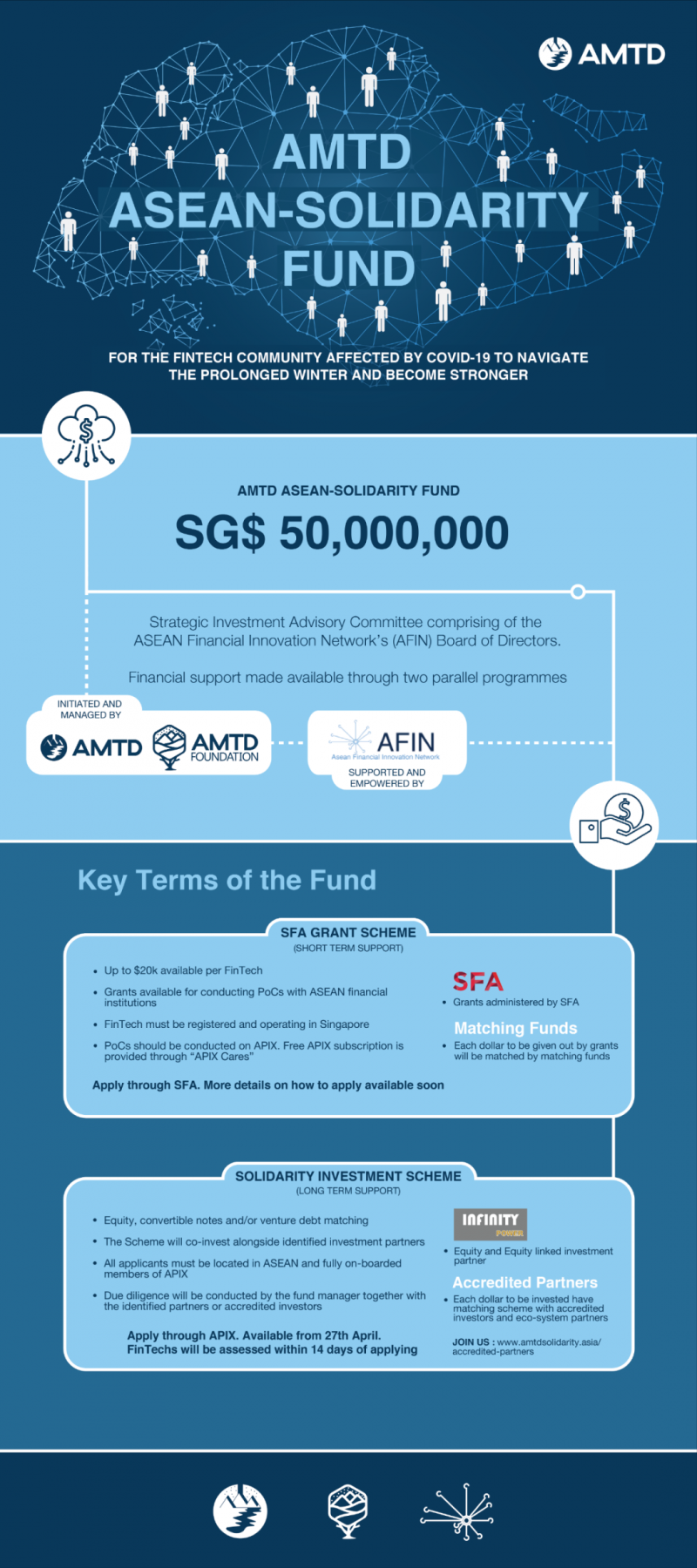 AMTD ASEAN-Solidarity Fund (the "Fund") intends to offer financial support under the oversight of a Strategic Investment Advisory Committee comprising of representatives from AFIN's Board of Directors. In addition to financial support, the Fund will offer full access to AMTD's SpiderNet ecosystem, with opportunities to collaborate with each other across ASEAN Countries, Hong Kong and China. Financial support for the eligible applicants will be made available through two parallel programmes:
A - SFA Grant Scheme
• The Singapore FinTech Association ("SFA") will serve as the administrator of this Scheme.
• Grant funding will be available to Singapore-based FinTechs to support Proof-of-Concepts ("PoCs") conducted with ASEAN financial institutions on APIX.
• FinTechs should be certified by SFA . Details of how to apply through SFA will be released soon.
B - Sustainability Investment Scheme
• This funding is intended for longer term support in the form of equity, convertible notes and/ or venture debt type of investments
• Under the investment scheme, AMTD will provide matching opportunities to FinTechs by co-investing alongside identified investment partners
• The Fund welcomes partnerships with existing equity and venture debt investors across Asia and calls for the broader investment community to collaborate and empower the level of support from this scheme
• FinTechs approved for review will be notified within 14 days of their application date. An online application request will be available on APIX from 27th April. This process will run for 18 months.
AMTD Group's Chairman, and Founder and Chairman of AMTD Foundation Mr. Calvin Choi stated, "We are committed to offering our timely support at this special moment, but more importantly to providing long-term and sustainable value-adds to the FinTech community in Singapore and beyond. We are honoured to partner with AFIN, and commit not only to provide funding, in the form of grant or other investment forms, but also act as the manager of AMTD ASEAN-Solidarity Fund, as well as by providing synergy and cross-selling opportunities through the AMTD SpiderNet ecosystem."
Paul Gwee, Board member of AFIN, stated, "We are honoured to deepen our relationship with AMTD through the AMTD ASEAN-Solidarity Fund, which will provide much-needed support to FinTechs at this time of pandemic. As the Strategic Investment Advisory Committee of the Fund, AFIN's Board will ensure that FinTechs across Southeast Asia will receive the support they need at this difficult time."
Mr. Sopnendu Mohanty, Chief FinTech Officer at the Monetary Authority of Singapore, mentioned "I applaud the efforts of AMTD group and other partner investors in stepping up to provide funding to FinTechs during this pandemic. At times of crisis, the private and public sector must work closely together and support the FinTech community. FinTech companies are drivers of innovation and new opportunities, preserving their ecosystem is key to post-pandemic economic recovery."
About AMTD Group
AMTD Group is a leading comprehensive financial services conglomerate, with businesses in investment banking, asset management, digital financial solutions; and non-financial services areas including strategic investments, real estate and education.
AMTD International (NYSE: HKIB; SGX: HKB), a subsidiary of AMTD Group, comprises the largest independent investment bank in Asia and one of Asia's largest independent asset management companies, and has been a leading investor in FinTech and new economy sector. AMTD International successfully listed on the New York Stock Exchange in 2019, representing the first Hong Kong headquartered financial institution listed on NYSE. On April 8, 2020, AMTD International completed its successful listing on SGX-ST, which marks a series of historical milestones, including:
• The first company ever to be dual listed on NYSE and SGX;
• The first company featuring dual-class shares (DCS) listed on SGX;
• The largest financial institution headquartered in China and Hong Kong listed on SGX as measured by market capitalisation;
• The first Hong Kong financial institution listed on SGX;
• The largest company in terms of market capitalisation listed in Singapore year to date; and
• The first company to conduct a digital listing ceremony in Singapore.
AMTD Digital, the digital arm of AMTD Group headquartered in Singapore, is a digital technology platform, covering digital financial services, digital connectors and eco-systems, digital marketing and data intelligence, and digital investments. One of its principal subsidiaries, AMTD Risk Solutions is the largest local corporate insurance brokerage company in Hong Kong.
AMTD has announced its plan to establish a regional hub in Singapore, designating Singapore as the forefront of AMTD's Southeast Asia business operations and core long-term investments into the ASEAN region. Focusing on the entire value chain of financial services development as well as Fintech community building, its mission will embrace areas from talent cultivation and education, to Fintech investment and engineering a one-stop digitally connected financial solutions via the construction of a super eco-system leveraging on AMTD's proprietary SpiderNet as a foundation. AMTD aims at collaborating and integrating eco-systems of our business partners with local user platforms to create values, while enabling and empowering the local Fintech community. AMTD has announced earlier this year at Davos during the 50th World Economic Forum the Singapore Digital Finance Leadership Programme together with the Singapore Management University, the Institute of Systems Science (ISS) at the National University of Singapore, and Xiaomi Finance to hone the management and leadership capabilities of the aspiring digital finance leaders in Singapore and beyond. AMTD also serves as the first corporate founding member of AFIN, in which AMTD's Chairman Mr. Calvin Choi sits on the Board of Directors. AMTD shares AFIN's vision to facilitate innovation and cooperation between financial institutions and Fintech companies, in an effort to digitally transform the banking and financial sectors across the ASEAN region and beyond and thereby achieving financial inclusion. For more information on AMTD, visit www.amtdgroup.com
About AMTD Foundation
AMTD Foundation, a charitable organisation founded by Mr. Calvin Choi, is set up to fulfil its commitment of giving back to the society and upholding its social responsibility. AMTD Foundation has been putting in great efforts in promoting education, relieving poverty, and supporting people in need in Asia and across the world. The Foundation actively supports a range of corporate social responsibility activities, such as the sponsorship of Caritas Charity TV Show for 10 consecutive years, one of Hong Kong longest history fund raising events to support the fields of social work, education and medical care to meet the needs of people at different stages of life; AMTD Foundation is a key supporter of amfAR (The Foundation for AIDS Research), one of the world's leading non-profit organisations on AIDS research. AMTD has entered into strategic partnerships with The Hong Kong Polytechnic University and the University of Waterloo in Canada respectively, for the establishment of "AMTD Fintech Centre of PolyU Faculty of Business" and "University of Waterloo - AMTD Innovation Hub", and established a long-term partnership to establish the "Singapore Digital Finance Leadership Programme" with Xiaomi Finance, Singapore Management University (SMU) and the Institute of Systems Science (ISS) at the National University of Singapore (NUS).
About AFIN and APIX
ASEAN Financial Innovation Network (AFIN) is a non-profit entity formed by the Monetary Authority of Singapore, International Finance Corporation, a member of the World Bank Group, and the ASEAN Bankers Association, with the objectives of supporting financial innovation and inclusion around the world. Its Corporate Founding Members are AMTD Foundation and Mastercard.
APIX, the flagship product of AFIN, is the world's first cross-border, open -architecture API platform, where financial institutions and FinTechs can integrate and test solutions via a cloud-based architecture. Through APIX, financial institutions and FinTech firms can discover one another on a curated global marketplace, design experiments collaboratively in the sandbox and deploy innovative solutions rapidly at a lower cost.
About SFA
SFA is a cross-industry NON PROFIT initiative, intended to be a platform designed to facilitate collaboration between all market participants and stakeholders in the FinTech ecosystem. It is designed to be an effective platform for members to engage with multiple stakeholders to find solutions to issues. To educate, inform and communicate by developing a connected FinTech ecosystem, channelling effective and relevant information among members and externally; foster innovation among Association members and the Singapore FinTech ecosystem; accelerate development of FinTech companies operating in or entering into Singapore, and their subsequent integration and acceleration into the Singapore FinTech ecosystem; and represent, align and support common interests by coordinating and catalysing otherwise individual actions so that the Association can represent the FinTech community.