Xiaomi Corp US$600m 3.375% 10-Year Senior Bond Offering
On 22nd April 2020, Xiaomi Corporation (1810.HK, "Xiaomi" or the "Company") successfully priced its debut US$600m 3.375% 10-year senior fixed rate bond offering (the "Transaction"). AMTD acted as a Joint Bookrunner and Joint Lead Manager on the Transaction.
This is the first ever offshore USD offering by Xiaomi and the first 144a/Reg S offering by a Chinese POE in 2020YTD. Xiaomi has obtained full investment-grade ratings from all three international rating agencies, namely Baa2 Stable by Moody's, BBB- Stable by S&P and BBB Stable by Fitch, which is extremely rare for a Chinese POE. The Transaction also achieved the lowest ever yield for a debut 10 year bond by a Chinese TMT company, as well as having the largest price tightening and the largest oversubscription for a Chinese TMT sector bond issue so far this year.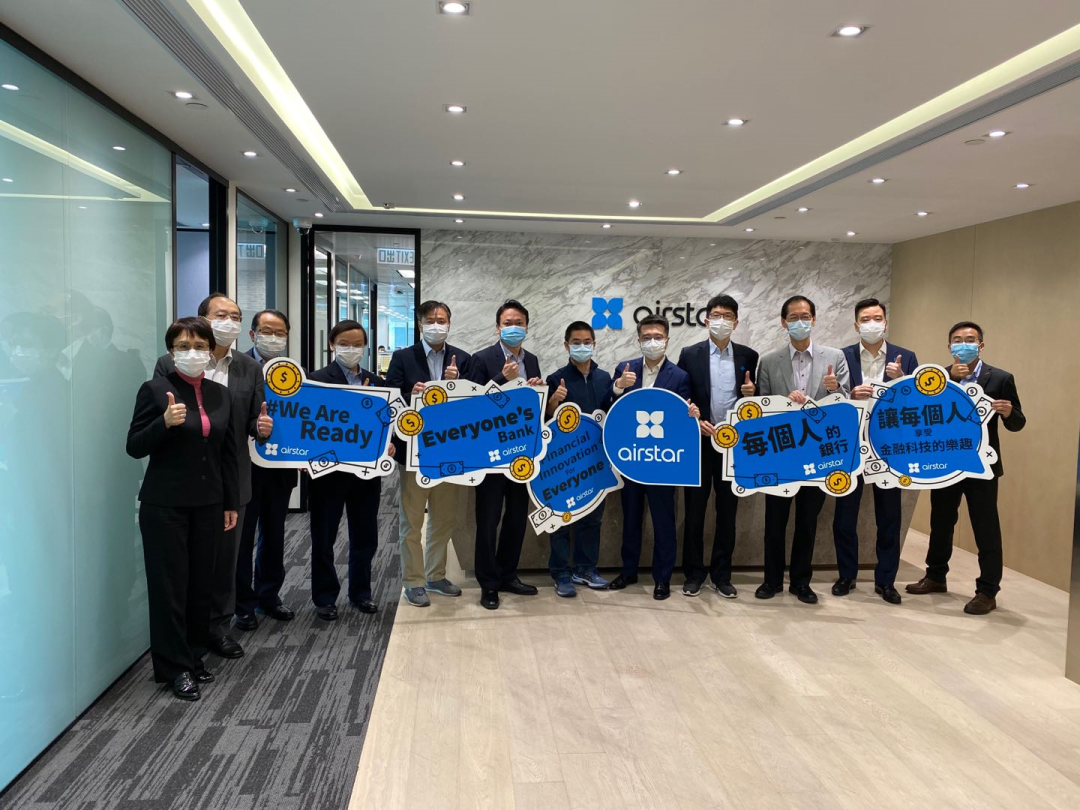 Calvin Choi (right 5th), Liu Wei, Head of Financial Office in Xiaomi Corporation (right 6th), Frederic Lau, Vice Chairman of AMTD Group and CEO of Airstar Bank (right 4th), Professor Timothy Tong, CEO of AMTD Foundation, Director of Xiaomi Corp and Director of Airstar Bank (right 3rd), and other management team of Airstar Bank, including: Ronald Lu, Alternate Chief Executive of Airstar Bank (right 2nd), Alex Lee, Alternate Chief Executive (left 3rd), Charles Tse, CFO (left 6th), Steve Shum, Chief Information Officer (left 5th), KF Lam, Chief Compliance Officer (left 5th), Henry Yuen, Head of Retail Banking (right 1st), David Yau, Head of Audit (left 2nd), Anissa Yu, Head of HR (left 1st)
After collecting solid investor feedback and high-quality anchor orders from 2 days of investor calls, the Company made a decisive decision to undertake a one-day bookbuild and pricing to minimize execution risk. IPG was set at T10+340bps area (c.4% yield) to attract investor attention. Orderbook momentum was strong right from the start and reached US$5.5bn at its peak, amounting to an oversubscription of nearly 9 times. Given the strong orderbook quality, the FPG was tightened to T10+290-295bps, with the final orderbook at US$4.7bn at the time of pricing and eventually priced at the tight end of FPG at T10+290 bps. The final book included 281 global investors, of which 71% were fund managers and asset managers, 17% were banks or other financial institutions, while insurance companies and government related entities accounted for 6% each. In terms of investor geography, 50% were located in Asia-Pacific, 39% were in the US and EMEA accounted for the remaining 11%.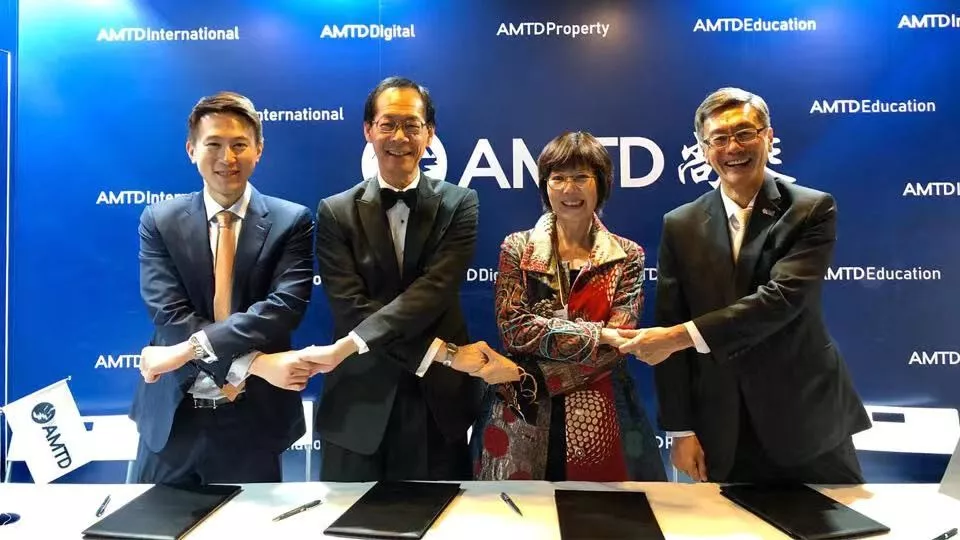 Professor Timothy Tong, CEO of AMTD Foundation (left 2nd); Mr Shouzi Chew, Senior Vice President and President of International of Xiaomi Corporation (left 1st); Professor Annie Koh, SMU Vice President of Business Development (right 2nd); and Professor Tan Eng Chye, NUS President (right 1st), together signed the MOU at Davos to establish the Singapore Digital Finance Leadership Programme
AMTD has established a multi-level cooperative relationship with Xiaomi. This Transaction represents AMTD's second cooperation with the Company in offshore capital markets after the Xiaomi's HK IPO, as well as other cooperations including the establishment of a virtual bank in Hong Kong and potentially in Singapore and other business areas. In July 2018, Xiaomi was successfully listed on the Main Board of Hong Kong Stock Exchange ("HKEX"). It was the first company to list under the new "Weighted Voting Rights" (WVR) scheme, which was the biggest reform in the 25-year history of HKEX serving as a pilot for new economy companies' listing in Hong Kong. AMTD served as a Joint Lead Underwriter, Joint Bookrunner and Joint Lead Manager of Xiaomi's IPO. In April 2019, Xiaomi strategically invested in AMTD International (NYSE: HKIB / SGX: HKB), the investment banking platform of AMTD Group, and became one of the strategic shareholder of AMTD International. Dr. Timothy W. Tong, PhD, BBS, JP, CEO of AMTD Foundation was invited to join the board of directors of Xiaomi. AMTD has also repeatedly assisted Xiaomi's ecosystem member corporates to list in the capital markets of Hong Kong and the United States. AMTD and Xiaomi also jointly established Airstar Bank and obtained one of the only eight virtual banking licenses in Hong Kong, fully leveraging the powerful advantages and resources of Xiaomi in FinTech and AMTD's in-depth knowledge and rich experience in the financial industry and global capital markets. Airstar Bank is one of the first virtual banks to begin operations in Hong Kong. AMTD initiated the application for the establishment of Singapore Digital Bank jointly with Xiaomi, Funding Societies Singapore and Singapore Power, the Temasek-owned utilities company in Singapore; AMTD also established "Singapore Digital Finance Leadership Programme" jointly with Xiaomi, Singapore Management University and National University of Singapore to support the training of innovative financial talents in Singapore and ASEAN.