AMTD Digital Completes the Acquisition of PolicyPal
AMTD Digital is pleased to announce the completion of the acquisition of PolicyPal (the "Transaction"), following the approval from the Monetary Authority of Singapore (the "MAS") on the Transaction.
Mr. Calvin Choi, Chairman and CEO of AMTD Group and Chairman of AMTD Digital, and Ms. Val Yap, Founder and CEO of PolicyPal, attended the virtual signing ceremony; with Mr. Sopnendu Mohanty, Chief FinTech Officer of MAS, witnessing the historical moment and the signing of the sales and purchase agreement and shareholders' agreement between AMTD Digital and PolicyPal alongside with PolicyPal key shareholders.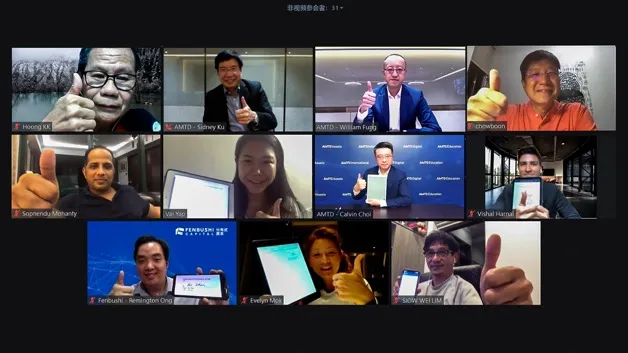 The Transaction marks the first controlling stake acquisition in the Southeast Asian InsurTech industry since the outbreak of Covid-19 pandemic. The Transaction is unparalleled with AMTD Digital's unique and innovative "fusion-in" solution for entrepreneurs – by swapping equity interests with promising FinTech players whereby AMTD Digital will subsequently hold a majority stake, and commit resources and open network to groom the entrepreneurs. Through such "fusion-in" program, entrepreneurs will be fully integrated into the AMTD SpiderNet ecosystem, to unlock their enterprises' potential values and expedite business growth, by leveraging AMTD eco-system's supreme connectivity to multi-servicing platforms and products, investors network and institutional strengths, capital markets expertise from private to public financing solutions, and its solid linkage to resources across different sectors and industries in the Asia Pacific region and beyond.
Through this Transaction, PolicyPal will, under AMTD Digital's overall lead, realise their vision of being the leading innovator of Asia's insurance industry. Mr. Calvin Choi will serve as PolicyPal's Chairman, and Val Yap will continue to serve as the CEO. AMTD Digital will enjoy its combined power and integrated collaboration with AMTD's market leading corporate insurance brokerage business in Hong Kong, with the mission to build an innovative, smart, inclusive, and green digital InsurTech platform across Asia. After the acquisition, PolicyPal will serve as AMTD Digital's key operating vehicle to develop and expand in the Southeast Asian InsurTech sector.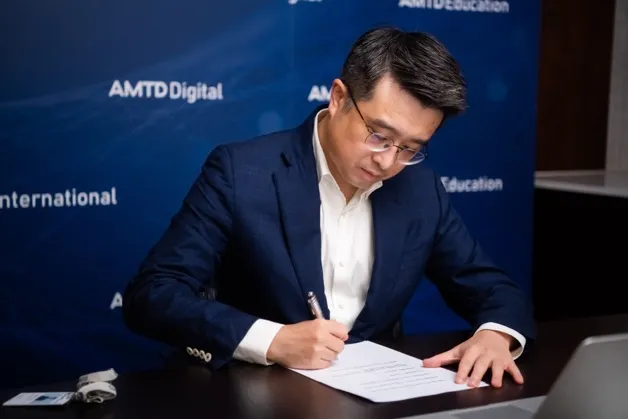 Mr. Calvin Choi, AMTD Group's Chairman and CEO, and AMTD Digital's Chairman, commented, "on behalf of the board of directors of AMTD Group and AMTD Digital, I warmly welcome Val and PolicyPal to join the AMTD family and Val to become the Insurtech subject matter champion of AMTD Digital. Together, we will continue building out and reinforce AMTD's commitment to developing an innovative and inclusive insurance platform across Asia. We are especially glad to continue strengthening our digital talents pool in Singapore and we have full confidence in the lion city's global leading role in Fintech and innovations. AMTD have been founding partner of the Singapore FinTech Festival for 3 consecutive years."
"The "fusion-in" strategy is the essence of AMTD Digital's business model. AMTD Digital will continue to pursue this strategy to empower promising FinTech players in Asia and beyond. AMTD Digital will continue to focus on investing in companies that will complement and magnify synergetic value to the SpiderNet ecosystem, to build AMTD Digital into the most innovative and comprehensive wide-open digital finance platform globally." Mr. Calvin Choi added.
Ms. Val Yap, Founder and CEO of PolicyPal, said, "Joining AMTD Digital to gain wide and open access to the abundant resources of AMTD SpiderNet and be part of the AMTD Digital core components will be a huge opportunity for PolicyPal. In the post-COVID 19 world, digital integration has become a must-to-have, and PolicyPal has seen enormous opportunity and our rapid growth in the past few months. Long-term partnering with AMTD will empower PolicyPal to further enable the insurance ecosystem by providing more affordable and accessible products to customers, reaching out to more people and expanding in more new markets."
Mr. Mohanty, extended his congratulations to AMTD. He commended AMTD's efforts and continuous engagement and collaboration with the FinTech sector and startup ecosystem of Singapore in recent years. AMTD's acquisition of PolicyPal is a milestone in Singapore's FinTech sector. It reflects the growing importance of FinTechs which focus on the rising need for digitally enabled insurance service in the ASEAN market.
| About AMTD Group
AMTD Group is a leading comprehensive financial services conglomerate, with businesses in financial services areas to include corporate finance and advisory, asset management, digital financial solutions, insurance brokerage, and non-financial services areas to include real estate investment, talents' training and education, innovative technology, and digital economy investments.
AMTD International (NYSE: HKIB; SGX: HKB), a subsidiary of AMTD Group, is the largest independent corporate finance and advisory house in Asia in terms of market capitalisation and one of Asia's largest independent asset management companies, and a leading investor in fintech and new economy sector. AMTD successfully listed on the New York Stock Exchange in August 2019, representing the first Hong Kong financial institution to be listed on the U.S. capital market. AMTD International completed its secondary listing on the Singapore Exchange in April 2020, which marks it the first company ever to be dual listed on NYSE and SGX; the first company featuring dual-class shares (DCS) listed on SGX; and the first financial institution to be listed on SGX.
| About AMTD Digital
As the "fusion reactor" at the core of the AMTD SpiderNet, AMTD Digital is one of the most comprehensive digital platforms in Asia with businesses spanning multiple verticals, including digital finance services and licenses, digital media marketing and data intelligence, digital connectors and ecosystem, and digital investments. AMTD Digital strives to build a one-stop, cross-market, comprehensive digital financial services platform to serve retail and corporate clients, integrating digital banking, digital insurance, digital asset exchange, and other licensed businesses in Asia. As the central core engine for AMTD SpiderNet, AMTD Digital plays an important and core driving role, through resources matching and empowerment, the company helps different clients solve their pain points and problems in business development and internationalization in all dimensions, provide customized digital solutions, and achieve breakthrough development in the digital age. In 2019, AMTD together with Xiaomi established Airstar Bank and had successfully obtained one of the first eight virtual banking licenses issued by the Hong Kong Monetary Authority, and has announced the official launch to the public of its virtual banking services that encompass savings account, time deposit and personal loan products today. AMTD is also teaming up with SP Group, one of Singapore's largest corporations, Xiaomi, and Funding Societies to jointly apply for the Singapore digital wholesale banking license.
AMTD Digital's insurance brokerage business, AMTD Risk Solutions, has nearly 20 years of long operating history and deep industry experience. It offers all types of insurance products available in the market, and has established long term partnership with dozens of global insurance companies and brokerage, with an extensive network of industry resources.
| About PolicyPal
PolicyPal is an InsurTech company, founded by Val Yap, supported by 500 Startups, PayPal and angel investor Koh Boon Hwee. The company is also the first graduate of FinTech regulatory sandbox approved by the Monetary Authority of Singapore. PolicyPal works with 30 global insurance companies, with US$3 billion sum assured coverage on their platform. The company helps consumers to understand their insurance needs and empowers them with financial planning solutions to protect their health and wealth. PolicyPal was also named by KPMG as one of the leading global FinTech innovators in 2019.