AMTD led the initial public offering of BlueCity on NASDAQ
On July 8, 2020 (EST), BlueCity Holdings Limited ("BlueCity" or the "Company"; NASDAQ: BLCT), the world's leading online LGBTQ community, successfully listed on NASDAQ Global Market, becoming the first-ever LGBTQ related stock to be listed globally. AMTD acted as the Left Lead Underwriter and Bookrunner on BlueCity's IPO, and played an instrumental role in helping the Company successfully debut on the international capital markets. This transaction is yet another US IPO led by AMTD this year, and is a testament of AMTD's unparalleled strength in taking New Economy companies public on the international financial markets, even amidst a challenging market backdrop with lingering impacts from the COVID-19 pandemic and noises surrounding the US-listing of Chinese companies. This transaction also further demonstrates AMTD's long-standing commitment to supporting diversity, gender equality and inclusion.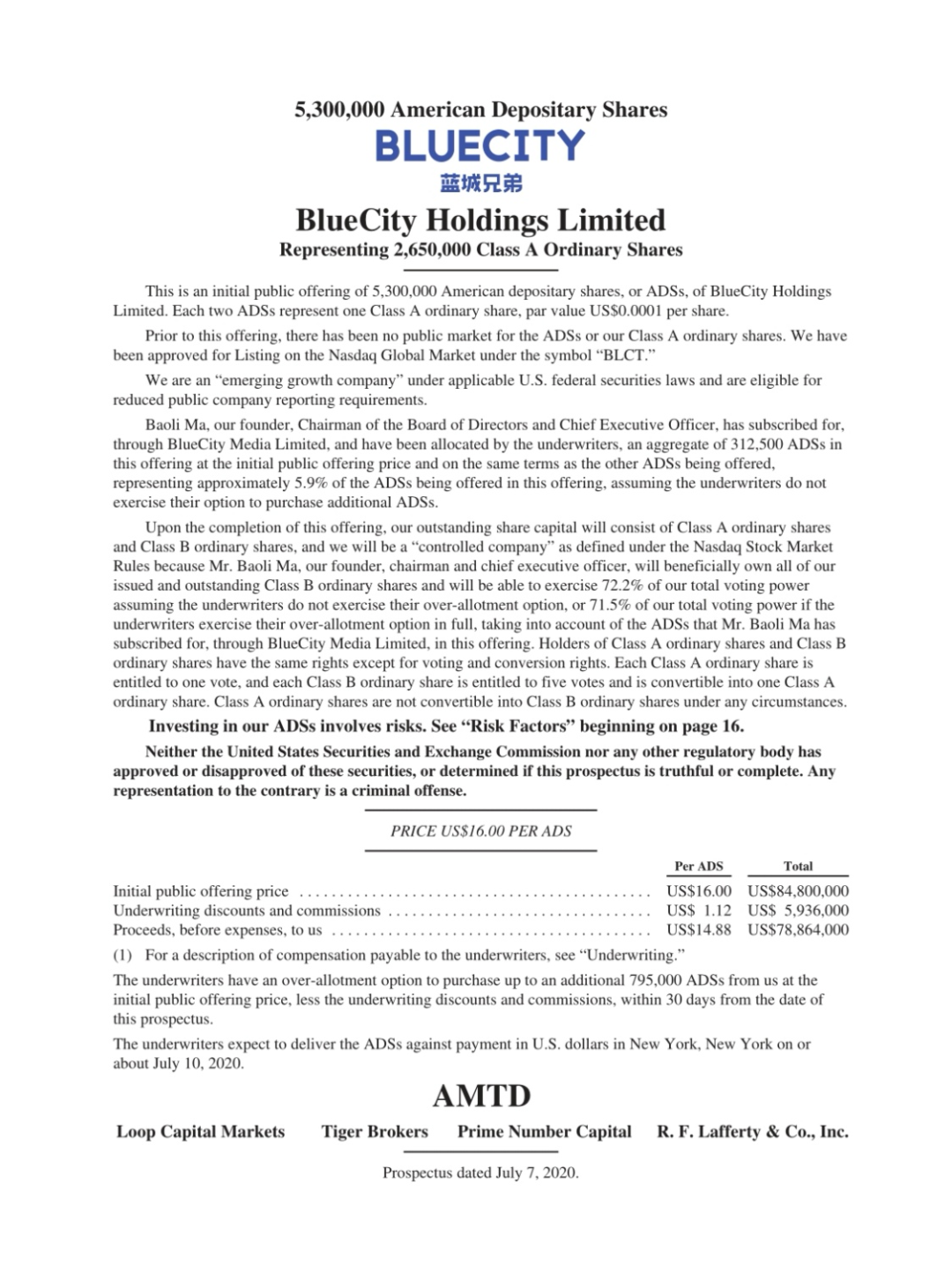 In this IPO, BlueCity offered a total of 2,650,000 Class A Ordinary Shares, representing 5,300,000 ADSs (American Depositary Shares). At the offer price of US$16 per ADS, this translated to an offering size of US$84.8 million. Founded in 2011, BlueCity is the world's largest online LGBTQ community. Blued, BlueCity's flagship mobile app, was launched in 2012 and now has over 49 million registered users and 6 million MAUs, with users spanning over 210 countries and regions as of March 31, 2020. BlueCity is dedicated to serving users' lifetime needs, including social networking, live streaming, health-related services and products, and family planning. The community operated by BlueCity enjoys an outstanding user engagement and loyalty, with an average next-month retention rate of 71.0% in 2019. The listing of BlueCity, a vertically-integrated social media platform catered to the LGBTQ community, is an important milestone in the fight for equality and diversity worldwide, and is a most-fitting tribute to mark the end of this year's "Pride Month".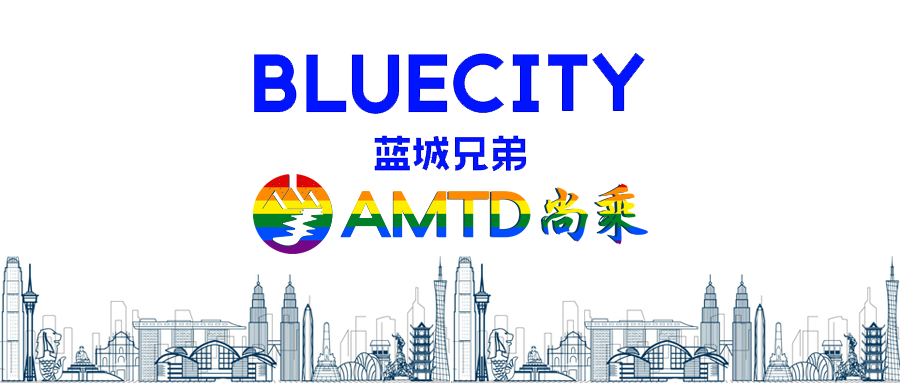 AMTD, as the Left Lead Underwriter and Bookrunner on the BlueCity's US IPO, had made significant contributions to all aspects of the transaction, from deal execution, sourcing and introducing investors, to marketing. Leveraging its rich experience and abundant resource in the capital markets, AMTD helped BlueCity design its offering structure and calibrated the timing to enable it to capture the optimal market window, laying a solid foundation for BlueCity's successful listing and, once again, demonstrating AMTD's unparalleled strength in leading US IPO transactions.
As a diversified and comprehensive financial conglomerate, while encouraging and supporting business innovation and development, AMTD always fulfills its corporate social responsibility as well. AMTD has set up AMTD Foundation to fulfil its commitment of giving back to the society and upholding social responsibility, advocating social diversity and equality, caring about the minority and supporting social responsibility. Today, AMTD Group, AMTD International and AMTD Foundation all swapped out the usual logo and go rainbow, to show AMTD's support for diversity and equal rights. Prior to this, AMTD Foundation has cooperated with amfAR, the internationally renowned non-profit organization and the largest foundation for AIDS research, to host charity dinner and fundraising event in Hong Kong and the US to support AIDS research, advocate AIDS prevention measures, provide HIV treatment and education, and promote public health policies. In addition, AMTD Foundation has also collaborated with Caritas, the largest Hong Kong charity, to organize the Caritas Star Studded Charity Show for more than ten years. AMTD Foundation also provides long-term support for OneChild, the non-government organization headquartered in Canada, to help fight for children's welfare all over the world.