AMTD Charity | Largest Single Donation to SGX Bull Charge
• AMTD Charity Foundation donates a total of S$1 million to SGX Bull Charge and Community Chest
• 17th annual Charity Run, transformed to two-week virtual fundraiser, kicks off on 30 October
Beneficiaries of SGX Bull Charge, the flagship charity initiative of Singapore Exchange (SGX), have received a boost from AMTD Charity Foundation amid a challenging year for fundraising.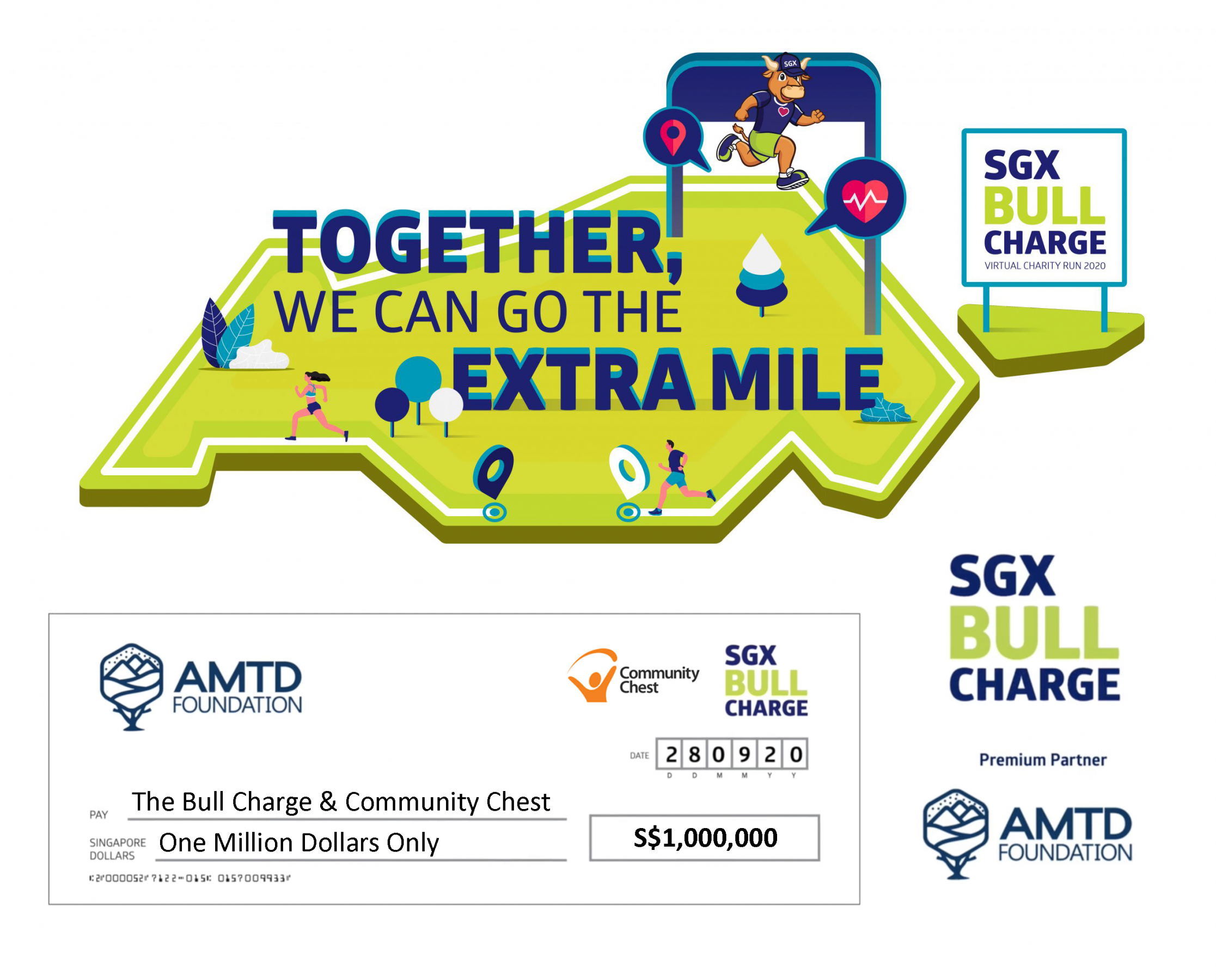 AMTD Charity Foundation is donating S$500,000 to SGX Bull Charge ahead of its 17th annual Charity Run – the largest single contribution in recent years. The proceeds will be channelled through Community Chest to this year's adopted beneficiaries in Singapore – AWWA Ltd., Autism Association (Singapore), Fei Yue Community Services, HCSA Community Services and Shared Services for Charities. In addition, AMTD will donate S$500,000 directly to Community Chest, with whom it will work to identify charities and programmes to support. As such, the total amount resulted from AMTD's donation reaches S$1,500,000.。
Mr. Calvin Choi, Chairman and Chief Executive Officer of AMTD Group, as well as Founder and Chairman of AMTD Charity Foundation, said, "We are delighted to establish a long-term partnership with SGX and Community Chest to provide our support to the community especially to the under-privileged and the needy ones. During this global pandemic, we appreciate the importance of showcasing our love and committing our support to anchor the community by reaching out directly to the beneficiaries. We are grateful for the SGX Bull Charge programme's partnership together with the Community Chest so that we can deliver our contributions locally this year through this virtual charity run."
Mr. Chew Sutat, SGX Bull Charge Chairman and Head of Global Sales & Origination at SGX, said, "We are delighted by this tremendous pledge of support from AMTD Charity Foundation, which will go a long way in making a difference to our beneficiaries during these difficult times. With just over a month to the Virtual Charity Run flagoff, their commitment is bringing renewed energy to our fundraising efforts and we thank them for their partnership."
Mr. Phillip Tan, Chairman of Community Chest, said, "Community Chest is deeply encouraged by the strong and sustained support from SGX and the financial industry to fundraise for those in need through SGX Bull Charge. We thank AMTD Charity Foundation for joining us in this meaningful cause as a testament to the importance of collective efforts in uplifting the lives of the vulnerable. The COVID-19 pandemic has united us all in enabling care and assistance to those in our community who need support most during this difficult time and I am confident we will all emerge stronger together."
About SGX Bull Charge
Launched in 2004, SGX Bull Charge is the only corporate charity initiative that brings together Singapore's financial community and listed companies to support the needs of underprivileged children and families, persons with disabilities, as well as the elderly. As part of our corporate social responsibility efforts, SGX Bull Charge has raised $39 million for more than 50 charities, providing beneficiaries with care and assistance and helping them lead a more positive, meaningful and comfortable life. For more information, please visit https://bullcharge.sgx.com/.
About Singapore Exchange
Singapore Exchange is Asia's leading and trusted market infrastructure, operating equity, fixed income and derivatives markets to the highest regulatory standards. As Asia's most international, multi-asset exchange, SGX provides listing, trading, clearing, settlement, depository and data services, with about 40% of listed companies and over 80% of listed bonds originating outside of Singapore.
SGX is the world's most liquid international market for the benchmark equity indices of China, India, Japan and ASEAN and offers commodities and currency derivatives products. Headquartered in AAA-rated Singapore, SGX is globally recognised for its risk management and clearing capabilities. For more information, please visit www.sgx.com.
About AMTD Group
AMTD Group is a leading comprehensive financial services conglomerate, with core businesses in investment banking, asset management, digital financial solutions; and non-financial services areas including education and real estate investment.
AMTD International (NYSE: HKIB; SGX: HKB), a subsidiary of AMTD Group, is the largest independent investment bank in Asia and one of Asia's largest independent asset management companies, and has been a leading investor in FinTech and new economy sectors. AMTD International was successfully listed on the New York Stock Exchange in 2019, representing the first Hong Kong headquartered financial institution listed on NYSE. On April 8, 2020, AMTD International completed its successful listing on SGX-ST, which marks a series of historical milestones, including:
• The first company ever to be dual listed on NYSE and SGX;
• The first company featuring dual-class shares (DCS) listed on SGX; and
• The first company to conduct a digital listing ceremony in Singapore.
About AMTD Charity Foundation
AMTD Charity Foundation is established by Mr. Calvin Choi, Chairman of AMTD Group, to fulfill the commitment of Mr. Choi and AMTD Group in giving back to the society and upholding social responsibility. AMTD Charity Foundation has been putting in great efforts in promoting education, relieving poverty, and supporting people in need in Asia and across the world. AMTD actively supports a range of corporate social responsibility activities, such as the sponsorship of Caritas Charity TV Show for 13 consecutive years, and being a key supporter of amfAR (the Foundation for AIDS Research), one of the world's leading non-profit organisations on AIDS research, etc. AMTD Charity Foundation has also been committed to promoting technological development and talent cultivation. AMTD has formed a long-term partnership with Xiaomi, Singapore Management University, and Institute of Systems Science at the National University of Singapore to establish "AXSI Digital Finance Leadership Program", cooperated with the University of Waterloo to launch the "University of Waterloo-AMTD Innovation Hub" and "AMTD Waterloo Global Talent Postdoctoral Fellowship", and collaborated with The Hong Kong Polytechnic University to create the "AMTD Fintech Centre of PolyU Faculty of Business", leading to the establishment of the first doctoral degree in FinTech program across Asia.