AMTD Deals | AMTD completes the IPO of Lixiang Education
On October 1, 2020, a joyous day which coincides with the Mid-Autumn Festival and China's National Day, Lixiang Education Holding Co., Ltd. ("Lixiang Education" or the "Company"; NASDAQ: LXEH), a leading private education service provider in Zhejiang Province, China, was successfully listed on the Nasdaq Global Market, with AMTD acting as the Lead Left Underwriter and Bookrunner on this IPO. This transaction marks the third US IPO solely led by AMTD this year, following Ebang International's (NASDAQ: EBON) and BlueCity's (NASDAQ: BLCT) IPO which were completed earlier this year. This transaction also marks yet another IPO in the education sector completed by AMTD, further demonstrating AMTD's proven track record in leading the execution and distribution effort of IPOs, as well as our rich experience and strong capability in handling offerings from China's education sector.

Founded in 2003 and headquartered in Lishui, Zhejiang Province, Lixiang Education is a leading private education services provider in Zhejiang Province, ranking 10th among the top private primary and secondary education institutes in Zhejiang Province in terms of the student enrollment for the 2019/2020 school year. At present, Lixiang Education operates two campuses – Liandu Foreign Language School Baiyun Campus and Liandu Foreign Language School Yijing Campus – Featured Division. In addition, Lixiang Education also offers high school education services at its High School Division through our collaboration with Qingtian High School. In terms of student enrollment, Lixiang Education ranks 1st among private primary and secondary education institutions in Lishui City, Zhejiang Province. Adhering to the mission of "Nurturing modern citizens with a sense of national pride and international vision" and the education philosophy of "To guide the healthy development of our students and to establish a solid foundation for their lifelong advancement and happiness", Lixiang Education is committed to the all-rounded development of its students through providing student-centric curriculum programs which aim to inspire its students with unique teaching and learning methods, philosophies and environment.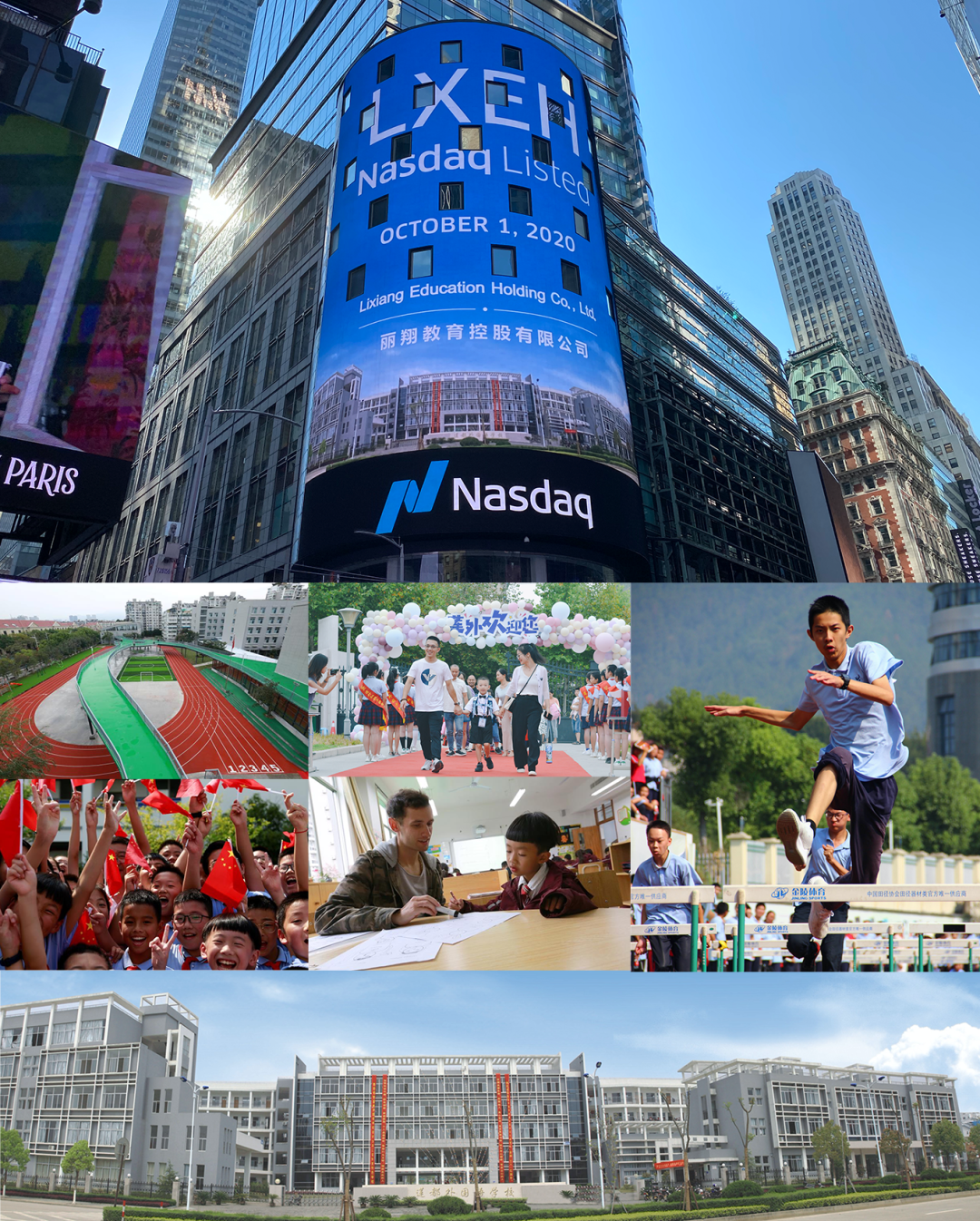 Lixiang Education offered a total of 3,333,400 American Depository Receipts ("ADSs") in this offering, with each ADS representing 5 ordinary shares. The offering was priced at US$9.25 per ADS, which translated to an offering size of US$30.8 million . As the Lead Left Underwriter and Bookrunner, AMTD played a leading and critical role throughout the entire execution process.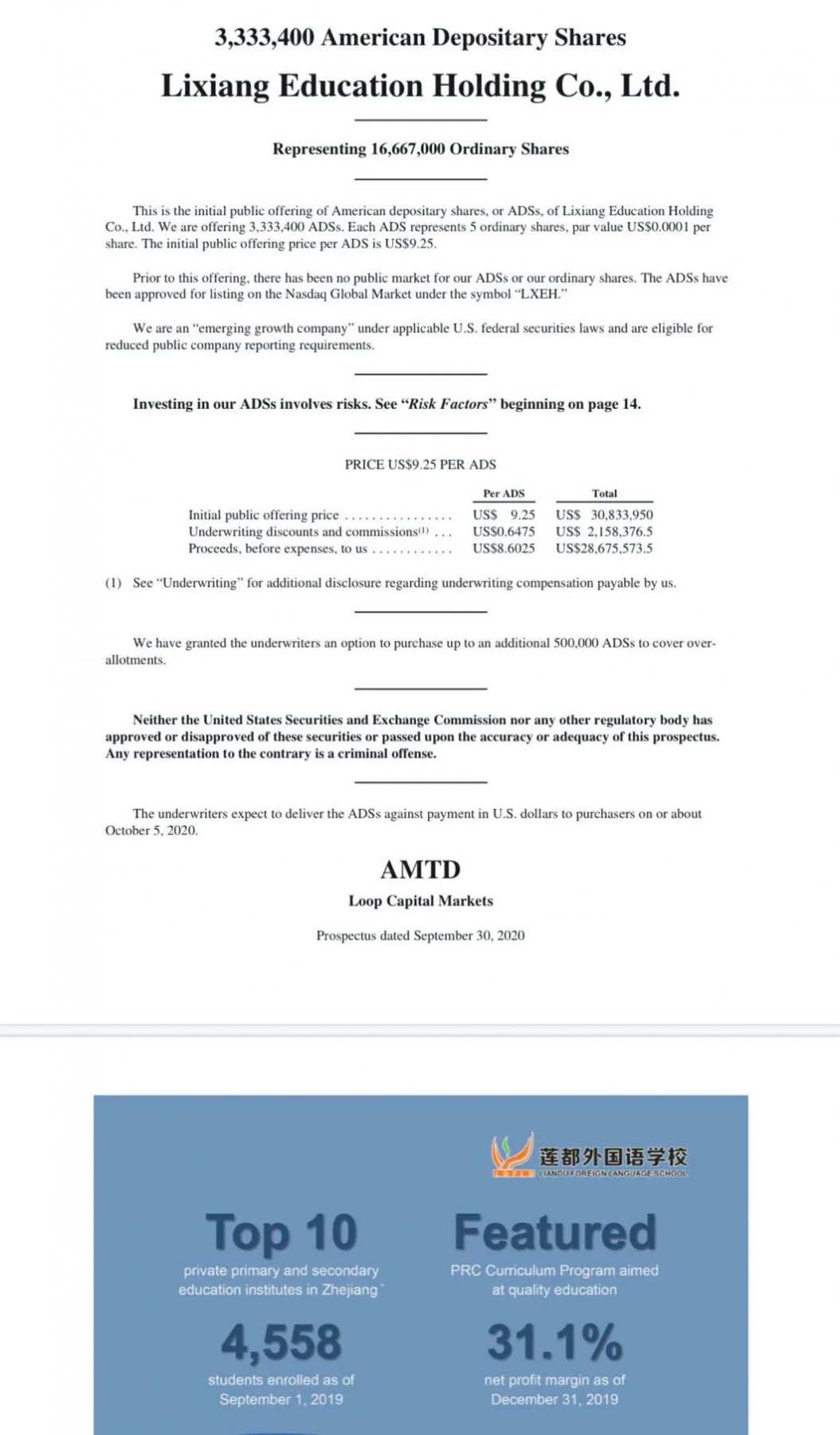 AMTD has an abundance of experience in underwriting and executing equity capital market transactions for issuers from the education sector. We had helped Koolearn (HKEX:1797), China's leading online education provider, Edvantage Group (HKEX:382), the largest private higher education group in the Greater Bay Area, Chunlai Education (HKEX:1969), the largest private higher school education group in Central China, and Top Education Group (HKEX:1752), the only Australian tertiary education company listed on the Hong Kong Stock Exchange and other leading education companies debut on the international capital markets.
AMTD Group itself is also dedicated to promoting and cultivating talent in the Greater Bay Area, Southeast Asia and beyond, and views Education as a key pillar in our "IDEAS" (AMTD International, AMTD Digital, AMTD Education, AMTD Assets, and AMTD Services) strategic development plan. AMTD jointly established Hong Kong's first-ever FinTech school and first doctoral degree in FinTech with the Hong Kong Polytechnic University; jointly launched the AMTD Waterloo Global Talent Postdoctoral Fellowship with the University of Waterloo; participated in the investment into the international development (outside the UK) of Charterhouse School, one of the nine public schools in the UK; established AXSI Digital Finance Leadership Programme together with Xiaomi, Singapore Management University and Institute of Systems Science at National University of Singapore; launched AMTD SFA Global FinTech Fellowship Programme with Singapore FinTech Association; initiated the @-WISE Cybersecurity Centre of Excellence Singapore with University of Waterloo, iQ4 and Singapore FinTech Association, with the purpose of folstering FinTech talents; became the first industry partner of CFtP qualification to promote the FinTech talent traning. AMTD will keep supporting talent development and upholding social responsibility, contributing to the cause and advancement of the education sector.