AMTD News | The 1st batch of four AMTD Scholars debut
AMTD Waterloo Global Talent Postdoctoral Fellowship announced the first batch of four selected scholars, all of whom are committed to improving the social environment, and have disruptive research proposals and competitive research outcomes in important disciplines.
It is worth mentioning that there are two female scholars among the first batch of four scholars, hoping to inspire more women to devote to scientific study and research. All four selected individuals will become AMTD Scholars at the same time.
The four world-class scholars are listed as below: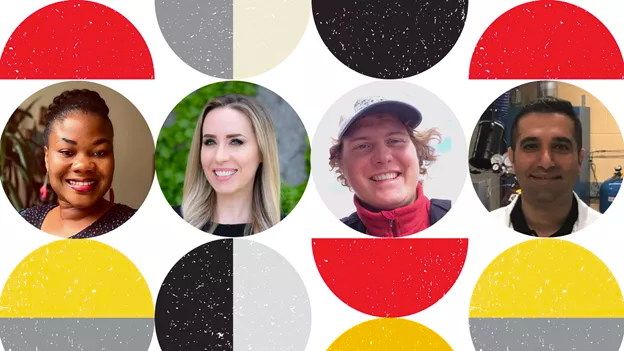 • Oluwakemi (Kemi) Amodu,Committed to reproductive health protection for displaced women in Nigeria;
• Rhea Hoskin,Study the role of anti-feminism played in violence and discrimination;
• Alex Krolewski,Study the reasons for the accelerated expansion of the universe;
• Edris Madadian,Committed to biofuel research, using biomass waste to create energy.
AMTD Waterloo Global Talent Postdoctoral Fellowship was jointly established by AMTD Group, AMTD Charity Foundation and the University of Waterloo in February this year. This Fellowship, aimed to cultivate talents in technological innovation, was co-sponsored by Mr. Calvin Choi, Chairman and CEO of AMTD Group and Chairman of AMTD Charity Foundation, Dr. Feridun Hamdullahpur, President of University of Waterloo, and Dr. Donna Strickland, Nobel Prize winner, Canadian physicist, and professor of physics at University of Waterloo.
Before this program, AMTD Group and University of Waterloo also jointly established the AMTD-University of Waterloo Innovation Hub in Central, Hong Kong.
The first phase of AMTD Waterloo Global Talent Postdoctoral Fellowship begins in 2020 and ends in 2025. Each phase of the program will be 1-2 years, including an annual salary of 75,000 Canadian dollars, an engagement fund of 7,500 Canadian dollars and additional rewards.
The program is aimed to attract emerging scholars and outstanding talents with outstanding academic achievements and strong research capabilities, to provide unmatched opportunity for those selected talent to promote their technological innovation and research, to provide them with career development opportunities, and to cultivate talents with leadership so as to drive future global developments.
Applicants need to have a doctorate degree or have met the criteria for obtaining a doctorate degree without tenure, and each person can only apply once. The application process is as followed:
• Contact a faculty member of the University of Waterloo as a mentor;
• The faculty submits the endorsement form and the staff of the program will contact the applicant;
• Submit recommendation letters;
• Applicant submits the application online.
Qualified applicants will be evaluated by the program admission committee, and the shortlisted scholars will be invited to offline or remote interviews.