AMTD Deals | the Hong Kong IPO of Radiance Holdings
Recently, Radiance Holdings (Group) Company Limited ("Radiance Holdings" or the "Company", 9993.HK), an established property developer in China, successfully listed on the Main Board of the Hong Kong Stock Exchange. The Company is one of the two remaining unlisted companies among the top 40 property developers in China, and its IPO also marks the largest property sector IPO on the HKSE year-to-date. AMTD acted as a Joint Bookrunner and Joint Lead Manager to help Radiance Holdings to complete its debut on the international equity capital markets.
The transaction is the 12th IPO and the 2nd real estate IPO completed by AMTD so far this year. It also represents the second capital markets transaction led by AMTD for the Company, after acting as a Joint Bookrunner in its US$250m senior bond offering in June 2020, which demonstrates AMTD's strong ability to win the client's trust and help Chinese real estate companies achieve their capital raising and financing targets. This transaction also illustrates AMTD's long-term commitment to clients and continuous support for its clients' growth and expansion.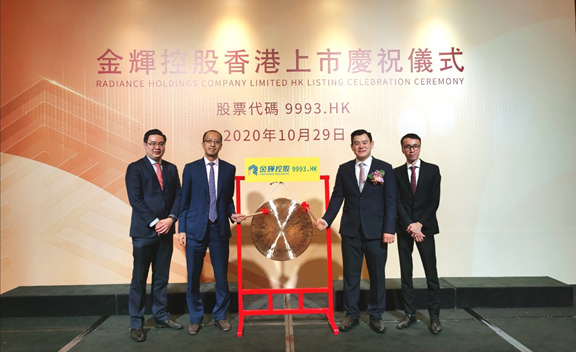 Mr. William Fung, Group Vice President at AMTD Group (second from left), Mr. Derek Chung, Chief Strategy and Business Development Officer and Head of Investment Banking at AMTD International (first from left), Mr. Ming Lin Cheung, Head of Advisory and ECM at AMTD International (first from right) accompanied Mr. Chris Chiu (second from right), Chief Financial Officer and company secretary of Radiance Holdings to attend the listing ceremony
Radiance Holdings offered a total of 600,000,000 shares at the offering price of HK$4.30 per share, which translates to an offering size of US$333 million (prior to the exercise of the over-allotment option). The Company is a reputable and established property developer with national presence, regional focus and leading positions in China. Over the past 20 years of development, the Company has successfully expanded its presence in five regions with strong economic growth potential in China, including the Yangtze River Delta, the Bohai Economic Rim, Southern China, Southwestern China and Northwestern China. The Company ranked 36th in terms of comprehensive strengths among "2020 China's Top 50 Real Estate Developers" and was ranked as one of "China's Top 10 Real Estate Developers of Comprehensive Strength" by the China Real Estate Association and the China Real Estate Appraisal Center of E-house China Research Institute in 2020. In 2017, 2018 and 2019, Radiance Holdings achieved revenues of RMB 11,777 million, RMB 15,971 million and RMB 25,963 million respectively, representing a CAGR of 48.48%. The Company's net profit was RMB2,221.3 million, RMB2,299.9 million and RMB2,690.0 million for 2017, 2018 and 2019 respectively, representing a CAGR of 10.04%.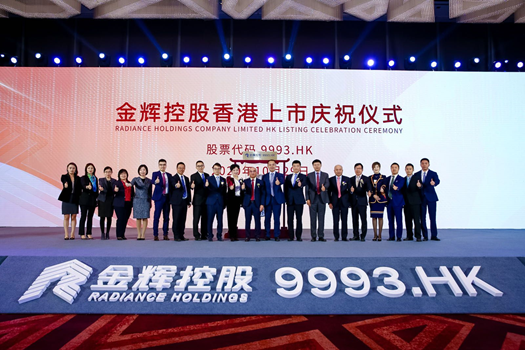 AMTD acting as a Joint Bookrunner and Joint Lead Manager to support the successful listing of Chinese famous property developer, Radiance Holdings, on the Main Board of the Hong Kong Stock Exchange
AMTD, as a leading comprehensive conglomerate, has always been committed to providing clients with open-end, innovative, diversified and professional financial services. Over the past few years, AMTD has successfully assisted various Chinese real estate companies in their capital and fund-raising activities, enabling AMTD to have a deep understanding of these clients' needs. In addition, AMTD has assisted numerous property management service providers, such as Aoyuan Healthy Life (3662.HK), and Ye Xing Group (1941.HK) to successfully list on the HKSE, showcasing AMTD's strong influence and effective execution capability in the global capital markets.
In June 2020, AMTD completed its first REIT transaction, assisting Dasin Retail Trust (SGX: CEDU) to complete its S$94 million private placement transaction, which marked another milestone of AMTD in Singapore capital markets, after establishing a leading position in Hong Kong and the US capital markets. AMTD also served various Hong Kong tycoon families and blue chip enterprises in their capital markets transactions, including Far East Consortium International Limited, New World Development Company Limited, Sun Hung Kai & Co. Limited, Regal Hotels International, etc. for years.
AMTD is not only a reliable financial service provider to real estate companies, but also an active investor in the real estate sector. In September 2019, AMTD Property Development Group successfully completed the acquisition of landmark serviced apartment building Oakwood Premier AMTD Singapore from OUE with an investment of S$289 million; In December 2019, AMTD successfully acquired iClub Sheung Wan II Hotel, the second real estate deal consolidated into financial statement, at an investment of HK$600 million.