AMTD Deals | AMTD Completes Hong Kong IPO of Dongguan Rural Commercial Bank
Dongguan Rural Commercial Bank Co., Ltd. ("Dongguan RCB" or the "Company"; 9889.HK), headquartered in the core area of Guangdong-Hong Kong-Macau Greater Bay Area, Dongguan, Guangdong Province - marine economy demonstration zones of China, was successfully listed on the Main Board of the Hong Kong Stock Exchange ("HKSE") on September 29, 2021. Dongguan RCB is the only commercial bank listed on Hong Kong stock exchange in 2021, and is also the largest regional commercial bank to list in Hong Kong since 2018, with AMTD acted as a Joint Bookrunner and Joint Lead manager. This deal is the ninth PRC leading regional bank's IPO completed by AMTD in recent years, which further demonstrates AMTD's strong execution capability and long-term commitment in assisting PRC regional banks to land on the international capital market and facilitate follow-up investments. From 2015 onwards till now, AMTD has established remarkable credentials by completing successfully large-scale IPOs for Chinese regional banks every year for seven consecutive years.

In this transaction, Dongguan RCB offered a total of 1,148,091,000 shares at the offer price of HK$7.92 per share, which translated to an offering size of US$1.17 billion (prior to the exercise of the over-allotment option). Dongguan RCB is a rural commercial bank with wholly private shareholding structure. According to PBoC Dongguan Center Branch, Dongguan RCB has ranked the first among banking institutions in Dongguan each year since 2005 in terms of year-end balance of deposits and loan. According to the "Top 100 Banks in China of 2021" released by China Banking Association in 2021, Dongguan RCB is the fifth largest rural commercial bank in China in terms of total assets, with a value of RMB548.4 billion as of December 31, 2020. Rooted in the core area of Guangdong-Hong Kong-Macau Greater Bay Area, Dongguan Province, and surrounding regions for over decades, Dongguan RCB has the largest number of outlets among commercial banks in Dongguan. As of the Latest Practicable Date, 501 out of the total 505 outlets of Dongguan RCB were located in Dongguan that cover all administrative districts. Dongguan RCB directly benefits from the large scale, excellent credit environment, and the huge growth potential of the Greater Bay Area's industrial ecosystem, as well as the affluent retail banking customer base in the Greater Bay Area, and the booming demand for financial services in the modern three-agricultural industry.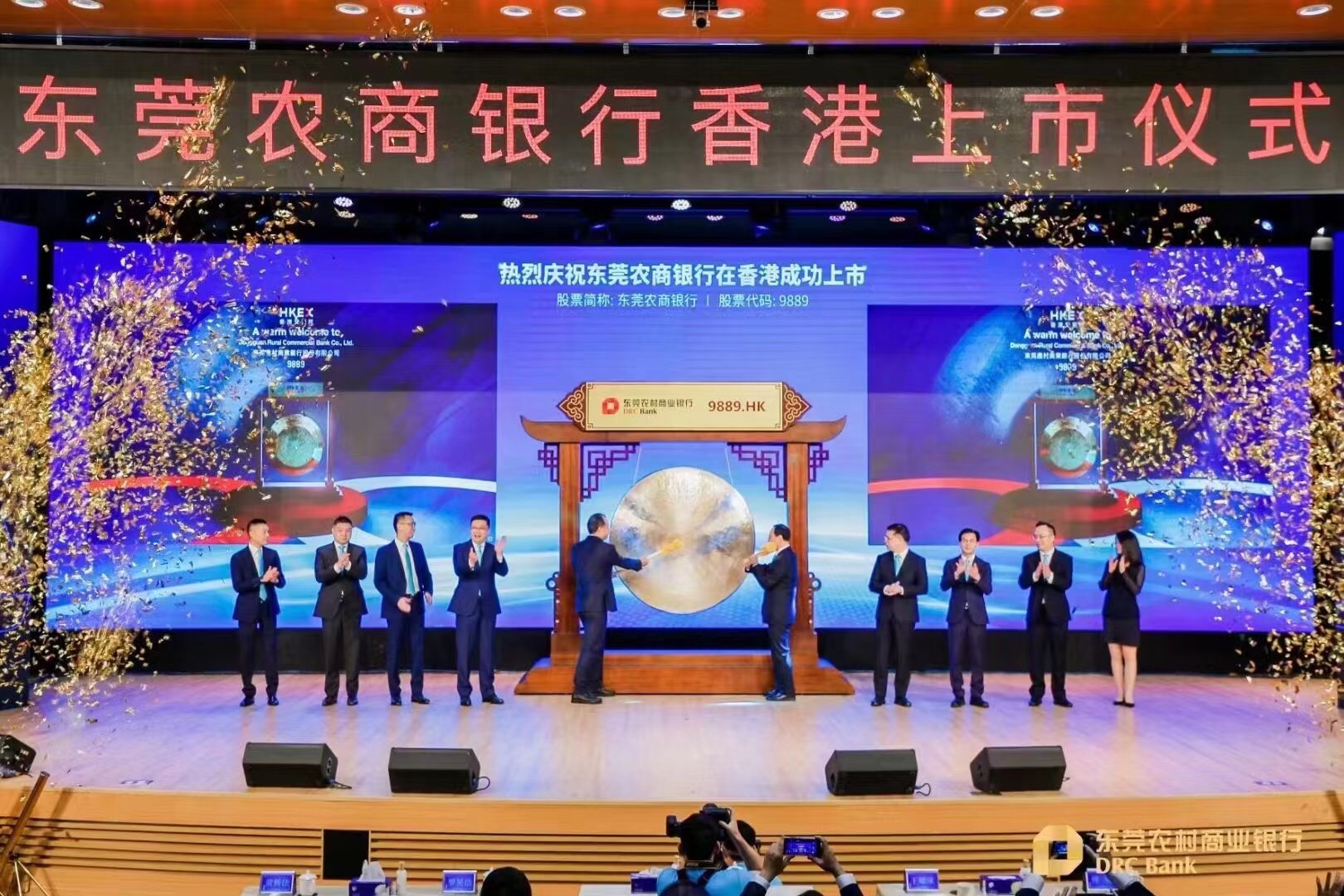 AMTD has a long-term commitment and strategic partnership with the PRC regional bank sector. AMTD ranked 2nd by number of PRC regional bank IPOs completed as joint global coordinator since 2015 among global investment banks, and AMTD is also the largest independent asset manager in Asia for PRC regional banks as measured by AUM. No matter in H-share IPO or AT1 capital preferred share offerings, AMTD is one of the leading financial services providers for PRC regional banks, helping them gain access to international capital markets and promoting their internationalization strategy. In recent years, AMTD has led nine H-Share IPOs of PRC regional banks, including Bank of Qingdao (3866.HK), Tianjin Bank (1578.HK), Guangzhou Rural Commercial Bank (1551.HK), Zhongyuan Bank (1216.HK), Jiangxi Bank (1916.HK), Jinshang Bank (2558.HK), Bank of Guizhou (6199.HK), Weihai City Commercial Bank (9677.HK), and Dongguan Rural Commercial Bank (9889.HK), with an aggregate proceeds of over US$7.8 billion. In addition, AMTD has also led the AT1 capital preferred share offerings of five PRC regional banks, including Bank of Qingdao, Zhongyuan Bank, Guangzhou Rural Commercial Bank, Bank of Zhengzhou, and Bank of Jinzhou, with aggregate proceeds of US$6.8 billion.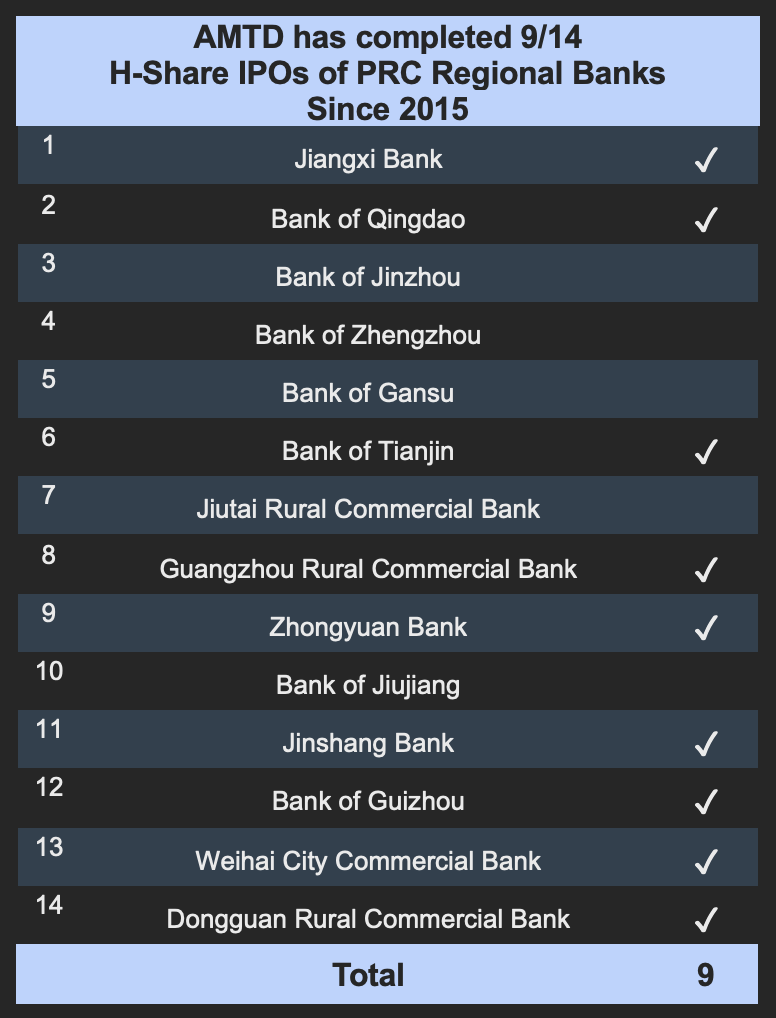 At the same time, with the development of Guangdong-Hong Kong-Macau Greater Bay Area, more cooperation opportunities are mapped out by strengthening communication and interconnection between Hong Kong and various regional banks from the PRC. AMTD plays a prominent role as a bridge connecting Hong Kong capital market with leading regional banks. In 2018, AMTD, under the witness of HKSAR government, launched the "Regional Banks+ Strategic Cooperation Alliance" together with regional banks including Bank of Qingdao, Zhongyuan Bank, Jiangxi Bank, Guangzhou Rural Commercial Bank. Subsequently, leading banks such as Airstar Bank and East West Bank also joined the alliance to further promote the innovation and development in FinTech, smart finance, inclusive finance, and green finance by utilizing various resources, mutual cooperation and collaborative synergy.