AMTD Digital | AMTDx FWD x REAP launch HK 1st Digital Employee's Comp Insurance
AMTD Digital (through its insurTech arm AMTD InsurTech Group and its subsidiary AMTD Risk Solutions), Asia's one-stop digital solutions platform, has joined hands with REAP Group, a leading no-code, payments and finance management platform for businesses and SMEs, and FWD General Insurance, a leading general insurance company in Hong Kong, to launch Hong Kong's first-ever Digital Employees' Compensation Insurance in history.
A first in Hong Kong, business entities can purchase the government-mandated employee compensation insurance in less than 5 minutes (offered as part of FWD-issued multi-coverage Business Package insurance) via AMTD's designated digital channel partner, REAP's award-winning payment management platform. The entire process from application, quotation to credit card payment is fully digitalized and exclusively brokered by AMTD Risk Solutions Group. This programme is one of the most wide-reaching tailored digital insurance offering for Hong Kong's more than 340,000 small and medium businesses to-date.
The entire experience is fast, smooth, and competitively priced, removing tedious and manual input or back-and-forth emails between applicants, brokers / agents, and insurers. Applicants can complete the process on their phone or laptop, on the spot, pay by credit card, and receive the NI (notice of insurance) automatically.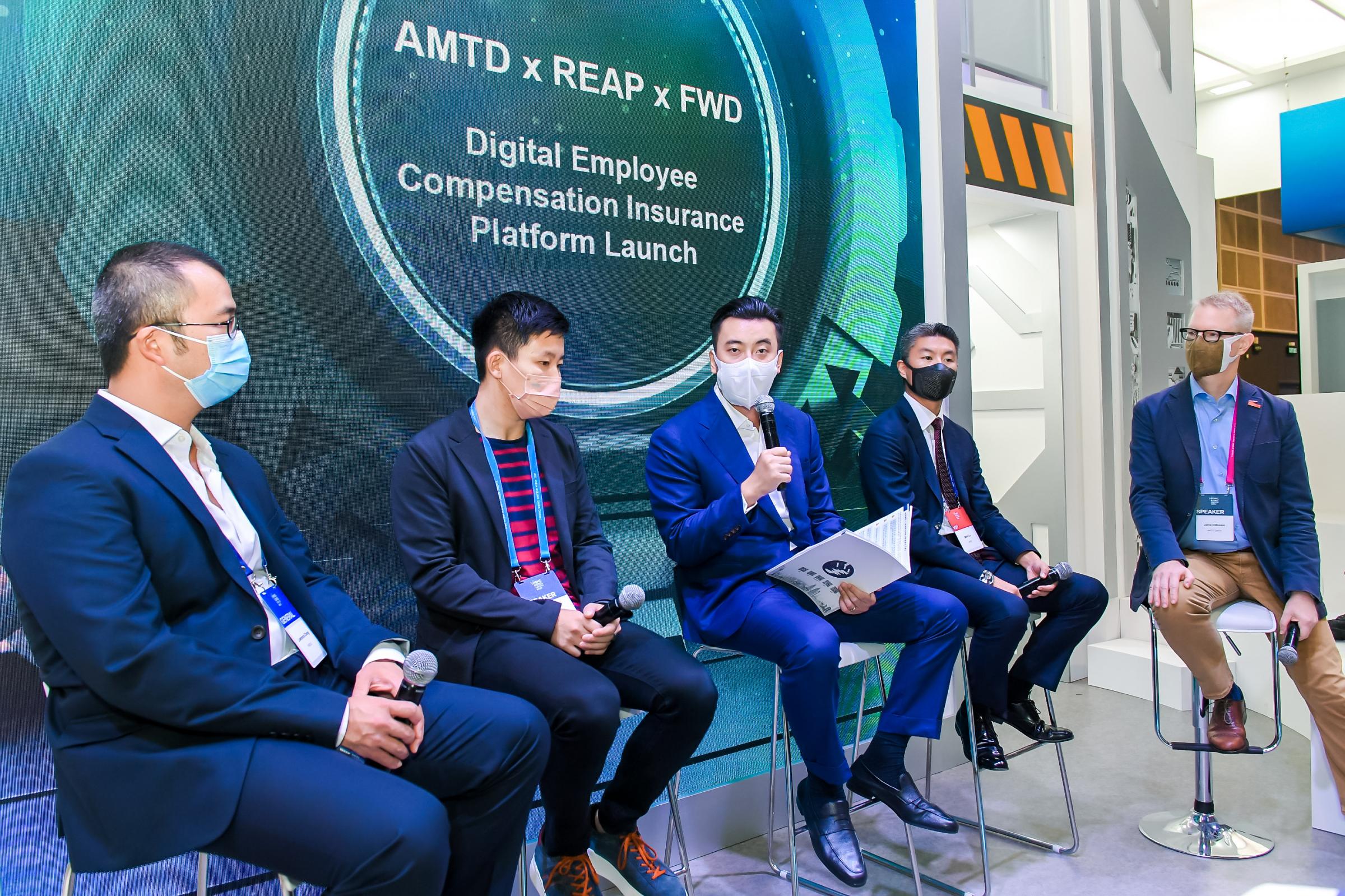 "We are thrilled to partner with world-class digital finance leaders like FWD General Insurance and REAP. The seamless experience and tailor-made solution for employee compensation insurance - a mandatory insurance for all 340,000+ HK based businesses - is unprecedented and truly ground-breaking. It represents a landmark initiative by AMTD Risk Solutions, our HK licensed insurance brokerage arm, to lead the transformation of the insurance sector into a true-digital age characterized by extreme contextual relevance, premium and cost of risk optimisations, and ultra-efficient matching of insurance capital vs. risks. This is also an important milestone in AMTD Digital's overall vision of delivering one-stop, cross-sectoral digital solutions across Asia." ---- Mr. Kevin Zhang, Executive Director of AMTD InsurTech Group.
"We are excited about this opportunity to collaborate with AMTD Digital and FWD General Insurance as innovative fintech partners. This partnership enables Reap to go beyond our existing finance and payments software solutions and offer our business customers the first digital Employees' Compensation Insurance in Hong Kong. Adding access to digital insurance products for businesses further solidifies our position as an all-in-one financial kit for owners and operators." ---- Mr. Daren Guo, Co-Founder & CEO of REAP.
"SMEs are vital to our economy as they constitute more than 98% of Hong Kong's businesses and employ almost half of the workforce in the private sector. We are pleased to be part of this unique tripartite partnership with AMTD and Reap. Together, we believe we will be able to empower Hong Kong SMEs to be better protected with the necessary cover for their valued employees." — Ms. Min-Jie Ye, Head of FWD General Insurance, Hong Kong." ---- Ms. Min-Jie Ye, Head of FWD General Insurance, Hong Kong.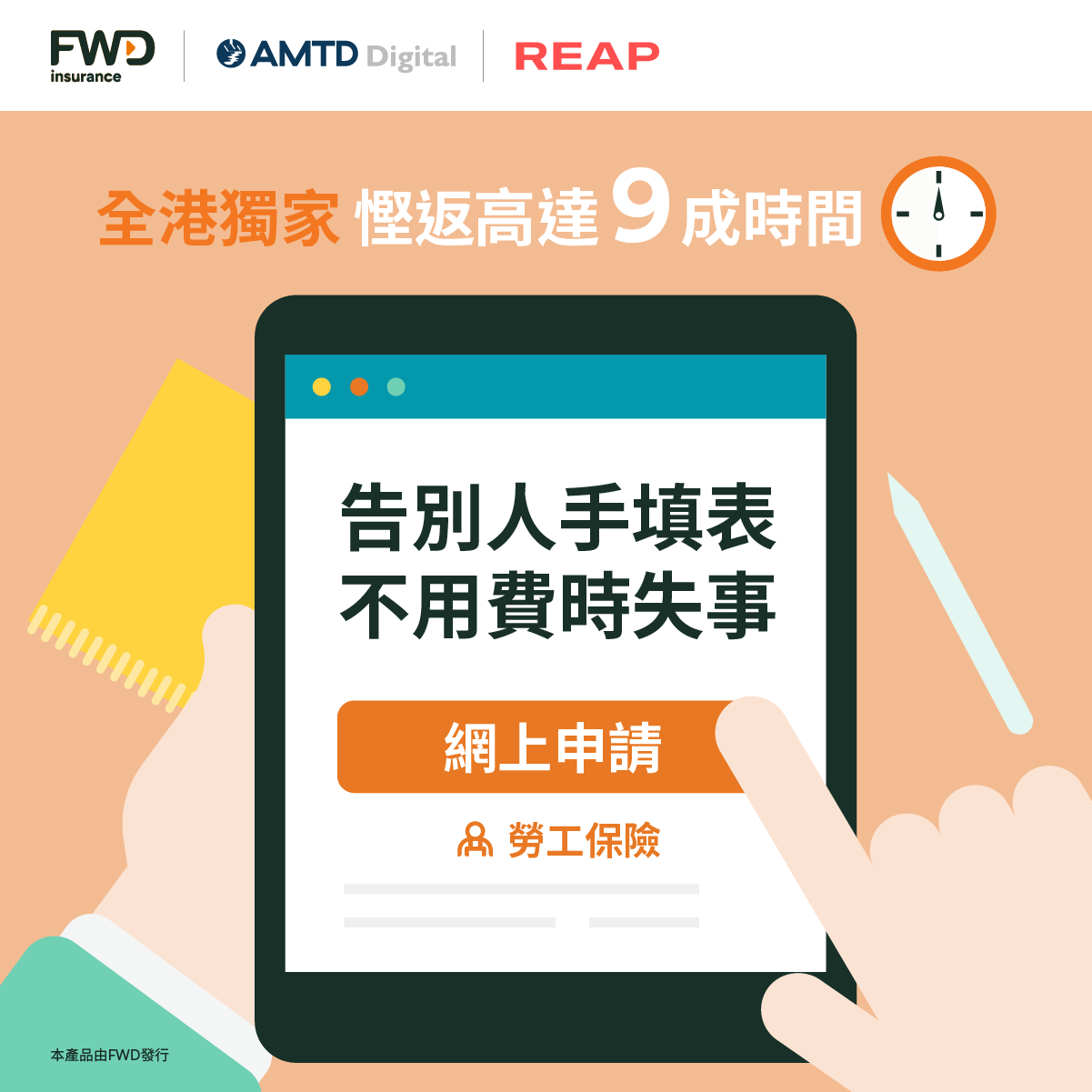 About AMTD Digital & AMTD InsurTech Group
As the fusion reactor at the core of the AMTD SpiderNetecosystem, AMTD Digital is a one-stop digital solutions platforms in Asia with businesses spanning multiple verticals, including digital financial services, digital media, content & marketing, SpiderNet ecosystem solutions, and digital investments. Its insurtech arm, AMTD InsurTech Group, operates insurtech and insurance solutions businesses across Asia, including Singapore-based AMTD-PolicyPal and Hong Kong-based AMTD Risk Solutions Group - a licensed insurance brokerage founded since 2004, Hong Kong's leading insurtech platform and largest independent corporate insurance brokerage that provides general, health and life insurance solutions to corporates and individuals.
About REAP Group
REAP is a no-code, payments and finance management platform for businesses. Centered around reinventing the business credit card, REAP has built a digital platform for businesses to transact and conduct all operational payments via card, improve working capital and streamline their expense management processes. Headquartered out of Hong Kong, REAP operates on a global scale with presence in Singapore, Malaysia and Japan (upcoming). REAP is backed by leading venture investors including GFC, Index and BAI.
About FWD General Insurance Hong Kong
FWD General Insurance in Hong Kong is a subsidiary of bolttech, an international insurtech and part of Pacific Century Group. FWD General Insurance distributes a wide range of insurance for individual and corporate customers including home, motor, medical, travel, device protection and various commercial insurances, licencing its brand from FWD, a leading pan-Asian life insurer focused on changing the way people feel about insurance.