Dr. Calvin Choi Became SMU's International Council Member
Dr. Calvin Choi, Chairman of the Board and CEO of AMTD Group, Founding Chairman of AMTD Charity Foundation, was appointed as a member of Singapore Management University (SMU)'s International Advisory Council (China).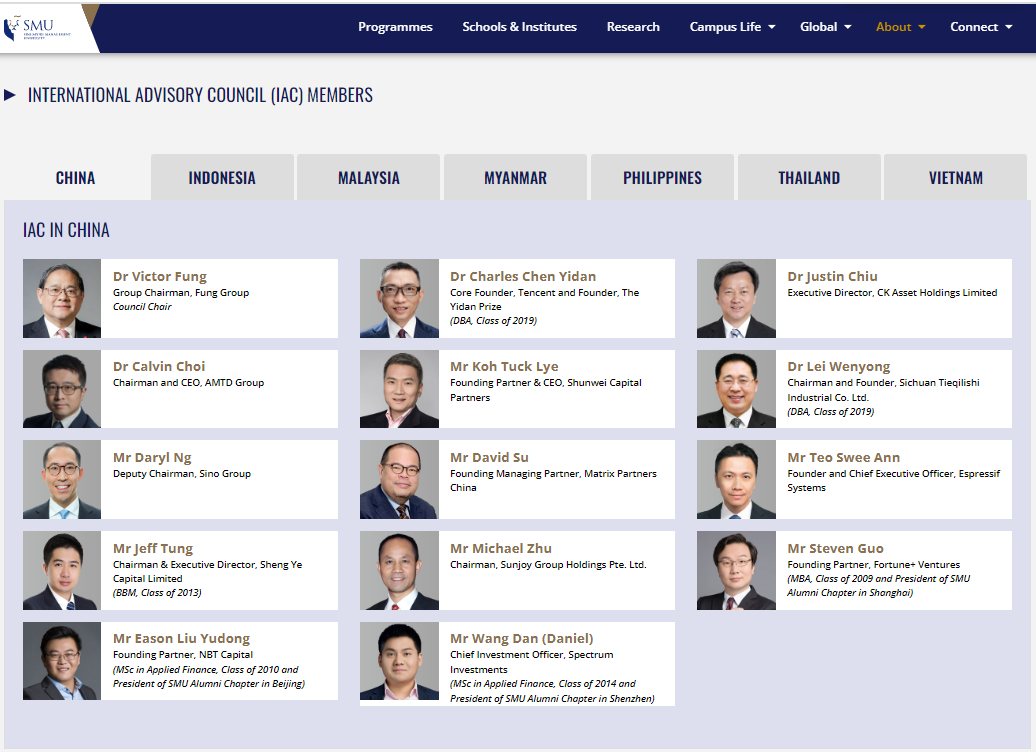 Singapore Management University has formed International Advisory Councils (IACs) in seven key Asian countries including China, Indonesia, Malaysia, Myanmar, Philippines, Thailand and Vietnam to provide platforms for active engagement with the local business community, its overseas alumni, international students and academia. Each of the seven IACs is made up of a select group of business and community leaders.
The councils are established with the following missions:
● Help support SMU in its efforts to build its international reputation;
● Provide perspectives regarding SMU's relevance to the region and how SMU can contribute to and support the region's growth and development;
● Provide a means for SMU to demonstrate its thought leadership and enhance its position as a premier university in Asia that is internationally recognised for its world class research and distinguished teaching;
● Provide SMU with access to policy makers and thought leaders in their countries.
The IAC (China) is chaired by Dr. Victor Fung, Group Chairman of Fung Group, and constituted by 14 members, including:
● Dr. Victor Fung,Group Chairman of Fung Group;
● Dr. Charles Chen Yidan,Core Founder of Tencent, Founder of The Yidan Prize
● Dr. Justin Zhu, Executive Director of CK Asset Holdings Limited;
● Dr. Calvin Choi,Chairman and CEO of AMTD Group; Founding Chairman of AMTD Charity Foundation;
● Mr. Koh Tuck Lye,Founding Partner & CEO of Shunwei Capital Partners;
● Dr. Lei Wenyong, Chairman and Founder of Sichuan Tieqilishi Industrial Co. Ltd.;
● Mr. Daryl Ng,Deputy Chairman of Sino Group;
● Mr. David Su,Founding Managing Partner of Matrix Partners China;
● Mr. Teo Swee Ann,Founder and Chief Executive Officer of Espressif Systems;
● Mr. Jeff Tung, Chairman & Executive Director of Sheng Ye Capital Limited;
● Mr. Michael Zhu,Chairman of Sunjoy Group Holdings Pte. Ltd.;
● Mr. Steven Guo,Founding Partner of Fortune+ Ventures;
● Mr. Eason Liu Yudong,Founding Partner of NBT Capital;
● Mr. Daniel Wang Dan,Chief Investment Officer of Spectrum Investments.