Jay, L'Officiel & ENVISEAM, present Art Colure with Artistes
In partnership with ENVISEAM and L'Officiel Art of AMTD IDEA, Jay Chou sets to present a curated art show in Singapore's iconic Marina Bay Sands.
An arbiter of arts and culture and celebrated ENVISEAM, together with the King of Mandopop Jay Chou, have announced the start to a cultural and creative relationship with L'Officiel Art of AMTD IDEA, which will kickstart with an exclusive fine art exhibition in Singapore.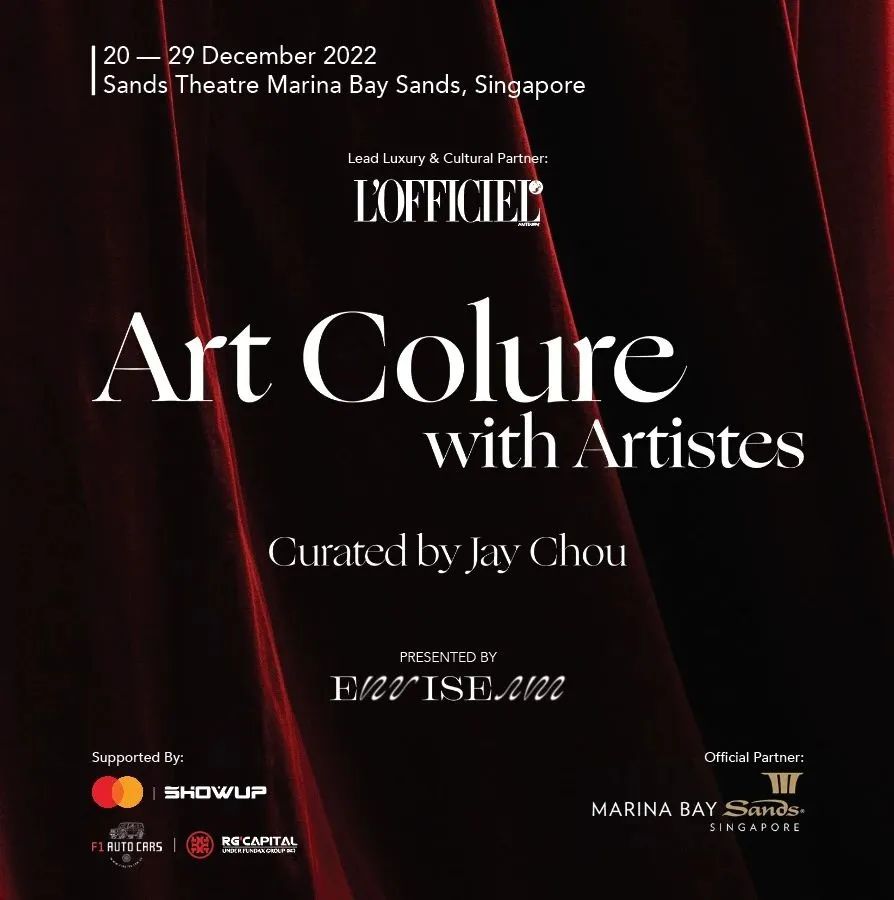 Following the debut of this fine art exhibition, there will be a showcase of curated special content by Jay Chou in the upcoming issues of L'Officiel Art in 2023, setting the scene for future art projects and initiatives internationally.
Titled "Art Colure with Artistes Curated by Jay Chou in collaboration with L'Officiel Art", the art exhibition will feature a curation of Jay's favourite artworks and kick off on 19th December 2022, with formal opening to the public from December 20th to December 29th.
The partnership kickstarted from a mutual appreciation for the arts between Calvin and Jay, where they saw the importance of art in sparking conversations and ideas for both artists and viewers.
Calvin said "The art and culture industry is one that our companies, both L'Officiel and AMTD Idea Group, are strong advocates for. When the conversation stroke between me and Jazz, the founder and CEO of ENVISEAM, we thought there is no better time than now to kickstart this collaboration – to create opportunities for the art community that can potentially stimulate growth in various sectors including arts and culture, fashion and other commercial sectors."
The cooperation came as a fantastic timing for L'Officiel Art by AMTD IDEA, ENVISEAM, Calvin, Jazz, and Jay, following the latter's two-day Carnival World Tour in Singapore and his recent music album "Greatest Works of Art".
Jay said "I'm thrilled to be able to collaborate with L'Officiel Art by AMTD IDEA. This amazing exhibition is labelled as a "Prelude" as I have ideas to offer an "extensive and bigger spectacles" of a larger main show we are planning for 2023. The exhibition reflects a sampling of my personal taste in art and is designed to introduce more people to the world of fine art and art collecting, immersing audiences in a deeper experience of arts and culture."
The exhibition will be showcasing a curation of works, personally selected by Jay, from world-renowned artists including Anselm Kiefer, Gerhard Richter, Mark Bradford, KAWS, FUTURA, and Jahan Loh.