AMTD enters into long-term strategic cooperation agreements with Yango Holdings in Hong Kong
On 15 January 2016, AMTD Group Company Limited ("AMTD Group"), a leading capital markets & advisory and asset management platform with its headquarter located in Hong Kong and based in Asia, and Yango Holdings, the leading privately owned Chinese corporate group, has signed a long-term strategic cooperation agreement. AMTD Group and Yango Holdings will have long-term comprehensive and in-depth cooperation in various business areas in capital markets, and will explore opportunities for cooperation in various financial services including asset management, insurance, internet finance, etc.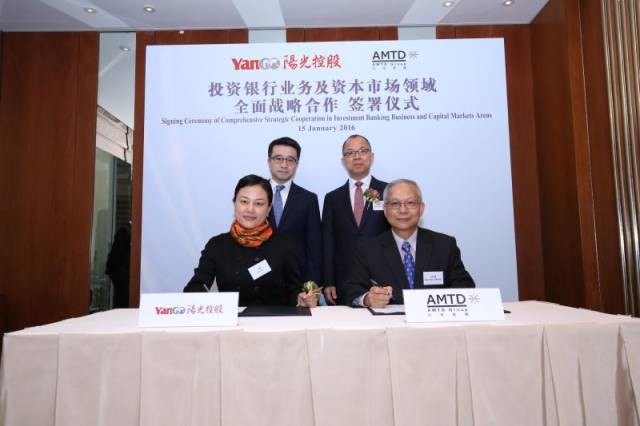 Mr. Lin Tengjiao, Chairman of the Board of Directors of Yango Holdings, Ms. He Mei, President of Yango Holdings and the Executive Chairman of Sunshine City Group, Mr. Tao Hongliang, Chief Legal Officer of Yango Holdings attended the signing ceremony in Hong Kong, demonstrating the importance of this strategic cooperation to the Yango Group.
Yango Holdings is a leading privately owned Chinese enterprise founded by Mr. Lin Tengjiao, a famous Chinese entrepreneur. It commits to "diversified investments and professional management" as its operating mission. Yango Holdings owns 6 business groups namely Yango Education Group, Yango Health Group, Yango Financial Group, Yango Trade Group, Yango Holiday Hotel Group and Sunshine City Group. Its investments spread over 16 cities in China, Singapore, Hong Kong and the U.S., etc. Sunshine City Group Co., Ltd (Stock code: 000671.SZ) is one of the well-known enterprises under the Group.
With the diversified backgrounds and strong supports of its shareholders AMTD Group is capturing all opportunities to expand its various businesses rapidly. AMTD Group has assisted in the completion of a number of capital markets transactions, including the H-share IPOs for Xinte Energy Co., Ltd.(1799.HK), Bank of Qingdao Co., Ltd. (3866.HK) and Lanzhou Zhuangyuan Pasture Co., Ltd. (1533.HK), the USD bond issue for CMI, as well as the B+ round financing of UCAR Inc.. It also actively seeks to partner with different leading privately owned enterprises both onshore and offshore.
Yango Holdings and AMTD Group are actively planning for extensive cooperation in capital markets areas: With its strength and experience in offering unique, innovative and integrated financial services in international capital markets, AMTD Group will provide different funding channels and innovative financial services to Yango Holdings, in order to assist Yango Holdings to further enhance its globalization process, optimize its asset allocation, increase its market influence and competitiveness. Also, through the development of innovative and differentiated cooperation arrangement in capital markets business, AMTD Group and Yango Holdings are both able to benefit from the advantage of capital integration and financial strategy to further develop and grow their businesses.