AMTD Group announces the plan to set up Guangdong-HK full-licensed JV securities company under CEPA as a founder and signs a strategic cooperation agreement with Government of China (Guangdong) Pilot Free Trade Zone Nansha Area of Guangzhou
April 21, 2016, China (Guangdong) Pilot Free Trade Zone Nansha New Zone of Guangzhou launch release and the 21st Century Maritime Silk Road's major construction projects signing ceremony was held in Guangzhou Nansha. Mr. Zheng Jianrong, Chief of Guangdong Free Trade Office, Mr. Cai Zhaolin, Vice Mayor of Guangzhou, Mr. Ding Hongdu, Standing Committee Member of the CPC Guangzhou Municipal Committee and Chief of the Administrative Committee of the Nansha New Zone and heads of related departments from Guangdong government and Nansha New Zone - Guangdong Free Trade Zone, have participated in the event. Mr. Timothy Fok Chun Ting, member of CPPCC National Committee and the Legislative Council of the HKSAR, Chairman of the Hong Kong Olympic Committee, President of the Fok Ying Tung Group, Mr. Ian Fok Chun Wan, National People's Congress , Life Honorary Chairman of the Chinese General Chamber of Commerce, Vice-chairman of All-China General Chamber of Industry & Commerce and China Overseas Friendship Association, Mr. Yi Gang, President of China Railway Signal & Communication Corp, and Mr. Zhang Xian, Vice president of China Railway Group Limited also attended the conference and witness the signing ceremony. AMTD Group Limited ("AMTD"), being the major founder of the Guangdong-Hong Kong full-licensed joint venture securities company, one of the "Top Ten Project", is very honored to be invited by the Nansha New Zone Government to join this grand ceremony. Mr. Calvin Choi, the Chairman and CEO, Vice Chairman of Hong Kong Youth Association and Mr. Sidney Ku, Head of Insurance and Client Coverage attended the ceremony and signed a cooperation agreement with Nansha New Zone on behalf of AMTD Group.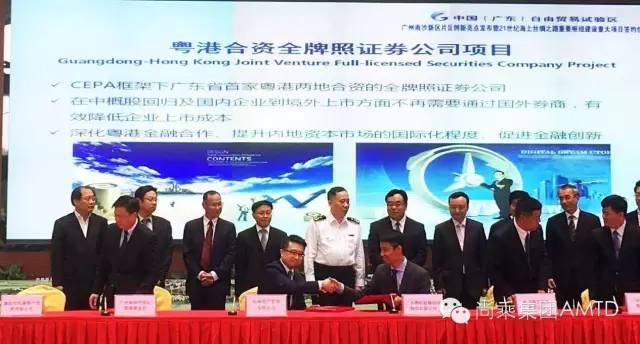 A total of 10 major projects were signed on the 21st Century Maritime Silk Road Major Construction Signing Ceremony, covering strategic cooperation platform for "21st Century Maritime Silk Road and Silk Road Economic Belt", shipping logistics, financial innovation, technological innovation, headquarters economy, high-end equipment manufacturing, etc. Among them, the Guangdong-Hong Kong full-licensed joint venture securities company applied by AMTD Group under CEPA ("Mainland and Hong Kong Closer Economic Partnership Arrangement") is included in the list of Top Ten Projects. Mr. Calvin Choi, Chairman and CEO of AMTD, on behalf of the Group and the Guangdong-Hong Kong joint venture securities firm, signed the strategic cooperation agreement with Nansha District. The Guangdong-Hong Kong joint venture securities firm officially settled in Nansha.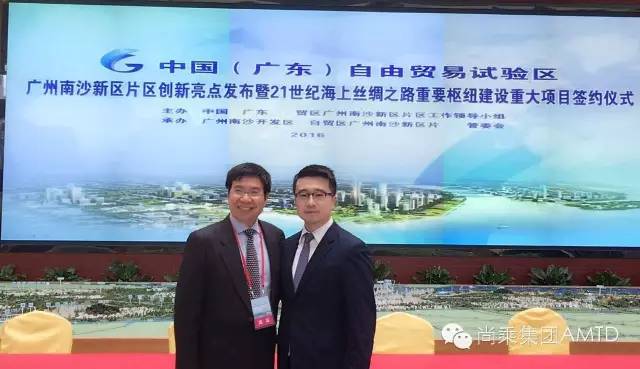 The signed project is the first Guangdong-Hong Kong full-licensed joint venture securities company in Guangdong Province under CEPA, which is mainly founded and fully controlled by AMTD Asset Management Limited, a subsidiary of AMTD Group Limited. It will conduct its businesses in the area of capital markets & advisory, asset management, internet banking platform, and wealth management, etc., throughout the country. Comparing to the traditional domestic full-licensed securities firms, this securities company will adopt a more innovative business model. The returning of the overseas-listed mainland enterprises to Chinese domestic stock market could be proceeded without engaging foreign sponsors, which eliminates the intermediate channels and effectively reduces the costs of listing. It will have an important and profound effect on deepening the Guangdong and Hong Kong financial cooperation, enhancing the internationalization of the mainland capital market, and promoting the reform and innovation of the domestic financial sector.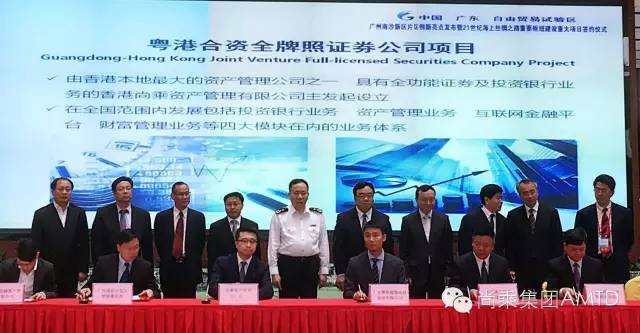 Nansha is located in the southernmost of Guangzhou City, Guangdong Province. It is the geographic center of the Pearl River Delta and Guangzhou's only gateway to the sea. In June 1990, Nansha was identified as a priority area for opening up and economic development; On May 12, 1993, the State Council approved the establishment of the Guangzhou Nansha Economic Development Zone; On September 6, 2012, the State Council officially approved the "Guangzhou Nansha New Zone development plan", Nansha New Zone became the sixth national new zone after Shanghai Pudong New Zone, Tianjin Binhai New Zone, Chongqing Liangjiang New Zone, Zhejiang Zhoushan Islands New Zone and the District of Lanzhou; On December 31, 2014, the State Council announced the overall plan of 3 pilot free trade zones, including Guangzhou Nasha New Zone, Shenzhen QianhaiShekou Zone and Zhuhai Hengqin New Zone. The first Guangdong-HK full-licensed joint venture securities company under CEPA is going to be registered in Nansha New Zone, and paves the way for AMTD to achieve the long-term strategic goal in Hong Kong and Asia and to building a platform of capital markets & advisory and assets management businesses. AMTD Group, with the support of the Guangzhou Nansha New Zone, will further capture the cross-border business opportunities, promote financial cooperation between Hong Kong and Guangdong, and contribute to building a multi-level capital market and to enhance linkage of PRC and Hong Kong market.