Mr. Wang Yaming, Deputy Secretary and Governor of Tianjin Hedong District, visits AMTD Group, probing business opportunities between Tianjin and Hong Kong
On 15 June, Mr. Wang Yaming, Deputy Secretary and Governor of Tianjin Hedong District, led officers of Hedong District Government Office, Merchants Office, Exchange and Cooperation Office, Bureau of Housing Administration and other departments, to visited AMTD Group office in Hong Kong, accompanied by Mr. Jimmy Lo, Executive Director of Regal Hotels Group (78.HK) , Vice Chairman of the Board of Paliburg Holdings Limited (617.HK), Century City International Holdings Limited (355.HK) and Cosmopolitan International Holdings Limited (120.HK).  Mr. Calvin Choi, Chairman and CEO of AMTD Group and Mr. Sidney Ku, Head of Insurance and Client Coverage attended the meeting. Both parties have an in-depth discussion of future cooperation.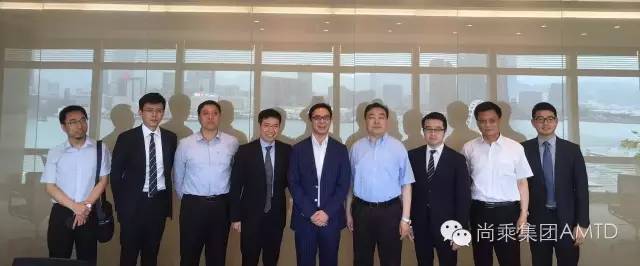 Mr. Choi expressed a warm welcome to Mr. Wang Yaming and the visiting team on behalf of AMTD Group. He shared details of AMTD Group's development, business layout and strategic direction, as well as efforts to promote Hong Kong capital market interconnection, financial innovation and development. Mr. Choi, Chairman said that AMTD has been based in Hong Kong since its establishment, and with Hong Kong's sound financial system and laws and regulations, it has developed diversified financial services in financial market business, where Capital Markets & Advisory, Insurance Brokerage and Asset Management are the three core businesses of AMTD Group. For Capital Markets & Advisory business, AMTD Group has completed the IPO transactions of Bank of Tianjin, Bank of Qingdao, Xinte Energy, Lanzhou Zhuangyuan Pasture ad etc, as well as bond deals including China Minsheng Group, Yunnan Investment Group, Zhongrong International Trust, Carnival International, SHK &Co. Ltd, Emperor International and etc, building a good reputation in the capital market. For Insurance Brokerage and Assets Management business, AMTD Group has been the largest independent insurance brokerage and assets management company in Hong Kong. Mr. Choi expressed the hope that in the future, with the support of Tianjin municipal government and Hedong District Government, AMTD Group will proactively take advantage of the strategy of Integration of Beijing, Tianjin and Hebei, and Bohai Economic Rim, leveraging on AMTD's resources, experiences and advantages in global capital markets to help contribute to the success of financial cooperation between Tianjin and Hong Kong.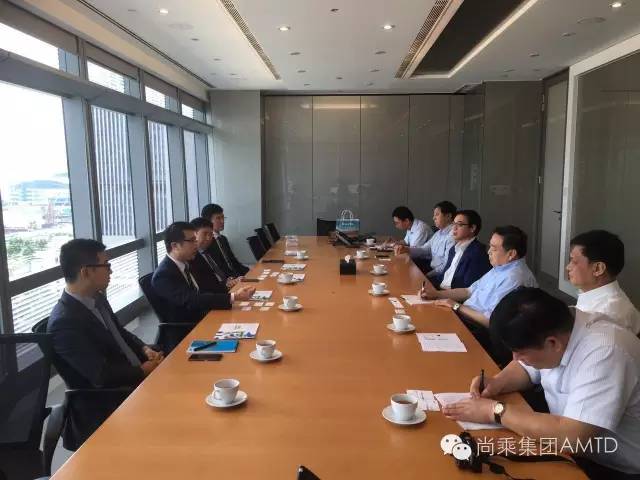 Mr. Wang Yaming pointed out that Tianjin is one of the four municipalities directly under the State, as well as the economic center of Bohai area, an international port city and northern eco-city, forming a unique position of "two-city-two-port". Binhai New Area is the area for international reform experiment, an open portal for Norther China, high-quality modern manufacturing and research base, and northern shipping and logistic center. Hedong District is the birthplace of Tianjin, bearing the historic, commercial and cultural heritage, and it is also Tianjin's forefront to connect Binhai New Area, and the economic center of Tianjin to achieve strategic eastward movement. Tianjin industrial economy shows huge potential to link with capital market. It welcomes AMTD Group and other Hong Kong financial institutions to explore business opportunities and to seek in-depth cooperation.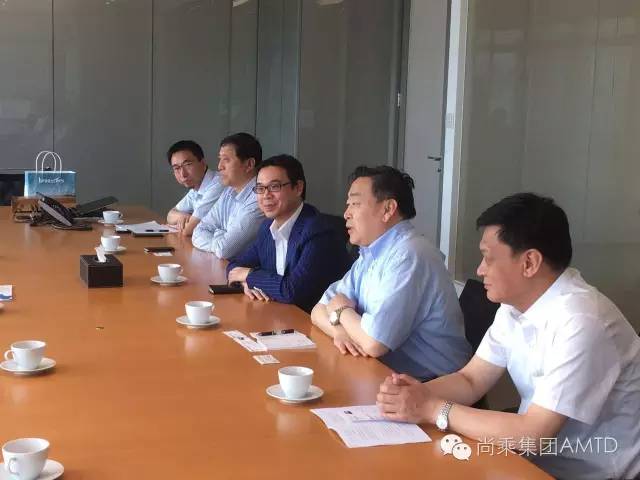 Mr. Xu Qingbao, Head of People's Government Office of Hedong District, Mr. Li Yangkai, Head of Exchange & Cooperation Office of People's Government and Merchants Office of Hedong District, Mr. Liu Lihua, Head of Bureau of Housing Administration, and Mr. Chen Dahai, General Manager of Tianjin Fudu Real Estate Development Co,. Ltd. have also attended the meeting.