AMTD Group attends UCAR's listing ceremony and witnesses its successful listing on NEEQ as China's first-ever listed chauffeured car company
On 22 July 2016, Shenzhou Youche Company Limited ("Youche") (stock code: 838006.OC) was successful listed on National Equities Exchange and Quotations ("NEEQ"). Youche is China's first-ever listed chauffeured car company with UCAR being its major operation sector. Raymond Yung, AMTD Group ("AMTD")'s Vice Chairman of Global Advisory Committee led AMTD team to attend the grand listing celebration ceremony held in Beijing on 23 July 2016.
As China's first-ever listed chauffeured car company, Youche's listing has been under the spotlight for quite some time. Opening at the price of RMB 48.89, its stock closed at RMB 55.26, or 13% above the opening price on its first day of trading, with a total market capitalisation of over RMB 41.8bn. Although NEEQ has relatively low liquidity and market capitalisation, Youche's trading volume is very active and is even comparable to main board companies. Along with active transactions, Youche is now one of the stocks with the largest total market capitalisation on NEEQ. Moreover, this remarkable achievement is made only 1 year and 7 months since Youche launched its chauffeured car business.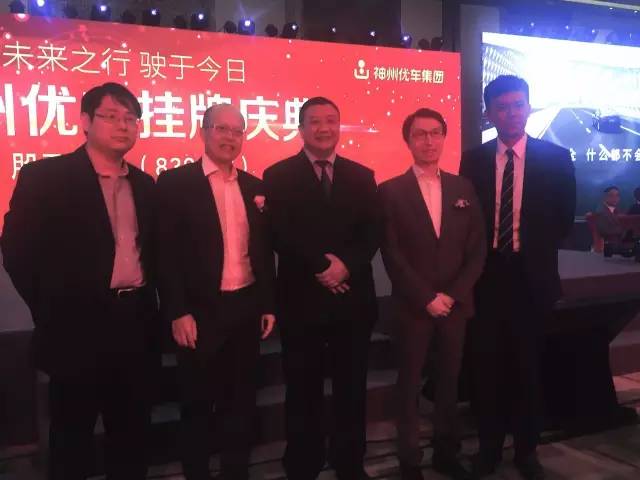 Ever since its inception, Youche's operation model and potentials have been highly recognized in domestic and overseas capital markets. It has also successfully introduced many well-known strategic investors including Warburg Pincus, the largest private equity firm in the U.S., Legend Capital, a professional venture capital platform of Legend Holdings Corporation, Yunfeng Capital, a leading private equity firm set up by Mr. Ma Yun, Chairman of Alibaba Group, GF Securities, China's largest non-state-owned securities company, L.R. Capital Group, a global leading investment company etc. In November 2015, AMTD successfully led Youche's B+ round finance as the sole financial advisor. In April 2016, Youche successfully signed a strategic cooperation agreement with Alibaba Group and established strategic partnership thereafter. The two parties will leverage each other's advantages in industry, technology and ecosystem to form a comprehensive partnership in the field of "Internet + Cars", aiming to reshape the industry chain and ecosystem.
"The listing of Youche relied not only on my experienced team with solid execution ability, but also the great supports from our investors. The internet technology revolution and automotive technology revolution are deeply changing customers' consumption habits, bringing disruptive changes to travel industry and automotive ecosystem. Our next step is developing a whole-life-cycle service including automobile financing, insurance and repair and second-hand car sales", says Mr. Lu Zhengyao, Chairman of Youche.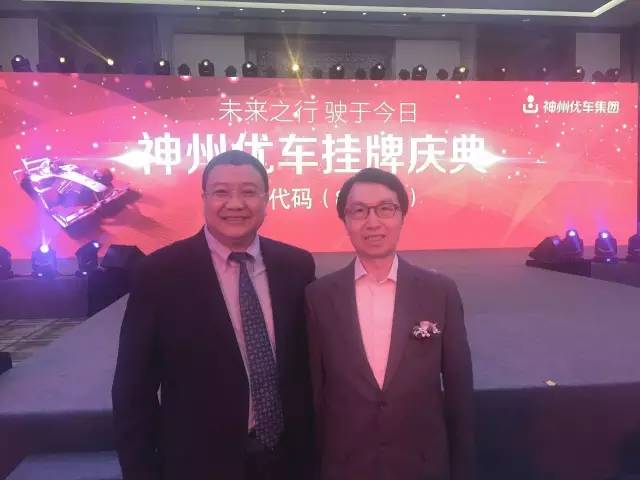 The Vice Chairman of AMTD Global Advisory Committee, Mr. Raymong Yung, and President Special Assistant, Mr. Fan Wang, were invited to attend the Listing Celebration Ceremony and showed warm congratulations to the Chariman Mr. Zhengyao Lu. Mr. Yung stated that, AMTD is a leading financial services group in Hong Kong offering a wide spectrum of capital markets, asset management, insurance brokerage and risk management solutions. Previously, AMTD was honored to be the sole financial advisor in UCAR's B+ round financing, and is looking forward to having deeper cooperation in the area of domestic & foreign fund raising, auto financing, car insurance etc. AMTD Group will unswervingly support Youche's future innovation and development, and look forward to excellent cooperation to create successful future.
Since its establishment, the group has been focusing on travel and automobile industry chain, it has Shenzhou Zuche, UCar, Shenzhou Maimaich and Shenzhou Car bank four main business segments. UCAR is a leading brand in China internet industry and is one of the largest chauffeured car service providers in China, covering 60 cities nationwide under the brand of UCAR. All vehicles from UCAR are all from UCar itself or 3rd party leasing companies. All drivers are hired and trained by 3rd service companies, which is based on stronger control over the employment relationship. By leveraging its innovative B2C development pattern, UCar has develop in a very fast pace. "Chinese car market analysis report" from Roland Berger pointed out that, among all domestic network platform operators in the current car rental market, UCar has the lowest policy and regulatory risk due to its fully self-operating car fleet. Also, the market share, growth rate and customer retention rate of UCar are all ranked on the top level. On July 28 2016, approved by the State council, the Ministry of Public Security, Ministry of Commerce, SAIC, AQSIQ, the State Information Office network, totally seven departments, jointly issued the "Draft of online taxi reservation service operating and management regulation", online car reservation has officially become a regulated activity and will be supervised by relevant regulatory institution. Benefit from the regulation support, UCar's share price increased 3.93% on July 29 and its market value exceeded RMB 45bn, fully reflected the support and positive prospect from the capital markets on its future development.
In recent years, the "Internet +" has become the main trend of industrial development and deeply affected and transformed the traditional economic patterns and social life. AMTD has continuously placed great emphases in the innovation and changing of the industry, and expanded presence into new internet economic sector. In November 2015, AMTD group acted as the sole financial advisor in UCAR's B+ round financing of USD60million; in March 2016, AMTD Group announced USD 38milion strategic investment in leading Fintech company Dianrong.com. In July 2016, acting as the Joint Global Coordinator, Joint Bookrunner and Joint Lead Manager of CNLP's IPO, AMTD has successfully introduced 2 of 4 cornerstone investors including China Fintech Fund Management Company Limited. In the same month, AMTD Group and Lendit, the world's most influential Fintech event organiser, joint hosted the Global Fintech Investment Summit in Hong Kong, which is also the first ever global-scale summit of Fintech sector in Hong Kong. More than 80 leading Asian investors and over 40 international companies staged the ground-breaking Summit, and the summit has successfully held more than 300 meetings between the Fintech companies and investors. In the different segments of capital markets, AMTD group is gradually expanding its service and investment scope in advanced internet enterprises, aiming to integrate traditional economy and new economy through the internet innovative technology and channels , and enhance the synergies between technology development and capital markets to create a new industry productivity development model.