AMTD Group successfully leads China Minsheng Investment Corp., Ltd's US$500mm 3yr 3.8% bond offering via its first drawdown of newly established US$1bn MTN Programme
On 26 July, AMTD acted as Lead-Left Joint Global Coordinator and Joint Bookrunner on China Minsheng Investment Corp., ("CMI")'s Reg S US$500mm 3.8% 3yr unrated bond offering (the "Transaction"). The Transaction represents the first drawdown of CMI's newly established US$1bn Medium Term Notes Programme. Since its establishment in 2014, CMI had issued a US$300mm bond offering in 2015 (with stand-by letter of credit enhancement) and most recently issued a highly successful US$500mm 3Y 3.8% bond offering listed on the Singapore Stock Exchange on its strong standalone credit and brand name recognition, quite a remarkable achievement given its less than 2 years of operating history.

CMI's senior management team embarked on a highly impactful investor marketing exercise in Asia, having met with over 100 credit investors in Hong Kong and Singapore in order to provide a comprehensive update of CMI's recent developments and robust credit story. As a direct result of the successful marketing effort, The Transaction was met with overwhelming investor demand as orderbook reached over US$1.4bn or 2.8x oversubscription during the bookbuilding process. With strong support from regional banks and institutional investors, the Transaction was priced at a yield of 3.9% (vs. initial guidance of 4.125% area). The aggressive pricing is a clear reflection of strong investor conviction and confidence of CMI's robust credit profile and bright future prospects as investors perceived CMI as an "Investment Grade" credit despite of its unrated nature. CMI and the Transaction obtained a number of ground breaking achievements, including being one of the few issuers with the shortest operating history (less than 2 years) to access the international capital markets, while being unrated and without any external credit enhancement (such as bank SBLC), and still being able to achieve an "Investment Grade" like pricing outcome with a 3.8% coupon. "FinanceAsia", one of the world's renowned financial magazines, has also made positive comments on the Transaction, especially highlighted CMI's successful transformation from relying on bank stand-by letter of credit to debut in the international capital markets in 2015 to being able to price a highlight successful transaction with its standalone credit, within only a year's time.
The Transaction was well received by financial institutions and fund managers in both Asia and Europe, of which regional financial institutions and global fund managers took 61% and 26% of the deal, respectively; while private bank investors took the remaining 13%.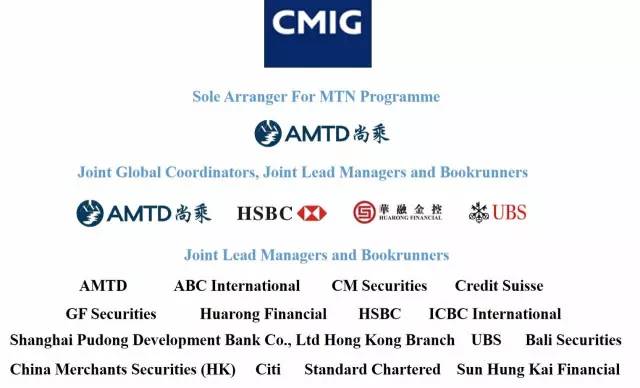 AMTD acted as Joint Bookrunner and Lead Manager on CMI's debut US$300mm bond offering with standby letter of credit enhancement in 2015. As for this Transaction, AMTD played a more significant role as the Sole Arranger of CMI's inaugural US$1bn Medium Term Note Programme as well as acted as Lead-left Joint Global Coordinator, Joint Bookrunner and Joint Lead Manager on the Transaction, while leveraging on our superior execution and distribution capabilities. During the entire deal execution, AMTD played a critical leading role in all aspect of the Transaction, including overall due diligence, financials, marketing materials preparations, etc., and successfully assisted CMI in showcasing the attractive credit story and investment worthiness of its various business areas. During the marketing and distribution phase, AMTD once again provided significant contribution to the successful completion of the Transaction, especially with close coordination and cooperation between AMTD Capital Markets & Advisory and Asset Management, having brought in sizable anchor orders and taken one of the top allocations in the Transaction.
This is the eighth bond deal successfully completed by AMTD this year. AMTD successfully led Regal Hotels (78.HK)'s US$350mm bond offering; a US$500mm bond offering for Zhongrong International Trust, one of the largest trust companies in the PRC; a US$300mm bond offering for Yunnan Provincial Investment, the largest comprehensive holding company in the Yunnan province; a debut US$180mm bond offering for Carnival Group, China's only publicly listed operator of large-scale integrated tourism, hospitality and retail attraction; a US$362mm exchange offer and new 5-year bond offering for Sun Hung Kai & Co, the largest unlisted financial institutions in Hong Kong; HKD500mm bond issuance for Emperor International Holdings Limited, a famous Hong Kong listed real estate company; as well as AMTD Group's debut US$110mm bond offering. These successful deals well demonstrate AMTD's fast growing presence and distribution capability in the international debt capital markets.
About CMI
China Minsheng Investment Corp., Ltd ("CMI") is a global private investment group. CMI has registered capital of RMB50bn. CMI's management strategies focus on its fully licensed financial service and industry consolidation, leading the private capital investment in the China market and promoting economic restructure and upgrade.
CMI was organized by All-China Federation of Industry and Commerce (ACFIC), currently owned by 64 well-known private enterprises and approved by the State Council. It was listed and established in Shanghai in August in 2014. It is highly recognized by the PRC government as it is the only private enterprise approved by the State Council to use "China" in its name. It operates primarily through its subsidiaries. CMI is now mainly engaged in seven business segments, financial investment, new energy, property investment, modern property management, general aviation, cross-border investment and financing, and financial leasing. CMI has its business operations in Hong Kong, Singapore and London. It has also established a global advisory committee, with an aim of further extend its footprint globally.
Under economic globalization, China is quickly merging into the world's economy, while playing an important role to promote comprehensive and balanced development of the global society and economy. As a representative of China private capital investment, also with the "One Belt One Road" national strategy, China shows its financial wisdom and strength of the industry, leading the Chinese private capital pushing into a bright future.