AMTD completes the US$175mm 3yr bond offering for Ronshine China
On 1 December, Ronshine China Holdings Limited (3301.HK, "Ronshine China"or "the Company") announced the launch of a Reg S US$175mm 3-year senior bond offering ("the Transaction"). The issuer of the bond was Ronshine China Holdings, with its offshore subsidiaries providing guarantees, and the bond will be listed on the Singapore Stock Exchange. The rating of the issuer is B+/B2/B (Fitch/Moody's/S&P), while the rating of the Transaction is B+/B3/B-(Fitch/Moody's/S&P).This is the inaugural issuance for Ronshine China in the international debt capital market, which also marked another important milestone for the Company to broadening its investor base through offshore financing channels, following its debut on the Hong Kong Stock Exchange in January this year.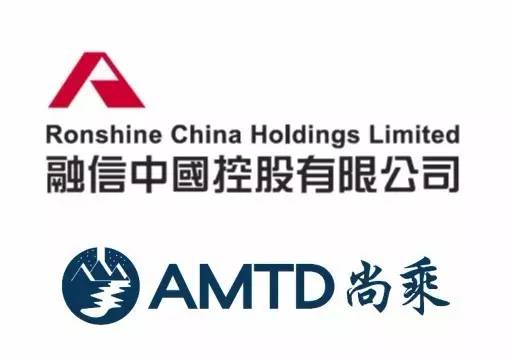 AMTD acted as the Joint Global Coordinator, Joint Lead Manager and Joint Bookrunner of the Transaction. This is the 19th bond transaction completed by AMTD year-to-date. The Transaction also represents the 6th offshore financing transaction in the property sector conducted by AMTD, as well as the first time in this year AMTD completed an overseas USD bond issuance for a property developer with an international rating. Since the beginning of the year, AMTD has assisted a number of onshore and offshore property developers to conduct overseas fundraising, which include Carnival Group (996.HK), China's only publicly listed operator of large-scale integrated tourism, hospitality and retail attraction; Jiayuan International (2768.HK), a leading property developer in Jiangsu Province; Regal Hotels (78.HK), one of the largest hotel operators in Hong Kong; Emperor International Holdings Limited (163.HK), a famous Hong Kong-listed real estate company, and Far East Consortium International Ltd. (35.HK), a diversified Hong Kong-listed property operator and developer founded by renowned businessman Mr. Deacon Chiu.
Benefitted from Ronshine China's solid credit fundamentals, including strong sales execution, a flexible business model, a decent compound annual growth rate in both contract sales and revenue, the Transaction was well-received by investors, despite volatile Asia capital market conditions following the recent US presidential election, leading to a lower risk appetite of investors. The bond offering was well-received by investors and was completed successfully, with the final price of the transaction further tightened to interest rate at 6.95% per annum.
About Ronshine China Holdings
Founded in 2003, Ronshine China Holdings is a mid to high-end residential property developer based in Fujian province of China. Through years of cultivation and excellent sales execution, Ronshine China has realized steady improvement in business performance and successfully replicated the "Fujian model" to Shanghai, Hangzhou and other first and second-tier cities. As of June 30, 2016, Ronshine China had 44 completed projects or projects under construction in 5 cities, with an attributable land reserve of 6.378 million s.q.m. Ronshine China ranked second in Fuzhou in terms of contracted sales for the first half of 2016, ranked 28th among the top 50 Chinese real estate developers and won the title of "Best Employer in China enterprise". In January 2016, the company was listed on the Hong Kong Stock Exchange, improving its capital capacity and broadening its financing channels. As of June 30, 2016, Ronshine China's average financing cost was reduced to 7.9% from 10.5% at the end of 2015. In July 2016, it became the third property developer issuing asset-backed securities backed by accounts receivables from contracted sales, following Shimao Property (813.HK) and Country Garden (2007.HK).