AMTD completes US$250mm bond offering for China Aoyuan Property
On 4 January 2017, China Aoyuan Property Group (3883.HK, "Aoyuan" or "the Company"), a leading Chinese property developer, successfully priced a Regulation S US$250mm 3-year senior bond offering ("the Transaction") with AMTD acting as the Joint Bookrunner and Joint Lead Manager. Aoyuan is rated B2 positive/B positive/BB- stable (Moody's/S&P/Fitch), while issue ratings are B3/B-/BB-. The bonds are listed on the Singapore Stock Exchange (SGX) and the proceeds will be used for existing debt refinance and as general working capital. The Transaction represents the first USD bond issuance for the Asian capital markets as well as the first bond offering completed by AMTD in 2017, effectively re-opening the bond issuance window for Chinese issuers in 2017.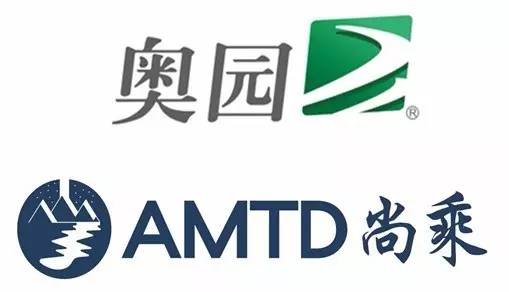 Previously, AMTD has assisted a number of onshore and offshore property developers to conduct overseas fundraising, which includes Carnival Group (996.HK), China's only publicly listed operator of large-scale integrated tourism, hospitality and retail attraction; Jiayuan International (2768.HK), a leading property developer in China; Regal Hotels (78.HK), one of the largest hotel operators in Hong Kong; Emperor International Holdings Limited (163.HK), a famous Hong Kong-listed real estate company; Far East Consortium International Ltd. (35.HK), a diversified Hong Kong-listed property operator and developer founded by renowned businessman Mr. Deacon Chiu, as well as Ronshine China (3301.HK), a leading residential property developer in China.
Following FOMC's 25bps rate hike in December 2016 and overall rising rates environment, the Transaction was extremely well received by the international capital markets on the back of Aoyuan's robust financial strength and credit profile, strong contracted sales growth, high-quality land bank and solid credit ratings. With the strong execution capability of AMTD, the Transaction was well-supported by international and Chinese financial institutions and asset managers across Asia and Europe. The orderbook was 9x oversubscribed, with final pricing tightened by 40bps compared to the initial price guidance, which represents one of the most significant tightening in recent bond offerings in the Chinese high-yield property space. The final coupon/yield is 17.5bps lower as compared to Aoyuan's last USD$250mm 3-year senior bond offering in April 2016, reflecting investors' recognition and confidence in Aoyuan's future prospects.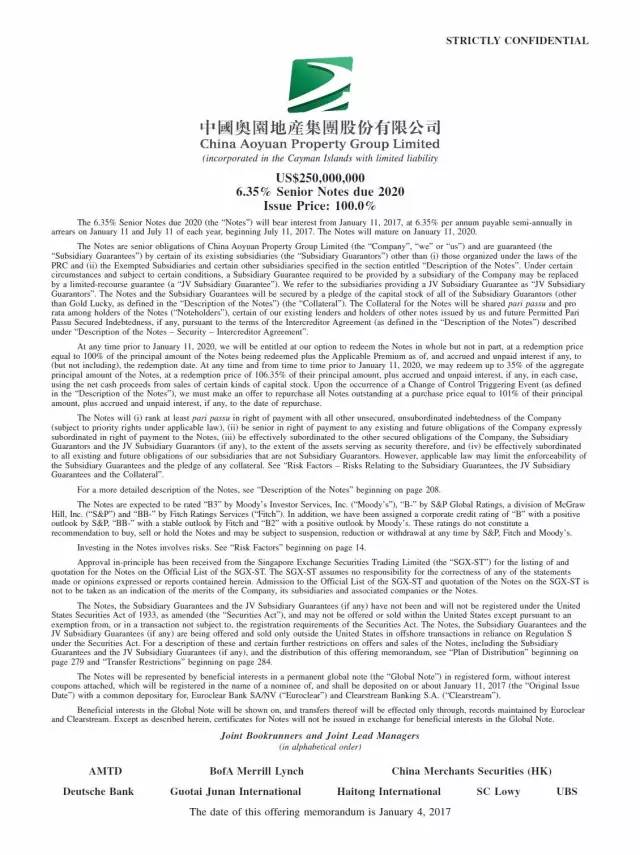 AMTD acted as the Joint Bookrunner and Joint Lead Manager of the Transaction and assisted the issuer to tap the dollar bond market. In particular, AMTD wallcrossed investors to conduct targeted market sounding to secure anchor interest ahead of a formal deal announcement, leading to the successful outcome of the Transaction. As a result, AMTD was rewarded with the single largest allocation in the entire Transaction. Other syndicate banks of the Transaction comprised international and Chinese investment banks including BofA Merrill Lynch, China Merchants Securities (Hong Kong), Deutsche Bank, Guotai Junan International, Haitong International, SC Lowy and UBS.
The Transaction represents the first bond offering successfully completed by AMTD in 2017, as well as the first USD bond offering in the Asian debt capital markets in 2017. AMTD completed 20 bond offerings in 2016, some of the previous transactions include: the US$3bn bond offering for China Huarong (2799.HK), one of the China's four major asset management companies; the US$500mm 3-year bond offering of China Minsheng Investment Group, the largest privately-owned investment company in China; the US$500mm bond offering for Zhongrong International Trust, one of the largest trust companies in China; the US$300mm bond offering for Yunnan Provincial Investment, the largest comprehensive holding company in the Yunnan Province; the US$150mm bond offering for Fenghui Leasing, a leading leasing company in China; the US$362mm exchange offer and new 5-year bond offering for Sun Hung Kai &Co (86.HK), the largest listed non-bank financial institutions based in Hong Kong; as well as the US$400mm global bond offering of Sirius International Insurance Group, a world-renowned insurance and reinsurance company.
About China Aoyuan Property
China Aoyuan Property (3883.HK, "Aoyuan" or "the Company"), has been developing residential projects for over two decades with an innovative concept of composite real estate, incorporating healthy living concepts of sports and regimen into residential communities. The Company's strategy is to implement regional focus on the five major economic circles as its core regions in China, namely Pearl River Delta, Yangtze River Delta, Bohai Rim, the core region of Central and Western China and Beibuwan, and gradually develop into the real estate market in Australia. The property projects currently held by the Company are mainly located in Guangdong, Chongqing, Sichuan, Jiangsu, Liaoning, Hunan, Anhui, Zhejiang, Guangxi, Jiangxi and Sydney, Australia etc., which have created excellent and comfortable living environment for property owners.