AMTD Calvin Choi named 2017 Young Global Leader by WEF
On Mar 15, 2017, The World Economic Forum ( "WEF", or "Davos Forum"), also known as "Economic United Nations" and "vane of the world economy", announced the 2017 class of Young Global Leaders ("YGLs") in its headquarter in Geneva, Switzerland. AMTD Group Chairman & CEO Mr. Calvin Choi has been named as one of the YGLs, who is also the first Hong Kong based financial sector leader to be recognized.
Launched by Professor Klaus Schwab, Founder and Executive Chairman of the World Economic Forum in 2004, the YGLs are selected by the WEF and a board of world and industry leaders chaired by Queen Rania of Jordan. Every year, thousands of candidates from around the world are nominated and assessed according to rigorous selection criteria. Only the very best candidates who have demonstrated an innovative mind in their respective field and have made a significant contribution to the sustainability of the society are selected. Reflecting the diversity of stakeholders, the YGLs include leaders from politics, business, civil society, academia, and arts and culture across the globe.
Distinguished members and alumni of the YGLs include Alibaba founder Jack Ma, Oscar winner and actor Leonardo Di Caprio, Google co-founders Larry Page and Sergei Brin, Facebook founder Mark Zuckerberg, Yahoo CEO Marissa Mayer, German Formula One champion Michael Schumacher, China Securities Regulatory Commission Vice Chairman Fang Xinghai, Russian composer and poet Lera Auerbach, as well as acclaimed filmmaker Florian Henckel von Donnersmarck and former Japanese astronaut Naoko Yamazaki.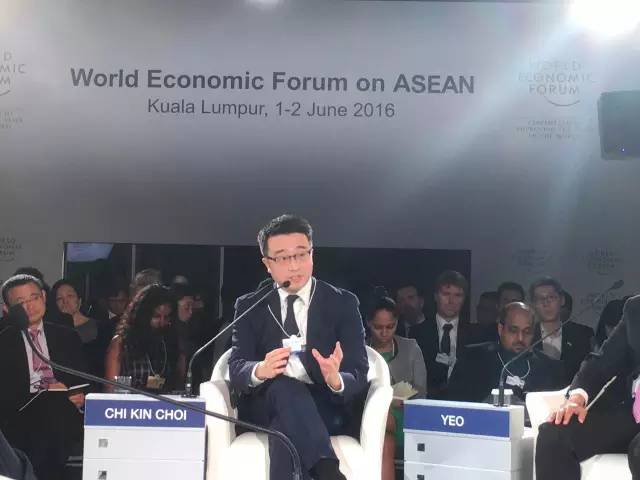 Mr. Calvin Choi delivered his speech in a roundtable discussion in the World Economic Forum.
This year, the YGLs consist of a community with different background ranging from politics, technology, environmental protection, business and public welfare. More than half of this year's YGLs come from the emerging market and 54% are women leaders. Apart from Mr. Calvin Choi, other YGLs of the year include California's youngest mayor in history, Aja Brown; Apple Inc.'s Global Supply Manager - Energy Katie Hill; Artificial Intelligence specialist Richard Socher and Jamila Abass, a computer scientist in Kenya who applies technology to enhance the productivity of agricultural chains.
Under Mr. Choi's leadership, AMTD has been widely recognized as the new powerhouse in Asia's financial services industry.
In the capital markets field, AMTD is among the top bookrunners in both equity and debt capital markets and is emerging as a pre-eminent player that is on par with multinational bulge brackets. Over the past 12 months, AMTD has successfully assisted numerous Chinese and Hong Kong corporates to tap the international market, including the Hong Kong IPO of Meitu, Everbright Securities, Bank of Qingdao and Bank of Tianjin; nearly 30 USD bond offerings for companies such as China Huarong Asset Management, China Minsheng Investment Group, Fosun International, Sun Hung Kai & Co. and Regal Hotels, with the total fundraising size in excess of USD 30bn.
On the asset management side, AMTD is one of the largest local asset management firms in Hong Kong and manages rapid-growing asset portfolios for the discretionary accounts of institutions and family offices.
In the insurance brokerage field, AMTD also owns the largest share in Hong Kong corporate insurance brokerage market and provides risk solutions alongside the globalization of numerous Chinese companies.
Meanwhile, AMTD has a long history of promoting technological innovation and the development of the sharing economy, especially in the field of Fintech investment. The Group was selected by the "Institutional Investor" magazine as " 2016 Fintech Finance 35" – one of the world's top 35 Fintech investors.
Over the past 12 months, AMTD is rapidly expanding its global footprint. In China, AMTD has extended its presence in the commercial banking industry as well as the financial services sector in the Greater China region, through its strategic investment in Bank of Qingdao, and has lodged formal application to set up the first Guangdong-HK full-licensed JV securities company under CEPA. Moreover, AMTD is increasing its presence in North America, Europe and the Southeast Asia region, through the completion of its debut USD bond offering (representing the first ever and the largest international USD bond offering by an unrated and unlisted Hong Kong-based financial services company) as well as the establishment of AMTD - LendIt Joint Global Office with LendIt, the world's largest FinTech organization.
In addition, Mr. Choi is active in volunteering and community servicing, with a long-term commitment to promote the international exchanges of young people in Hong Kong, cultivate the entrepreneurial spirit of innovation and support corporate global citizenship. He currently serves as the Vice Chairman of the Hong Kong Federation of Professions and the Vice Chairman of the Hong Kong Youth Association.