AMTD completes US$450mm 5.75yr bond offering for Logan Property
On May 16 2017, Logan Property Holdings Company Limited ("Logan Property" or the "Company", 3380.HK) successfully priced a Reg S US$450mm 5.75 years senior bond offering (the "Transaction"), with AMTD acting as the Joint Bookrunner and Joint Lead Manager. The Transaction marked as the 9th Chinese property high-yield USD transaction executed by AMTD year-to-date, demonstrating AMTD's leadership in high-yield property bond market.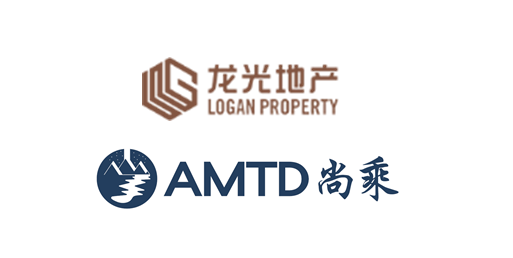 Logan Property was founded in 1996 and has been listed on the Hong Kong Stock Exchange since 2013. Over the years, Logan Property has built a strong corporate image with high brand recognition in the industry. In 2017, Logan Property is ranked 29th among the "Top 100 Chinese Real Estate Developers", it is also named "Top 100 Chinese Real Estate Developers —Top 10 Most Profitable Companies" for six consecutive years and ranked among "Top 100 Chinese Real Estate Developers" for seven consecutive years.
Logan Property is rated Ba3 Stable/BB- Stable/BB- Stable (Moody's/S&P/Fitch), while the issue rating is BB- (Fitch). The bonds will be listed on the Singapore Stock Exchange
The Transaction was well-received by international capital markets. The orderbook eventually recorded over US$1.2bn from more than 70 institutional investors, representing around 3x oversubscription. The final pricing was tightened to 5.5% from the initial pricing guidance of 5.75% area. On the back of the strong demand, the Transaction was upsized from the original target issue size of US$300-400mm.
AMTD acted as the Joint Bookrunner and Joint Lead Manager on the Transaction and contributed one of the biggest non-price sensitive lead orders, leading to the successful outcome of the Transaction. Other syndicate banks in the Transaction included Haitong International, Guotai Junan International, VTB Capital and China CITIC Bank International.
The Transaction represents the 36th offshore bond offering completed by AMTD since 2016, as well as the 16th deal this year, demonstrating AMTD's influences and strong execution capabilities in the international debt capital markets. In particular, AMTD has led multiple USD bond issuances for a number of Chinese property developers in less than five months since the beginning of the year, which include Yida China Holdings (3639.HK), Yango Holdings, China South City (1668.HK), Yuzhou Properties (1628.HK), Guangzhou R&F (2777.HK), Aoyuan Property (3883.HK), Ronshine China Holdings (3301.HK) , Xinhu Zhongbao (600208.CH) as well as Jiayuan International (2768.HK), assisting them to tap the best market window.
About Logan Property
Logan Property Holdings Company Limited (3380.HK) is a leading integrated property developer in China focusing in Shenzhen and the Pearl River Delta region. Establish in 1996, Logan Property embraces the concept of quality development in its operations and has been focusing on the residential property market with products that primarily target first-time homebuyers and upgraders. Logan Property operates residential property projects in both prosperous cities and emerging regions in China, establishing its strategic presence in Shenzhen, the Pearl River Delta, Hong Kong, Shantou and Nanning.