AMTD completes IPO for Guangzhou Rural Commercial Bank in Hong Kong Stock Exchange, the second biggest IPO in Hong Kong in 2017 serving as Sole Financial Advisor and Joint Global Coordinator
On June 20th 2017, Guangzhou Rural Commercial Bank, the biggest in Guangdong province and a leading bank in China (1551.HK, "GRCB") successfully listed in Hong Kong Stock Exchange as the first local incorporated bank in Guangdong and the third rural commercial bank in China to be listed in Hong Kong. AMTD served as the Sole Financial Advisor, Joint Global Coordinator, Joint Bookrunner and Joint Lead Manager in for GRCB'S IPO.
GRCB is the 4th biggest rural and commercial bank in China and the biggest rural and commercial bank in Guangzhou (in terms of Tier 1 Capital). Being Guangzhou-based and influential in China, GRCB boasts significant regional advantages and promising future development. GRCB's history starts from Guangzhou Rural Credit Cooperatives established in 1952, the first in Guangzhou and the Bank was reformed and re-established in 2009 with an overall history of 66 years. According to the 2016 "Top 1000 World Bank" ranked by "The Banker", GRCB is ranked 203rd in world commercial banks, 30th in Chinese commercial banks and 4th in Chinese rural commercial banks. According to the "2016 China 500" list published by China Enterprise Confederation and China Enterprise Directors Association, GRCB's operational revenue ranks 441st among Chinese enterprises in 2016, going up by 32 compared with 2015 with GRCB being the only rural commercial bank to be shortlisted for consecutively 2 years.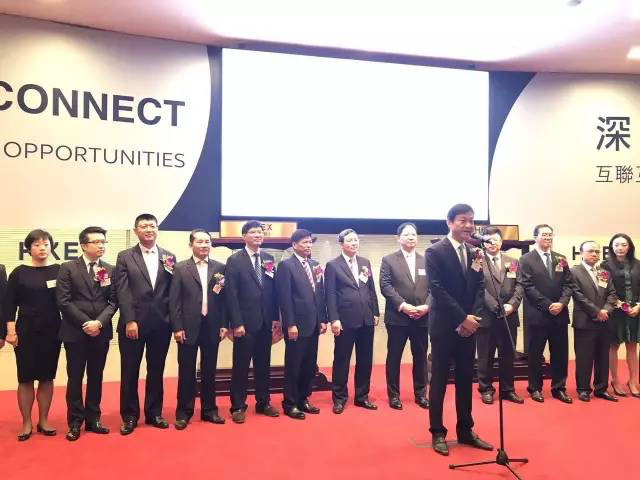 Mr. Calvin Choi, Chairman and President of AMTD Group (left two) at GRCB's listing ceremony
GRCB's global offering included 1.58bn shares with an issue price of HKD5.1 and gross proceeds of US$1bn. As the second biggest financial institution to be listed in Hong Kong Stock Exchange this year, GRCB is warmly receives by the market with shares oversubscribed covering the total range of initial offer price. Moreover, the types of investors are diversified, including long-term international and domestic investors, institutional investors in hedges, high-net-worth individuals and corporate investors.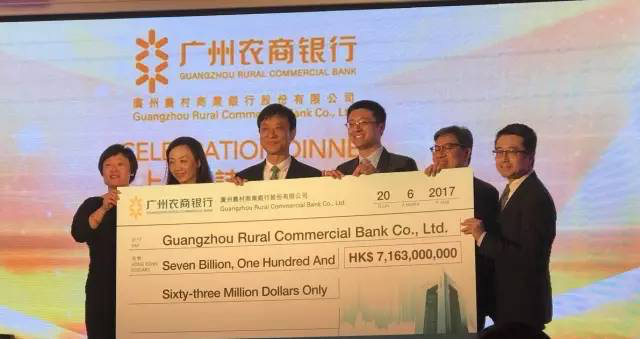 AMTD acting as the Sole Financial Advisor, Joint Global Coordinator, together with the Joint Sponsor, presenting the listing financing cheque to GRCB on behalf of all intermediary agencies
AMTD served as the Sole Financial Advisor, Joint Global Coordinator and Joint Bookrunner, together with other intermediaries to assist GRCB in this IPO. Since the beginning of the project in July 2016, AMTD's investment bank team travelled to Guangzhou and collaborated with other intermediaries including sponsors, lawyers and auditors to assisted GRCB in the project. Moreover, AMTD carried out global roadshows with GRCB in the US, South East Asia, Hong Kong and Mainland China and met institutional investors and strategic partners with high-level strategic fit and international influence to lay the solid foundation for this IPO.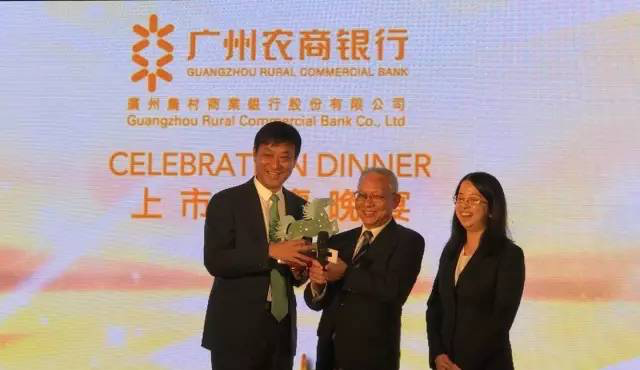 : On behalf of AMTD, Mr. Marcellus Wong, Vice Chairman of AMTD Group (middle), Ms. Emily Shi, Head of Capital Markets & Advisory of AMTD Group (right) exchanged souvenir to Mr. Wang Jikang, Chairman of GRCB
AMTD Group is a Hong Kong-based comprehensive non-bank financial institution with services coverage across China and the world. As one of the largest Hong Kong-based investment management companies and the biggest local corporate insurance brokerage and risk solution firm, AMTD has been widely recognized as a pre-eminent capital markets player with cross-border investment banking capability in Asia. AMTD has always been dedicating to serving and connecting capital and resources across Mainland. Hong Kong and the globe, to promote the collaboration and innovation in the field of finance in the Greater Bay Area. Previously, AMTD, acting as Joint Global Coordinator and leading investment bank, assisted many outstanding Guangdong-based enterprises including R&F Properties, China Aoyuan Property in successfully completed offshore USD bond and integrate into international capital markets. AMTD, serving as Sole Financial Advisor and Joint Global Coordinator, assisted GRCB in successful landing in international capital markets and consolidating GRCB's role as a competitive and influential modernized comprehensive financial institution in China, enhancing AMTD's position as a superior Hong Kong- based financial institution and continuously promoting the integration of capitals and resources within the Greater Bay Area.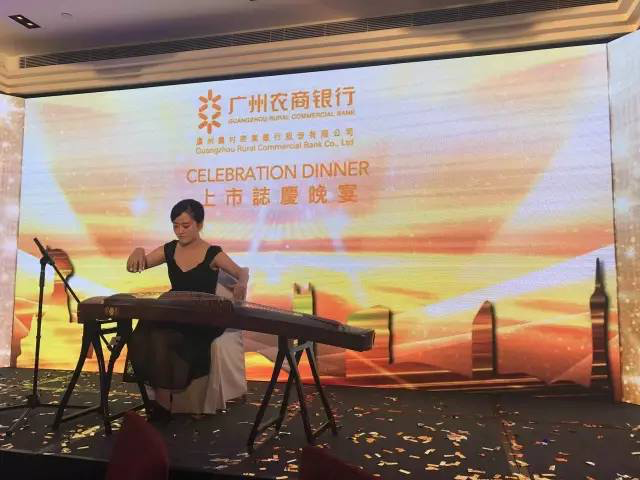 Savannah Guo, Analyst of Capital Markets & Advisory of AMTD Group, project team member, performed guzheng at listing ceremony
GRCB's IPO is the 3rd IPO of bank, the 8th funding project for financial institutions completed by AMTD's investment banking team. Previously, AMTD has successfully assisted in the H-share IPO of Bank of Qingdao, the biggest commercial bank in Shandong province, the H-share IPO of Bank of Tianjin, one of the biggest city commercial banks in Bohai Gulf Rim Area, 2017 USD bond offering of CMBC Hong Kong Branch, various USD bond offerings of China Huarong Asset Management in 2016 and 2017, USD bond offering of Sirius International Insurance Group in 2016 and USD bond offerings of Zhongrong International Trust in 2016. This IPO project for GRCB will further increase AMTD's influence and brand image in the field of finance and banking in China.