AMTD completes US$750mm floating rate notes for SPDB HK
On July 5, 2017, Shanghai Pudong Development Bank Co., Ltd., Hong Kong Branch ("SPDB HK" or the "Bank") successfully returned to the international capital markets by pricing its Reg S dual-tranche US$750mm 3-year and 5-year floating-rate notes offering through its Hong Kong Branch (the "Transaction"), with AMTD acting as the Joint Bookrunner and Joint Lead Manager. AMTD continues to be active in leading international capital markets transactions for large Chinese financial institutions including IPOs and bond offerings. In addition to leading China Minsheng Bank HK Branch's US$500mm 3-year senior bond offering in April, this Transaction marks the second Chinese financial institutions bond transaction participated by AMTD in the past 3 months, further strengthening AMTD's ability to provide comprehensive services for different types of financial institutions through various overseas fundraising channels.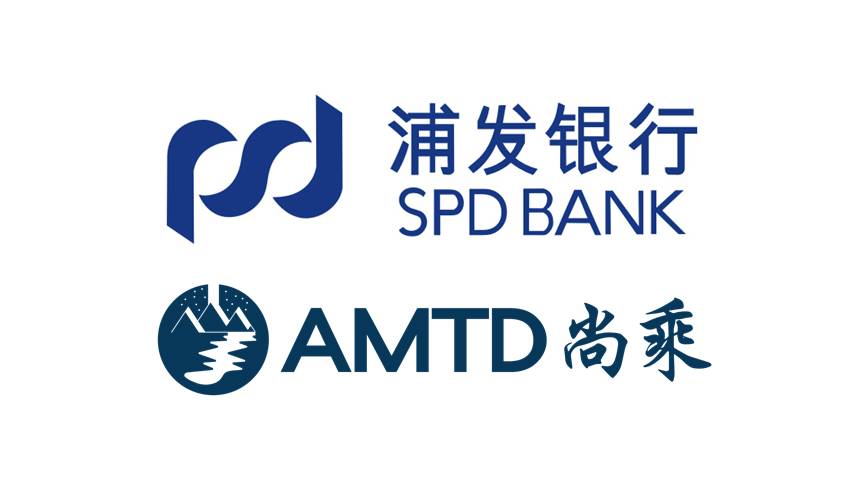 Shanghai Pudong Development Bank is a national joint-stock commercial bank founded on 28 August 1992 and was listed on the Shanghai Stock Exchange (Stock Code: 600000.SS) in 1999. The Bank's principal business activities are corporate and investment banking, personal banking and treasury business. Since its listing on the stock exchange, SPD Bank has been highly recognized by the market and was ranked among Top 100 Listed Companies in China by Asia Weekly for several consecutive years, ranked 57th on the list of Forbes Global 2000, being the 29th on the "Top 1000 World Banks 2016" list in terms of Tier 1 capital on the British magazine The Banker, as well as being the 227th on the list of Fortune Global 500, demonstrating a sound competitiveness.
Issuer of the Transaction is Shanghai Pudong Development Bank Hong Kong Branch, and the bonds will be listed on the Hong Kong Stock Exchange. SPDB HK is rated Baa2/BBB (Moody's/S&P) and the bonds are rated BBB (S&P). In 2011, the Bank successfully opened its first overseas branch in Hong Kong, marking a significant milestone in the course of its operation for international development and advancement into the international financial market. After 6 years of steady growth and prudent development, SPDB HK has become one of the top-tier Chinese financial institutions in the city, and its achievements are widely recognized and highly appreciated both locally and abroad.
Benefited from the Bank's strong financial and asset quality, synergies among its major business segments and coupled with the efforts of the syndicate group including AMTD, the Transaction was extremely successful and well received by the international capital markets. The final pricing was tightened by 25bps to the final pricing of 3ML+85bps and 3ML+95bps in the 3-year and 5-year tranche respectively. Since the issue was a floating-rate note, both the coupon and reoffer yield are same as the final pricing.
AMTD served as the Joint Bookrunner and Joint Lead Manager on the Transaction. Other syndicate banks included Shanghai Pudong Development Bank Co., Ltd., Hong Kong Branch, SPDB International, Citi, Bank of China, CCB International, Guotai Junan International, Agricultural Bank of China Limited, Bank of America Merrill Lynch, BOCOM HK Branch, China Galaxy International Securities (Hong Kong) Co., Limited, China Minsheng Banking Corp., Ltd., Hong Kong Branch, Haitong International, HSBC, Industrial Bank HK, MUFG, Standard Chartered Bank and Wells Fargo Securities.
Including Shanghai Pudong Development Bank, AMTD has successfully assisted a number of onshore and offshore financial institutions to access the international capital markets over the past 12 months, these include the USD bond issuances of China Minsheng Banking Corp. Hong Kong Branch (1988.HK), China Huarong Asset Management (2799.HK), Sirius International Insurance Group, Zhongrong International Trust, Fenghui Leasing and Sun Hung Kai & Co. (86.HK); as well as the H-share IPO of Zhongyuan Bank (1216.HK), Guangzhou Rural Commercial Bank (1551.HK), Everbright Securities (6178.HK), Bank of Tianjin (1578.HK) and Bank of Qingdao (3866.HK) etc. The Transaction also represents the 38th offshore bond offering completed by AMTD in the past 12 months and the 18th deal this year, demonstrating AMTD's leadership and influences in the international debt capital markets.