AMTD completes US$225mm debut 3yr senior bond for LVGEM
On August 8, 2017, LVGEM (China) Real Estate Investment Company Limited ("LVGEM" or the "Company", 95.HK) successfully priced its debut Reg S US$225mm 3-year senior unsecured notes offering, with AMTD acting as the Joint Global Coordinator, Joint Bookrunner and Joint Lead Manager. This is the inaugural issuance for LVGEM in the international debt capital markets. The Transaction also marked the 13th high-yield USD transaction in Chinese property lead-managed by AMTD year-to-date, which demonstrated AMTD's leadership in the international debt capital markets, and dedication to helping reputable and quality property developers with overseas debt financing.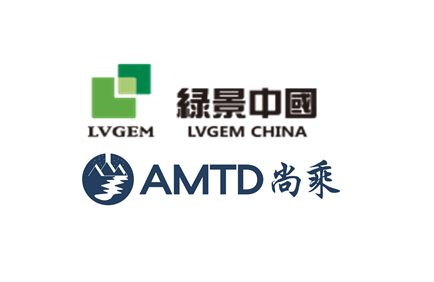 LVGEM is a well-known comprehensive real estate developer and commercial property operator in China, focusing on the Greater Bay Area. The Company has extensive experience in urban redevelopment projects. In the segment of property development and sales, with the strategy of "Focusing on Major Cities and Their Core Areas" (深耕核心城市,聚焦城市核心), the Company actively participates in urban renewal residential and commercial property projects in the Greater Bay Area, especially Shenzhen. LVGEM (China) is engaged in the development of various projects, ranging from urban boutique apartments, CBD urban complexes, international shopping malls, landmark commercial building complexes and 5-star hotels.
Issuer of the Transaction is Gemstones International Limited, a SPV incorporated in BVI and wholly-owned by the Company, whereas the Company and certain of its offshore subsidiaries provided guarantee. LVGEM is rated B2 Stable / B+ Stable (Moody's / Fitch) and the bonds are rated B3 / B+ (Moody's / Fitch).
Benefited from the Company's unique business model, its comparative advantage and professional skills in urban redevelopment projects, coupled with a syndicate that includes AMTD, the Transaction was extremely successful and well received by the international capital markets. The syndicate group also included Nomura, CCB International, BOSC International, UBS, Industrial Bank Co., Ltd. Hong Kong Branch, China Galaxy International Securities, Winsome and ABC International.
Other than LVGEM, AMTD has successfully assisted a number of Chinese property developers to access the international capital markets over the past 12 months. These include the USD bond issuances of China Logistics Property (1589.HK), Oceanwide Holdings (000046.SZ), Logan Property (3380.HK), Yida China Holdings (3639.HK), Yango Holdings, China South City (1668.HK), Yuzhou Properties (1628.HK), Guangzhou R&F (2777.HK), Aoyuan Property (3883.HK), Ronshine China Holdings (3301.HK), Xinhu Zhongbao (600208.CH) as well as Jiayuan International (2768.HK). AMTD has supported all of them to tap the best market window. The Transaction also represents the 42nd offshore bond offering completed by AMTD since last year and the 22nd deal this year, demonstrating AMTD's influence and strong execution capability in the international debt capital markets.