AMTD completes US$300mm 3-year senior bond offering for Zhongtai Financial International
On August 17th, 2017, AMTD completed Non-Rated US$300mm 3-Year Senior Bond offering for Zhongtai Financial International Limited ("Zhongtai Financial International" or "Company"), serving as Joint Bookrunner and Joint Lead Manager. After assisting multiple Chinese financial institutions in fundraising in Hong Kong stock and bond markets, this transaction further enhances AMTD's all-around ability in expanding overseas fundraising channels for Chinese financial institutions.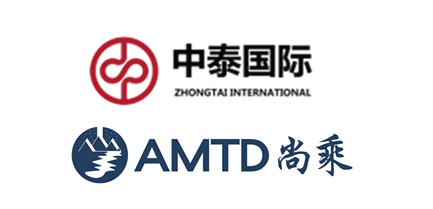 Zhongtai Securities Company Limited, located in Shandong, is a comprehensive national securities company controlled by Shandong Provincial State-Owned Assets Supervision and Administration Commission (through subsidiaries). The company establishes 38 subsidiaries and over 260 securities departments in 28 provinces, cities and autonomous districts. Zhongtai Financial International Limited is a wholly-owned financial holding group licensed by China Securities Regulatory Commission and registered in Hong Kong by Zhongtai Securities Company Limited. Zhongtai Financial International Limited is a comprehensive financial institution and licensed non-bank financial service group.
The Transaction, listed in Hong Kong Stock Exchange, is issued by Zhongtai International Bond 2017(BVI)Company Limited with Zhongtai Financial International as underwriter and Zhongtai Securities Co., Ltd providing Keepwell. With the joint efforts of Zhongtai Financial International's comprehensive strategy in financial services and the bond underwriters including AMTD, the bond offering was a huge success, the book was more than 3 times oversubscribed, with subscriptions from 38 accounts amounted to US$900mm. The final price tightened by 25 basis point from the initial price guidance. AMTD, acting as Joint Bookrunner and Joint Lead Manager, has shown superior executive and underwriting capacities as always, bringing many high-quality orders for Zhongtai International.
The transaction represents the 43rd offshore bond offering completed by AMTD since 2016 and 23rd this year, demonstrating AMTD's influence and strong execution capability in the international debt capital markets. In addition, AMTD has served multiple Chinese and overseas financial institutions to conduct fundraising in the international capital markets in the past 12 months. AMTD has completed USD bond offerings for China Huarong Asset Management (2799.HK), China Minsheng Bank Hong Kong Branch, Pudong Development Bank Hong Kong Branch, Sirius International Insurance Group, Zhongrong International Trust, Fenghui Leasing and Sun Hung Kai & Co (86.HK) as well as the H-share IPOs of Everbright Securities (6178.HK), Guangzhou Rural Commercial Bank (1551.HK), Zhongyuan Bank (1216.HK), Bank of Tianjin (1578.HK) and Bank of Qingdao (3866.HK) etc.