AMTD jointly incubates FinTech market platform FinEX Asia with Dianrong
On 5th September, AMTD Group announces that its subsidiary AMTD Strategic Capital Group has successfully incubated FinEX Asia together with Dianrong, a well-known Chinese unicorn FinTech company. Founded by an ex-banker at Citibank, Maggie Ng, FinEX Asia is empowered by Dianrong's technology. Meanwhile, AMTD led the investments in FinEX Asia's seed funding, further consolidating AMTD's role as an institutional investor in the professional innovative technology industry.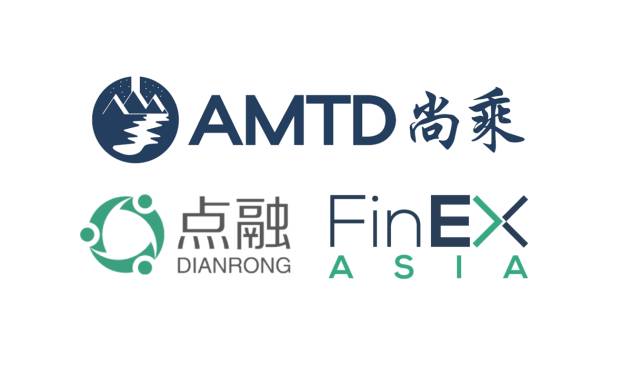 FinEX Asia is founded by Maggie Ng, former the Asia and EMEA Head of Unsecured Lending at Citibank N.A and Chief Risk Officer at Citibank Hong Kong. FinEX Asia is the first FinTech market platform to connect Asian investors with high-quality and low volatility assets including U.S. consumer credit services dominated by institutional investors. Headquartered in Hong Kong, FinEX Asia is a strategic partner with AMTD and Dianrong. Senior Consultants of FinEX Asia include Soul Htite, Founder and CEO of Dianrong and Ron Suber, former President of Prosper Marketplace, a U.S. online P2P lending platform.
FinEX Asia is not only the first Tech company successfully incubated by AMTD but also a showcase illustrating the further collaboration of AMTD and Dianrong. AMTD Strategic Capital Group is one of the strategic investors of Dianrong and Mr. Calvin Choi, Chairman and Presidentof AMTD Group was recently invited to join Dianrong's board of directors. Previously, AMTD acted as Sole Financial Advisor for C-round and D-round funding of Dianrong, successfully introducing heavyweight institutional investors to lay a solid foundation for future development of Dianrong. FinEX Asia, using Dianrong's advanced technology, enables Asian investors to access diversified and attractive investment portfolios including U.S. consumer credits.
Mr. Calvin Choi, Chairman & President of AMTD Group says, "We fully recognize Dianrong's technology capacity and regard the integration of Dianrong's technology and FinEX Asia's FinTech market platform as a best strategy. Therefore, we think FinEX Asia has a promising prospect in promoting the innovative development of FinTech in the future. We will continuously support the long-term development of FinEX Asia and enhance the synergy within AMTD's ecosystem.
Ms. Angie Lin, Co-CEO of AMTD Strategic Capital Group says, "As investors in technology and innovation, we think FinEX Asia is a strategic long-term investment that can bring brand new synergy and efficiency throughout the Group. We have full confidence in Ms. Ng and her team who have in-depth professional knowledge and extensive experience in financial services."
AMTD Group, based in Hong Kong, has continuously been devoting more resources in the field of FinTech. AMTD Strategic Capital Group, a unit of AMTD Group, has strategically invested in FinEX Asia, Appier and Dianrong. In addition, AMTD Strategic Capital Group has invested in UCAR, a leading Chinese internet transportation company, Youche.com, a leading Chinese second-hand car trading platform, Credible Labs, a U.S. based Internet financial company and Peachjar, a U.S. based global education service company. Going forward, AMTD Group will continuously expand our investments in the field of FinTech, focus on transforming business environment and landscape with the power of technology and utilize Hong Kong's position as "super-connector" to further promote innovation technology and economic reform.