AMTD completes US$500mm 359 days bond offering for Tewoo Group
On October 17, 2017, Tewoo Group Co., Ltd ("Tewoo Group" or the "Company"), a Fortune 500 company, successfully priced a Reg S US$500mm 359 days senior bond offering (the "Transaction" ), with AMTD acting as the Joint Bookrunner and Joint Lead Manager. The Transaction represents the first short term, less than 1-year bond offering by an investment grade enterprise in Asia. Following its US$500mm 3-year and 5-year dual-tranche bond offerings last March, AMTD has once again assisted the Company to tap the best window, further expanding the Company's presence in the offshore capital markets and enhancing its brand awareness globally.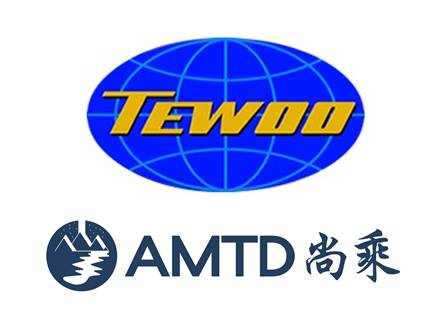 Tewoo Group is the largest state-owned material circulation enterprise in Tianjin and is the first one in Tianjin to enter the world's top 500 enterprise list. Its business scope includes commodity trade, modern logistics, real estate development and financial services. Issuer of the Transaction is Tewoo Group No. 4 Limited, a wholly owned SPV, with the Company providing guarantee. The Company is rated BBB- by Fitch and the bonds will be listed on the Singapore Stock Exchange (SGX).
Benefiting from Tewoo Group's strong financial and support from the local government, as well as its global footprint, the Transaction was well received by the international capital markets. The final orderbook amounted to over US$4.25bn or being over 8x oversubscribed as compared to its offering size. On the back of a high-quality orderbook, final pricing was tightened to 3.7%, which breaks the records of the largest orderbook size and the lowest yield in the recent issuances of less than 1-year short-term bond offerings by Chinese enterprises.
Following the issuance of Tewoo's US$500mm offshore bond offering in March 2017, AMTD has once again assisted the Company to complete another well-received US$500mm bond offerings. The successful Transaction is an excellent illustration of how AMTD connect clients to international capital markets, as well as grow together with our clients by providing total solutions to them, and establish a win-win relationship. AMTD has completed 53 and 33 offshore bond offerings since 2016 and year-to-date, demonstrating AMTD's leadership and influences in the international debt capital markets.
Prior to the aforementioned transaction, AMTD has served multiple large Chinese enterprises and investment holdings companies in USD bond issuances, including China Huarong Asset Management (2799.HK), one of China's four leading financial asset management companies, China Minsheng Investment Group, the largest privately-owned investment company in China, Fosun International (656.HK), one of the largest privately-owned enterprises in China, Yango Holdings, a leading privately-owned investment group in China and Yunnan Provincial Investment, the largest comprehensive investment holdings company in the Yunnan Province.