AMTD completes US$700mm senior bond offerings for CMBC HK Branch
On 9 November, 2017, China Minsheng Banking Corp. Ltd. (1988.HK, "China Minsheng Bank" or the "Bank") Hong Kong Branch successfully priced its Reg S bond offering of US$450mm 3-year Senior Floating Rate Notes and US$250mm 3-year Senior Fixed Rate Notes (the "Transaction") under its Hong Kong Branch's existing US$5.0bn MTN Programme, with AMTD acting as the Joint Bookrunner and Joint Lead Manager. Including this transaction, as well as the previous issuance of the US$500mm 3-year Fixed Rate Notes offering in April and US$800mm Floating Rate Notes offering in September this year, China Minsheng Bank Hong Kong Branch has completed three drawdowns under its MTN programme this year, with a total fundraising size of US$ 2bn. It is the Chinese bank which is the top in Hong Kong USD senior bond market in terms of issue size and frequency, and one of the few Chinese enterprises that completed two offshore bond offerings in three months' period. AMTD has assisted the Bank to raise capital in overseas debt capital markets in all three USD bond offerings this year. The Transaction also represents the 11th overseas bond offerings of Chinese financial institutions assisted by AMTD year-to-date, demonstrating AMTD's ability to provide services for different types of financial institutions through various overseas fundraising channels.

Benefited from China Minsheng Bank's strong financial performance and quality assets, prudent risk management systems and synergies achieved among its three major business segments, coupled with the efforts of the syndicate group including AMTD, the Transaction was successful and well received by the market. Final pricing of the 3-year Senior Floating Rate Notes and 3-year Senior Fixed Rate Notes were tightened from their initial pricing guidance of 3mL+120bps area and T+140bps area to 3mL+92bps and T+115bps respectively.
AMTD has completed 57 and 37 offshore bond offerings since 2016 and year-to-date, demonstrating AMTD's leadership and influences in the international debt capital markets. In addition, AMTD has served multiple Chinese and overseas financial institutions to conduct fundraising in the international capital markets since 2016. Apart from assisting China Minsheng Bank Hong Kong Branch to complete its overseas bond offerings, AMTD has also completed offshore preference shares offering for Bank of Jinzhou Co., Ltd. (416.HK), Bank of Zhengzhou Co., Ltd. (6196.HK), Bank of Qingdao Co., Ltd. (3866.HK), as well as USD bond offerings for Sun Hung Kai & Co. (86.HK), China Huarong Asset Management (2799.HK), Sirius International Insurance Group, Zhongrong International Trust, Shanghai Pudong Development Bank Co., Ltd., Hong Kong Branch, Zhongtai International and Fenghui Leasing; as well as the H-share IPOs of Bank of Qingdao (3866.HK), Guangzhou Rural Commercial Bank (1551.HK), Zhongyuan Bank (1216.HK), Bank of Tianjin (1578.HK) and Everbright Securities (6178.HK) etc.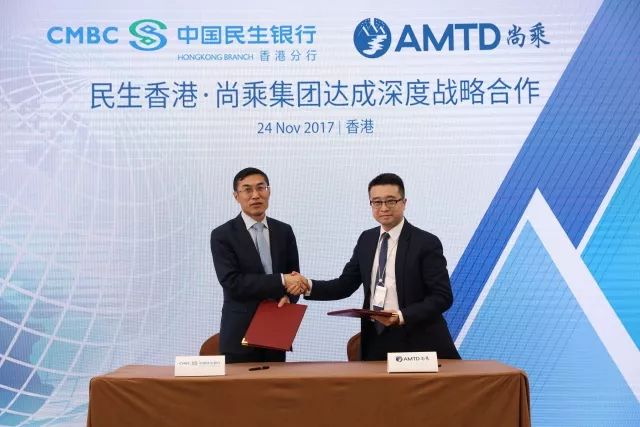 Mr. Du Yunfei, President of China Minsheng Bank Hong Kong Branch and Calvin Choi, Chairman and President of AMTD Group signed into the Strategic Cooperation Agreement
AMTD has established strategic partnership with China Minsheng Bank Hong Kong Branch. On 24th November, AMTD and China Minsheng Bank Hong Kong Branch entered into a comprehensive strategic cooperation agreement, of which both parties will leverage the advantage of its platform and resources and collaborate in various aspects that will lead to a win-win cooperation for financial institutions in China and Hong Kong. These areas include corporate accounts business, treasury and corporate finance, fundraising in international capital markets, asset management, equity transaction, structural products, leverage buyout, internet platform and in the new economy-related industries.