AMTD Group and Singapore Exchange (SGX) co-organizes the "Asian Capital Market Frontier" Seminar, Senior Vice President of SGX talks about hot topics and future prospects of the capital markets
AMTD Group, rooted in Hong Kong, has been always committed to connecting global capital markets and resources. In addition to the active business expansion in Hong Kong market, AMTD has been continuously making its efforts to internationalize, including exploring business opportunities and providing comprehensive financial solutions for Southeast Asia market under the "Belt and Road" initiative. Recently, AMTD and SGX co-organized two seminars in Hong Kong to jointly discuss the future potential cooperation in the Asian capital market and further strengthen the linkage and communication between AMTD and Singapore regulatory institutes. In the future, both parties will share resources, collaboratively promote the market activities and work together to contribute to the rapid development of the capital markets in Asia, with a focus on Southeast Asia.
On January 12th, the "Asian Capital Market Frontier" Seminar was jointly held by AMTD Group and SGX at AMTD-University of Waterloo Innovation Center at AMTD headquarter in Hong Kong. In this seminar, Simon Lim, Senior Vice President and Head of Equity Capital Markets at SGX was invited as the guest speaker to discuss the latest trends in Asian capital markets and recent development in SGX. At the seminar, Institutional investors, fund managers, research analysts and lawyers were also invited to join the discussion. The seminar went very well and received strong positive feedbacks. In the meanwhile, Simon also held an internal seminar with AMTD team and introduced the recent development as well as the future trends of SGX.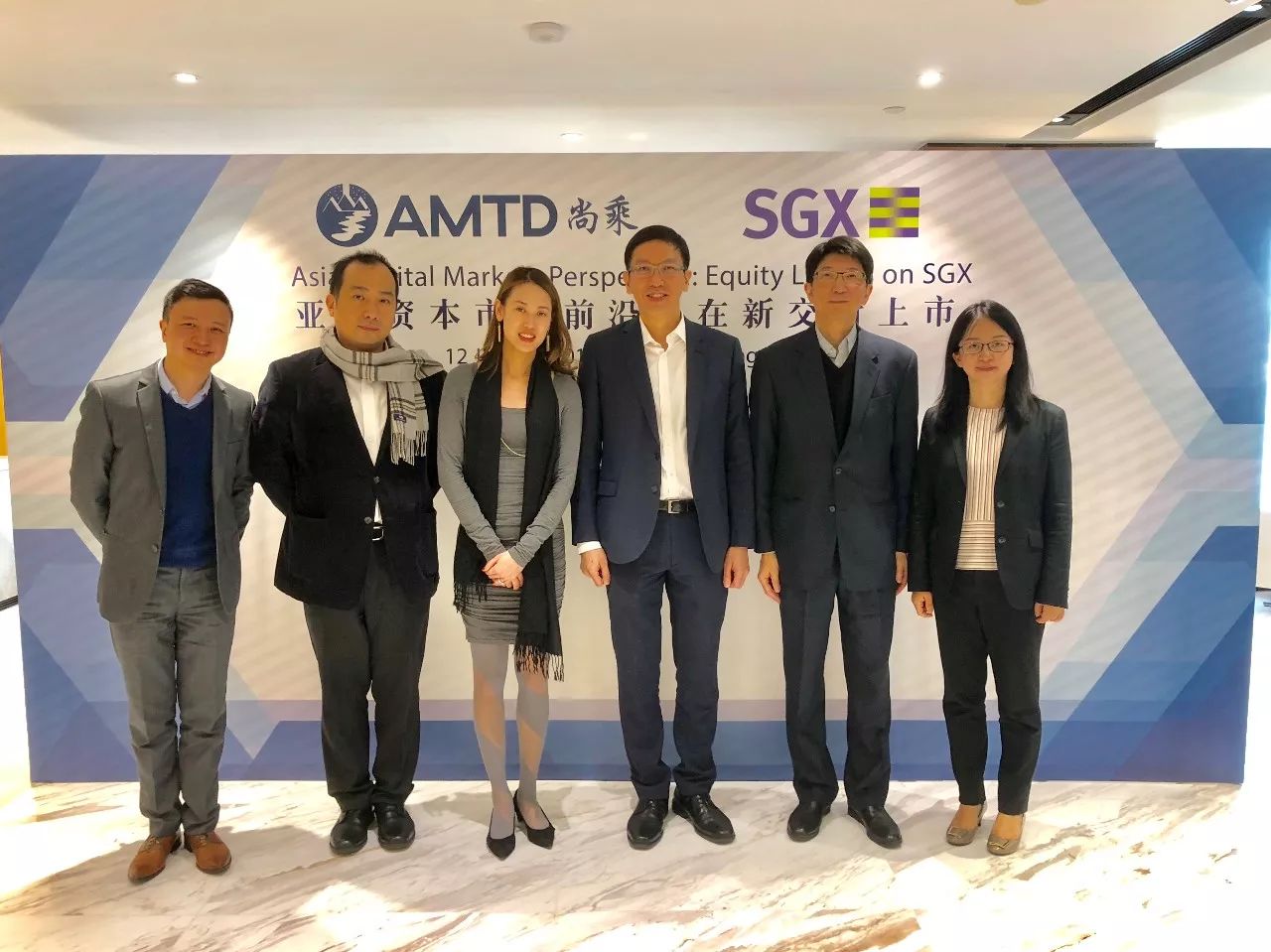 From the left to right: 李知军 – Deputy Head of Sales and Clients at SGX, 李馥涛 - Head of Membership and International Sales and Development at SGX, 陈嘉琪 - Head of Membership and International Sales and Development at SGX, Simon Lim – Senior Vice President and Head of Equity Capital Markets at SGX, Frederick Lau - President of Capital Markets and Advisory at AMTD, Emily Shi – Head of Capital Markets and Advisory at AMTD
In the seminar, Frederick Lau (President of Capital Markets and Advisory at AMTD) and Emily Shi (Head of Capital Markets and Advisory at AMTD) delivered an opening speech at the beginning to express the warm welcome to Simon Lim. Frederick expressed that AMTD is an Asian leading fully-licensed non-banking comprehensive financial services group, the largest local non-bank asset manager and insurance brokerage and risk solution provider. AMTD looks forward to cooperating with SGX to provide comprehensive financial services to corporate clients, institutional investors, insurance companies, mutual funds, private equity investors and private wealth management companies across Greater China, Asia and other overseas markets. Emily also pointed that AMTD ranks in the top tier of Hong Kong's capital market in terms of both equity financing and debt financing. In the financial services field, AMTD also took the lead in a number of banking IPO transactions in the past two years in Hong Kong, including Guarnzhou Rural Commercial Bank, Zhongyuan Bank, Qingdao Bank, and Tianjin Bank. In the meanwhile, AMTD completed the financial bond and preference shares issuance for Minsheng Bank, Shanghai Pudong Development Bank, Qingdao Bank, Zhengzhou Bank and Jinzhou Bank, further consolidated AMTD's leading position in the service of Chinese financial institutions. In debt capital market, AMTD has completed over 60 single bond issuances in the past years and became a leading investment bank in the field of Asia high-yield bond underwriting. Additionally, AMTD was even more fruitful in the fintech and innovative economic service field. AMTD takes a strategic investment in a number of unicorn enterprises in the innovative economic sector. In order to promote the development of innovative economic field such as fintech and artificial intelligence, encourage cultivation of innovative talents and incubation of innovative enterprises, and boost the future development of innovative technology in Asia, AMTD also reached a strategic cooperation with the University of Waterloo in Canada, the Hong Kong Polytechnic University and the Taiwan University of Political Science and built AMTD-University of Waterloo Innovation Center, AMTD Fintech Academy, and Global Fintech Talent Cultivation Exchange Program separately. In the future, AMTD looks forward to bringing more extraordinary innovative economic enterprises to Singapore capital market. As a global leader in exchanges, SGX's cooperation with AMTD will broaden the customer base for AMTD to provide high-quality and comprehensive financial services solutions.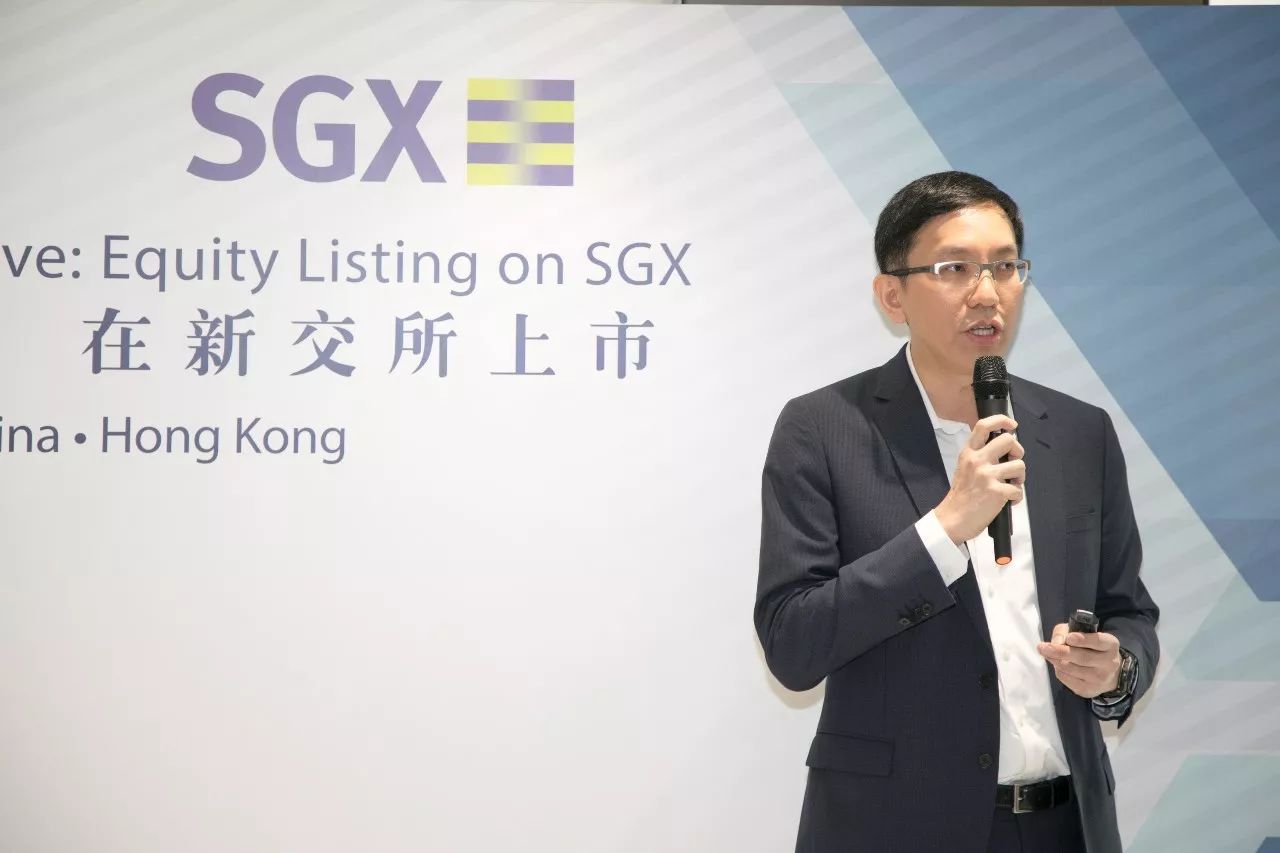 Simon Lim advised that it's widely expected that Singapore will become the 2nd largest asset management center in the world in 2018
At the seminar, Simon Lim advised that Singapore, as one of the international business and financial centers, has attracted a large number of investors and funds for capital market investment opportunities. Singapore currently has a total of SGD2.7billion AUM, 2,360 ultra-high net worth individuals, over 3,000 investment professionals, more than 4,000 registered funds and 200+ fund management companies. It is widely expected that Singapore will become the 2nd largest asset management center in the world in 2018.
Simon Lim believes that massive foreign capital will build SGX into the most internationalized and connected exchange in Asia. About 40% of the SGX-listed companies are not Singapore local ones, and the Singapore market is well established to connect throughout Europe and the USA. As Singapore has become one of the top choices for IPO for Chinese and Hong Kong enterprises, the number of the SGX-listed companies from China and Hong Kong accounted for more than 20% nowadays. SGX has also a superb performance in the debt capital market. Currently the number of bonds listed in SGX totals 2,600 and 850+ out of them were issued by the companies from 41 countries across the globe. Additionally, overseas issuers account as high as 81% of the market in Singapore. Simon Lim pointed out that Singapore capital market provides investors with a great variety of investment targets and attractive investment returns. The Straits Times Index of Singapore's listed stock flagship index balances across various industries including banking, consumer products, financial services, telecommunications, real estate, transportation and capital products. The Straits Times Index constituent stocks top the major equity indices in the world valued in enterprise value multiples (EV/EBITDA). Over the past 15 years, the annualized yield of the Straits Times Index has reached 8%, which is higher than that of Dow Jones Index (7%), and Nikkei and FTSE 100 (5% for both).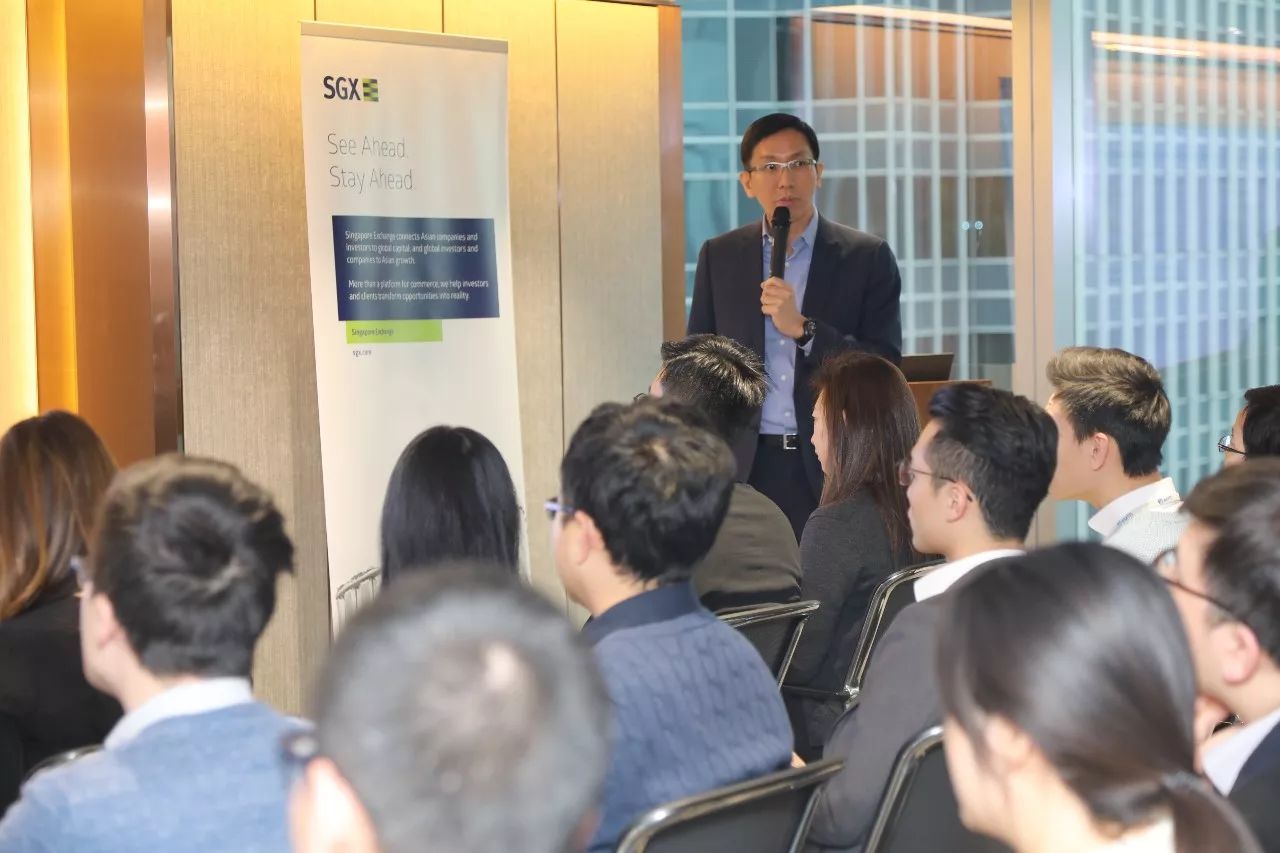 The external and internal seminars held successively by AMTD and SGX received positive feedbacks. Participating professionals and employees had an active communication with the guests from SGX
As for the industry in the capital market, Simon Lim stated that quite some sectors are SGX's traditional advantages, such as consumer products, technology, healthcare, shipping, energy and real estate. Amongst them, the most renowned sector is REIT, with a total market value of SGD89 billion and an average dividend yield of 5.6%, providing the highest liquidity for the RIET market across Asia. With a 30% CAGR in the past 8 years, SGX has established Asia's largest international REIT platform.
Simon Lim made an interpretation for the Chinese-funded companies' listing trend in SGX. Simon believes that with the implementation of China's Belt and Road initiative, an increasing number of Chinese companies will expand their business in the countries and regions along the Belt and Road roadmap, including Southeast Asia and South Asia. As a link connecting Southeast Asia, South Asia subcontinent and global capita market, SGX will become the best choice for such companies to get listed.
Southeast Asia is one of the fastest growing and largest economies in the world, with a large population and a vast market. As a financial institution rooted in Hong Kong and expanding across the world, AMTD has been continuously expanding its footprint through Southeast Asia, especially in Singapore, Vietnam and Malaysia. Previously, AMTD and Monetary Authority of Singapore jointly organized the 2017 Singapore Fintech Festival, and invited over 25,000 government officials, representatives of regulatory agencies, financial institution senior management, technology entrepreneurs, technology start-ups and institutional investors from over 100 countries to join the festival. At the Fintech Festival, AMTD set up the "AMTD Corporate Center" for the very first time to demonstrate all-around efforts and achievements in AMTD-SGX's joint promotion of Asian fintech industry and innovative economic development. In addition, AMTD has also established close working scheme with SGX regarding corporate financing, asset management, internal training, technological innovation and resources sharing. AMTD and SGX also designed an inter-communication mechanism to provide a more comprehensive and diverse financial service for the clients.