AMTD assists HK Exchange in successfully hosting the first Biotech Summit as the only Hong Kong financial institution and investment bank
The first Biotech Summit was hosted by the Hong Kong Stock Exchange in Hong Kong on March 22, 2018, with AMTD being the only Hong Kong financial institution and investment bank ssupporting the event. AMTD's representatives including Frederic Lau, CEO of Capital Markets & Advisory, Philip Yau, Chief Financial Officer, Angie Lin, Head of Asset Management and Emily Shi, Head of Capital Markets & Advisory were invited to the summit.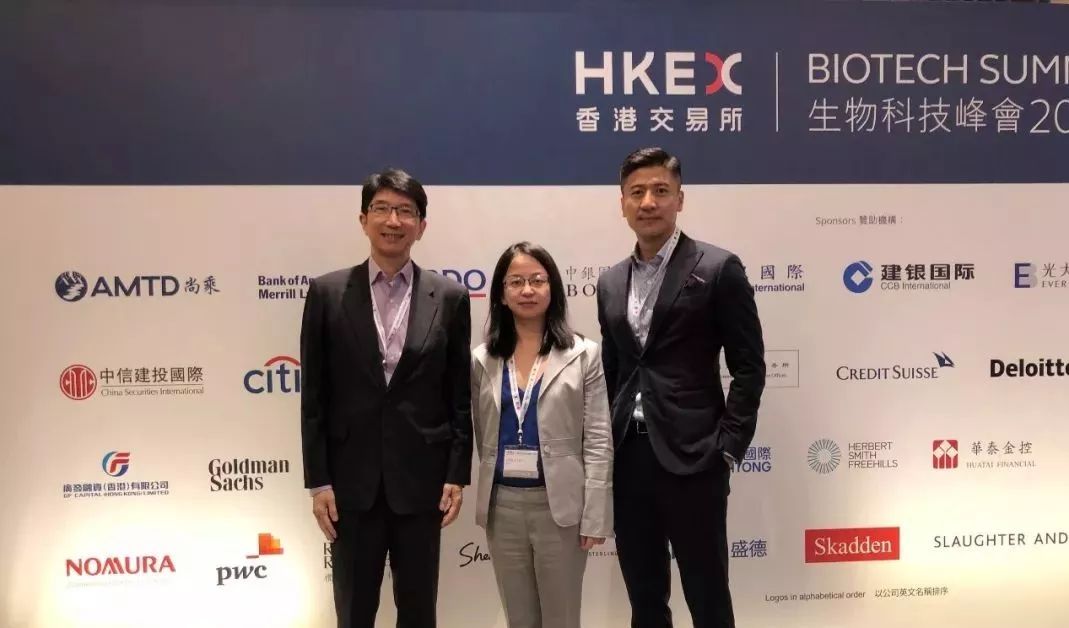 (From left to right), Frederic Lau, CEO of Capital Markets & Advisory of AMTD Group; Emily Shi, Head of Capital Markets & Advisory of AMTD Group and Philip Yau, Chief Financial Officer of AMTD Group
Frederic Lau, CEO of Capital Markets & Advisory of AMTD Group, said AMTD was honored to be the only Hong Kong investment bank to support HKEX's first Biotech Summit. "China's economy is entering a 'Golden Era' and the wealth class is growing rapidly, contributing to a surging demand for healthcare services and a huge market for biotech. HKEX's reform in capital markets is just in time and AMTD is dedicated to promote and help more biotech companies and other new economy companies to list in Hong Kong", said by Frederic Lau.
The HKSAR government and HKEX have been introducing a series of listing reform regulations and policies to strengthen Hong Kong's position as international financial center. The summit was held as a showcase of such recent reform developments. The inaugural Biotech Summit attracted more than 600 delegates and evoked strong repercussions.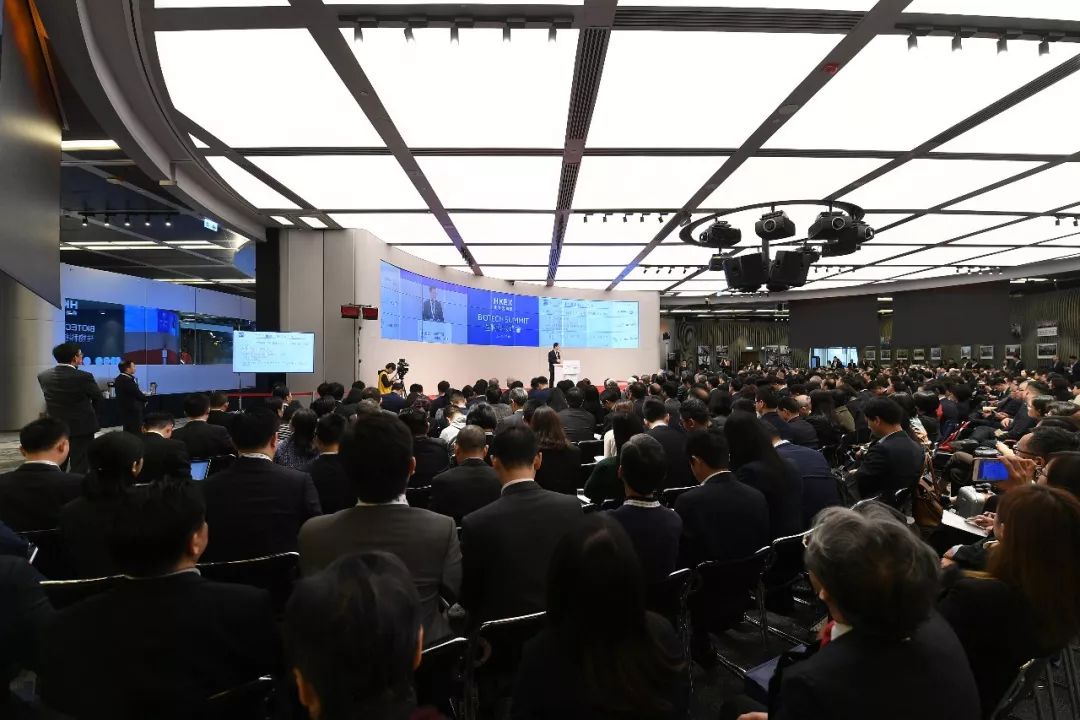 AMTD rendered full support for the first-ever Hong Kong Biotech Summit. The Summit attracted more than 600 delegates and evoked strong repercussions
Speakers of the summit included Paul Chan, Financial Secretary of Government of HKSAR; Carlson Tong, Chairman of Securities and Futures Commission; Ashley Alder, Chief Executive Officer of Securities and Futures Commission; Chung Kong Chow, Chairman of HKEX Group; and Charles Li, Chief Executive of HKEX Group. Attending institutions included industry associations like China Pharmaceutical Innovation and Research Development Association (PhIRDA), Biotechnology Innovation Organization (World's most sizeable biotech organization), BayHelix Group (a global association of Chinese elites with a focus on biotech and health care industries), Biomedical Technology Cluster of Hong Kong Science and Technology Parks; biotech companies like Shenogen Pharma Group (a biotech company funded by IDG Capital); Alphamab; Ascentage Pharma; Fountain Medical Group; Burning Rock Ex; CStone Pharmaceuticals; WuXi Biologics; iCarbonX; BeiGene; institutional investors focusing on biotech investment like Ally Bridge Group, Yuan Ming Capital, Northern Light Venture Capital, Legend Capital, Biotrack Capital, 6 Dimensions Capital.
AMTD always believes in the magic of technological innovation and is determined to become a "super-connector" to bridge the world's leading technology innovation companies and Asian capital market. By investing more resources to innovation and supporting the tech-innovators, AMTD expects to leverage off the power of technological innvoation and capital markets, integrate traditional industries with the new economy and create a new productivity growth model. On March 13, AMTD announced strategic investment in Royole Corporation and both sides established a comprehensive strategic partnership on financial services, technological innovation, capital markets and internationalization strategies. AMTD has strategically invested in a number of innovative technology enterprises such as Dianrong, China's fintech company founded by Soul Htite (Co-founder of Lending Club); FinEX Asia, a fintech market platform incubated in Hong Kong together with Dianrong; Appier, World's leading artificial intelligence company; UCAR, China's top online car rental service brand; Credible.labs, the U.S. internet finance company and distinctive student loan refinancing platform; and Peachjar, the U.S. online teaching service provider. In addition, AMTD supported the successful completion of China's leading internet company, Meitu's IPO, making it one of the largest listed technology companies in Hong Kong and widely considered as "a landmark IPO transaction that may impact the Hong Kong capital market".
In addition to a series of strategic investments in capital markets, AMTD has always been committed to promoting technological innovation and encouraging talent incubation. In education sector, AMTD entered into strategic partnerships with The Hong Kong Polytechnic University and the University of Waterloo in Canada respectively, for the establishment of "AMTD FinTech Centre of PolyU Faculty of Business" and "University of Waterloo – AMTD Innovation Hub". AMTD also launched a global talent incubation program in collaboration with National Chengchi University in Taiwan, to develop the enthusiastic youths with a sense of responsibility and to promote the innovative development of Asian fintech industry. In November 2017, AMTD hosted the world's most influential fintech event, Singapore Fintech Festival, with Monetary Authority of Singapore, Deloitte, Prudential and other world-famous financial institutions; and hosted Hong Kong's most influential fintech summit, "AMTD – Lendit Global Fintech Investment Summit" for two consecutive years. Furthermore, AMTD has sponsored the FINTalks forum in Hong Kong, Taipai and Singapore to jointly promote the future development and popularization of fintech in Asia.