China News Service interviews Mr. Calvin Choi, Chairman of AMTD Group, on the future development of Greater Bay Area
From April 8 to 11, Boao Forum for Asia Annual Conference 2018 was held in Boao, Hainan. As the only strategic partner of Hong Kong financial institutions selected by the Boao Forum for Asia, Calvin Choi, Chairman and President of AMTD Group, led the senior management team to attend the forum and accepted the interview of Xin Jingwei from China News Service, where he analyzed the future development trend of the Greater Bay Area, and the opportunities for Hong Kong and AMTD Group.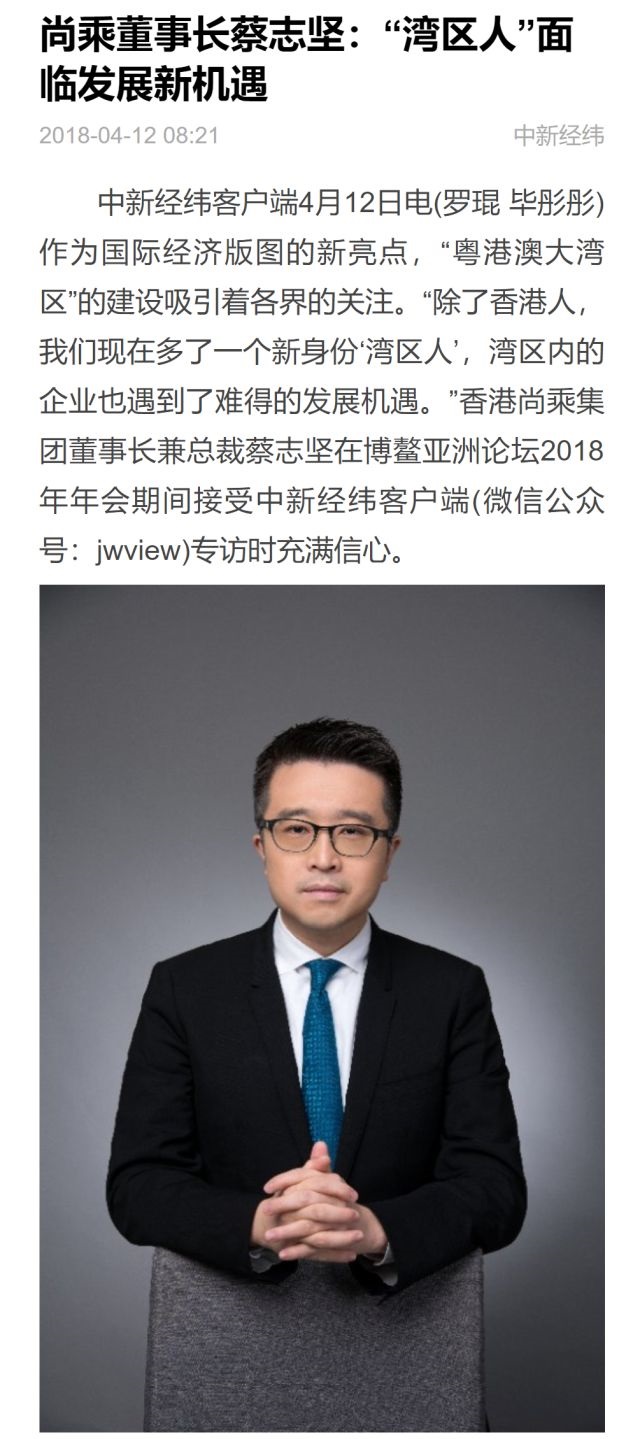 As a new focus in the international economic map, the construction of the "Guangdong-Hong Kong-Macao Bay Area" has attracted attention from all walks of life. "In addition to Hong Kong citizen, we now have a new identity, 'Bay Area People'. Enterprises in the Bay Area have also encountered precious opportunities for development." Calvin Choi, Chairman and President of AMTD Group, was full of confidence for the future of Bay Area during the interview in Boao Forum for Asia Annual Conference 2018.
"Great Bay Area" releases new vitality
AMTD Group is a leading comprehensive financial institution, investment bank and asset management company in Hong Kong and a participant and beneficiary of the Bay Area. Calvin Choi said that, recently, AMTD Group has reached an agreement with Shenzhen Royole Technology to conduct comprehensive strategic cooperation in areas such as financial cooperation, technological innovation, capital markets, and international development. "This is also a great example of linkage between technology and capital, and innovation as a development driver during the construction of Guangdong-Hong Kong-Macao Bay Area."
As for the development of enterprises in the Greater Bay Area, Calvin Choi suggested that we should first attach importance to the talent development scheme. Secondly, we must have a vision of globalization and Big-Picture mindset. For entrepreneurs, whether they are Hong Kong citizens or "Bay Area people", more potentials are available for development under such multiple identities. "Encouraging more enterprises to the Greater Bay Area will facilitate linking domestic and foreign resources," he said. A few days ago, AMTD also announced a comprehensive strategic cooperation with the Hong Kong Polytechnic University to jointly cultivate innovative technology talents for development in the Greater Bay Area.
In addition, referring to the policy of expanding the country's openness, Calvin Choi also believed that expanding opening-up can not only bring about the revitalization of resources, but also can further introduce international advanced technology and management experience.
Open capital market brings more choices
Calvin Choi, who has worked in the investment banking industry for more than 20 years, is familiar with and experienced in the domestic and foreign capital markets. He is the only financial institution representative in Hong Kong who has won "Young Global Leader" of the World Economic Forum. He also noted that in order to attract high-quality companies, the China Securities Regulatory Commission and the Hong Kong Stock Exchange have introduced innovative policies. On March 30, the Securities Regulatory Commission issued the "Several Opinions on Launching Pilot Projects for Issuing Domestic Shares or Depositary Receipts within China's Innovative Enterprises" to open the way for innovative enterprises' IPOs. The Hong Kong Stock Exchange also announced at the end of 2017 that it would formally broaden the current listing system, and from the second half of 2018, it would permit companies with weighted voting rights to list in Hong Kong.
"This direction is very good and conducive to economic and innovative development." Calvin Choi believed that "technology is the core of future economic development. If technology and innovation enterprises can be listed in the Mainland, both retail investors and institutional investors can benefit from technological innovation and development. At the same time, the Mainland's scientific and technological innovation companies also have more opportunities to go public in Hong Kong, land on the international capital market, realize globalization, and bring new motivation to the development of enterprises and a broader international arena. The economic linkage and interconnection between the Mainland and Hong Kong will incubate more innovative technology companies and promote their developments."
As for the differences between companies listed on A-shares and Hong Kong, Calvin Choi said that "Hong Kong's capital markets target at global institutional investors, including Chinese-funded institutions as well as global asset managers, sovereign funds, private banks and other international investors. The scope is more comprehensive and the investor groups are relatively stable. The A-share market is dominated by domestic investors and the mainland-listed companies are more familiar with it. They're well recognized and more easily helps strengthen the company's competitiveness in the market."
For companies listed in Hong Kong, Calvin Choi believed that there was another advantage. "As China's international competitiveness and influence continue to increase, the application scene of Chinese companies are not limited at home, but also in the international markets, such as emerging markets in Southeast Asia and even the markets outside Asia. For such companies, listing in Hong Kong will be more helpful for overseas fundraising, international investment and mergers & acquisitions. In fact, for companies, going global is not only about going public in Hong Kong but also includes issuance of US dollar Bonds and other capital instruments."
"There are certainly competitions between different capital markets, but this is good for the capital markets as there will be more opportunities for participants. At the same time, China is constantly expanding its openness and encouraging innovation. The interconnection between Hong Kong and the Mainland capital market has also become more extensive, and the listing of the two places has become possible. It has also provided diversified development space and a stage for more high-quality enterprises," added Calvin Choi.