Congratulations! After Moody's, Guangzhou Rural Commercial Bank ("GRCB") receives credit ratings from S&P Global Ratings with AMTD as Sole Rating Advisor, which is the only regional bank with two international investment grade credit rating
On May 3rd, 2018, AMTD, serving as the Sole Rating Advisor, assisted Guangzhou Rural Commercial Bank (GRCB) in receiving its second credit rating. After obtaining BAA2 rating from Moody's, the highest rating achieved among Chinese regional banks, GRCB continued to secure the long-term / short-term deposit ratings of BBB- / A-3 assigned by S&P Global Ratings (S&P). So far, GRCB has become the only Chinese bank that receives investment grade credit ratings from two international rating agencies.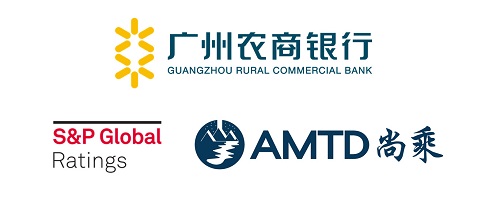 Guangzhou Rural Commercial Bank is China's fourth-largest rural commercial bank (in terms of Tier 1 capital) and the largest rural commercial bank in Guangdong Province. Rooted in Guangzhou, it radiates across the country, with significant geographical advantages and strong development strength. The history of Guangzhou Rural Commercial Bank can be traced back to the first rural credit cooperative in Guangzhou established in 1952. It was restructured and initiated in 2009 and has a history of over 66 years. According to the 2016 "Global Bank Top 1000" ranking published by "The Banker" of the UK, in terms of Tier 1 capital, Guangzhou Rural Commercial Bank ranked 203th among global commercial banks and 30th among Chinese commercial banks. At the same time, Guangzhou Rural Commercial Bank is also ranked 89th in the list of Asian Banker magazine's "2016 Top 500 Asian Banks", ranking No. 2 among the selected banking institutions in Guangdong.
S&P pointed out in its press release that GRCB, based in the wealthy first-tier city Guangzhou, has strong and stable standing in retail banking, enjoys long term support from the government and is expected to develop stably and healthily. Assigning a stable outlook to GRCB indicates that it can carry on its current business development strategy in the next 12-24 months while having enough capital reserves to cushion the potential economic risks on the macro-level and industry-level.
AMTD has established a close and long-term cooperative relationship with Guangzhou Rural Commercial Bank. In June 2017, AMTD was appointed as the Sole Financial Advisor, Joint Global Coordinator, Joint Bookrunner and Joint Lead Manager of Guangzhou Rural Commercial Bank's H-share IPO, assisting the bank to debut successfully in the international capital market. The bank raised more than RMB 1 billion from its IPO, which became one of the largest bank IPO in Hong Kong market in 2017. In this transaction, AMTD served as the Sole Rating Advisor, prepared for rating work, coordinated the requests of rating agencies, helped the bank successfully obtaining the ratings, and achieved great success.
As an Sole Rating Advisor of Guangzhou Rural Commercial Bank, AMTD prepared targeted rating strategy, detailed implementation schedule, and a list of information requirements for rating agencies. AMTD also provided professional advice on the overall planning of the project and simultaneously assisted the bank to prepare detailed presentation materials and financial models, coordinated the overall rating presentations, actively encouraged the communication among parties and helped the rating agencies to achieve comprehensive understanding of the banks. In addition, AMTD team also actively coordinated interview meetings with relevant government departments to assist the rating agencies in conducting full due diligence on the banks and their related parties.
AMTD has achieved remarkable services to Chinese banks. Prior to this, AMTD assisted local banks including Bank of Qingdao, Bank of Tianjin, Guangzhou Rural Commercial Bank, Zhongyuan Bank, Bank of Zhengzhou, Bank of Jinzhou and other regional banks to successfully complete Hong Kong IPO and preference shares issuance, and assisted China Minsheng Bank Corp., Ltd., Hong Kong Branch, Shanghai Pudong Development Bank Hong Kong Branch and other national joint-equity banks in completing the issuance of U.S. dollar bonds. AMTD has rich experience in project implementation and professional service capabilities, forming a unique "regional bank +" ecosystem.