AMTD completed HK IPO for China Chunlai acting as Joint Global Coordinator
On 13th September 2018, China Chunlai Education Group Limited (China Chunlai, 1969.HK), a leading provider of private high-end education in China, which ranks the 1st in Central China and the 4th nationwide, was successfully listed on the main board of Hong Kong Stock Exchange. AMTD acted as Joint Global Coordinator, Joint Bookrunner and Joint Lead manager in the IPO.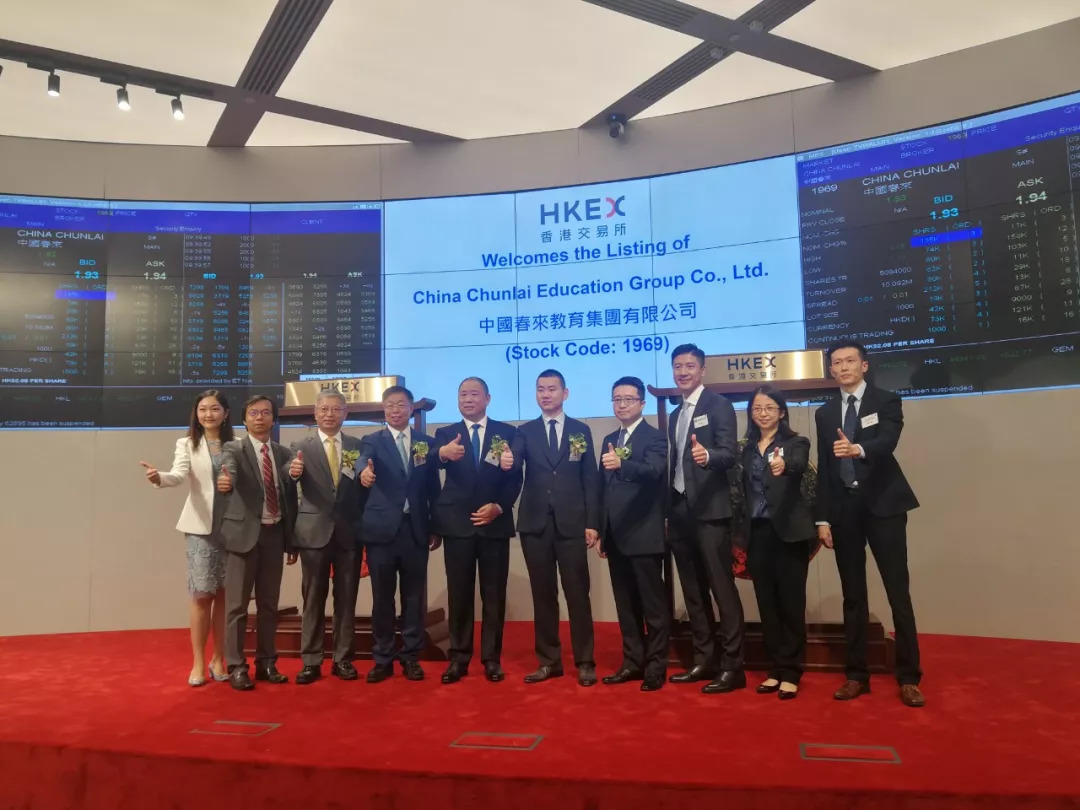 Calvin Choi, Chairman & President of AMTD Group (4th right), Philip Yau, Chief Financial Officer of AMTD Group (3rd right), Emily Shi, Head of Capital Markets & Advisory of AMTD Group (2nd right), Hou Chunlai, Founder and Chairman of the Board of China Chunlai (5th left), Hou Junyu, Executive Director and Chief Executive Officer of China Chunlai (5th right), Dou Rongxing, Chairperson of the Board of Zhongyuan Bank (4th left), and Hao Xiaohui, Chairperson of the Board of Yuanyin International (3rd left) on China Chunlai's listing ceremony
China Chunlai was established in 2004 and is now the largest provider of private high-end education in Central China and the 4th largest nationwide. China Chunlai operates three universities in Henan Province, namely Shangqiu University, Anyang University and Shangqiu University Applied Science and Technology College, and participates in the operation of Yangtze University College of Technology and Engineering in Hubei Province, offering programs for bachelor's degree, junior college to bachelor's degree transfer, junior college diploma and vocational education.
China Chunlai's global offering included 300 million shares with issue price at HK$2.08 and gross proceeds of over HK$600 million. China Chunlai is not only the 6th private education company from mainland China listed in Hong Kong but also the first to be listed after the release of the Regulations on the Implementation of the Non-state Education Promotion Law (民促法), gaining widespread attention in capital markets. As the Joint Global Coordinator, Joint Bookrunner and Joint Lead Manager of the IPO, AMTD worked together with other intermediaries and assisted China Education in successful listing by integrating resources and introducing premium domestic and overseas institutional investors with global influence and strategical fitness which lay a strong foundation for the listing.
AMTD is committed to long-term investment and layout in the filed of education. AMTD actively promotes the development of scientific research and supports the education and training for innovative talents. AMTD has launched Hong Kong's first university-industry collaborated Financial Technology (FinTech) center together with Hong Kong Polytechnic University and established University of Waterloo-AMTD Innovation Hub jointly with University of Waterloo in Hong Kong. Before China Chunlai's IPO, AMTD has also successfully assisted Australian Top Education Group in landing on international capital markets in May. China Chunlai's listing is the second education IPO project and the 6th issuance completed by AMTD in 2018.