AMTD completes the US IPO of Aptorum Group
On 18th December 2018 EST, Aptorum Group Limited(NASDAQ:APM), a leading Hong Kong based medical innovation and biopharmaceutical company, was successfully listed on the NASDAQ Stock Exchange. AMTD Group successfully completed IPO for Aptorum serving as the Joint Bookrunner. This IPO is the 5th US IPO deal completed by AMTD this year following China's leading FinTech company X Financial (NYSE: XYF), China's largest auto-backed FinTech platform Weidai (NYSE: WEI), China's leading omni-channel automotive marketplace Tuanche (Nasdaq: TC) and the first listed FinTech company backed by Chinese Internet Giants 360 Finance (Nasdaq: QFIN), the 16th IPO deal completed by AMTD in 2018, and a landmark transaction of AMTD in assisting leading biotech company to list on the international capital markets.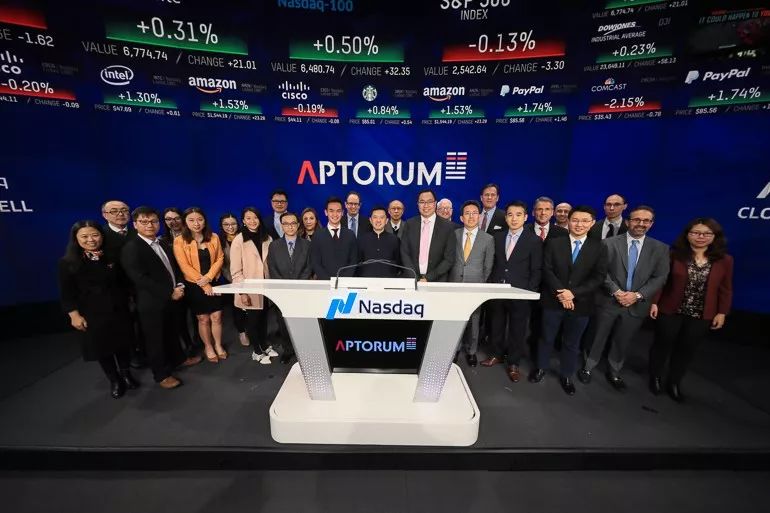 Aptorum Group is a Hong Kong based pharmaceutical company currently in the preclinical stage, dedicated to developing and commercializing a broad portfolio of projects under development of therapeutic and diagnostic technologies to tackle unmet medical needs. The Companuy has obtained exclusive licenses for its technologies. In addition, the Company is also developing certain proprietary technologies as product candidates. It is pursuing therapeutic and diagnostic projects (including projects seeking to use extracts or derivatives from natural substances to treat diseases) in neurology, infectious diseases, gastroenterology, oncology and other disease areas. The Company also has projects focused on surgical robotics. In addition, it opened a medical clinic, AML Clinic, in June 2018. Its initial focus is on treatment of chronic diseases resulting from modern sedentary lifestyles and aging population.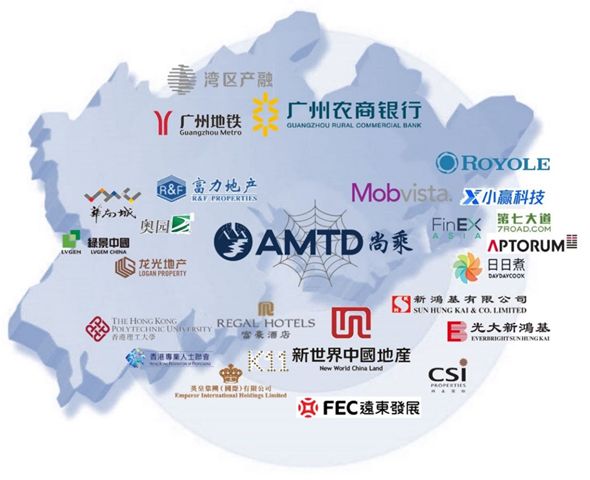 AMTD SpiderNet in the Greater Bay Area(尚乘生態系統大灣區圖譜)
As a comprehensive non-bank financial institution rooted in Hong Kong, based in the Greater Bay Area, backed by China and covering the globe, AMTD has always been committed to providing clients with open-end, innovative, diversified and professional financial services and helping more and more Chinese companies and Asian companies to take the advantage of Hong Kong capital markets to innovate and develop globally. In addition to the Aptorum Group, AMTD also assisted the IPO of Guangzhou Rural Commercial Bank, the first Guangdong-based bank listed in Hong Kong; the Hong Kong IPO of Mobvista, a leading technology services platform for global app developers; the US IPO of X Financial, the leading Fintech company in China and the Hong kong IPO of 7Road, the leading web game developer and operator in China. In addition to Hong Kong and US IPO of lots of leading new economy companies in the Greater Bay Area, AMTD also assisted a few Hong Kong-based conglomerates, including New World Development, Sun Hung kai, Emperor International Holdings, Regal Hotels, Far East Consortium, CSI Propertis, and a few Greater Bay-based companies including Guangzhou Metro, Auyuan Group, Logan Property, LVGEM, R&F properties, etc, to successfully issue bonds on the international bond capital market. Moreover, AMTD Group also made strategic investments into the global leader in innovative flexible display technologies Royole, partnered with New World Development's K11 to co-invest into China's largest cooking and lifestyle media brand DayDayCook, partnered with Dianrong to incubate the FinTech market platform FinEX Asia and other various innovative companies. AMTD will fully support the innovative development of young entrepreneurs in Hong Kong and the Greater Bay Area and inherit the Lion Rock Spirits of self-improvement and professional dedication. The best of Hong Kong is yet to come!