AMTD acted as Joint Bookrunner and Joint Lead Manager for Meituan Dianping Hong Kong IPO, participating in all the two IPO under "Weighted Voting Rights" structure in Hong Kong
On 20th September 2018, Meituan Dianping (Meituan Dianping, 3690.HK), China's largest life service e-commerce platform, was successfully listed on the main board of Hong Kong Stock Exchange. This issuance is the world's 4thlargest internet tech IPO after Alibaba, Facebook and Xiaomi, and the world's second-largest internet tech IPO since 2014. It is also the second IPO under "Weighed Voting Rights" (WVR) structure in Hong Kong capital market after Xiaomi. The company has opened a new era for the successful landing of Chinese internet unicorns in the international capital markets, a milestone for Hong Kong's capital markets.
AMTD acted as a Joint Bookrunner and Joint Lead Manager in Meituan Dianping IPO. As the only Hong Kong-based private financial institution among all the underwriters, AMTD completed this significant milestone transaction together with other bulge bracket investment banks and state-owned securities companies of China. Up to now, AMTD has participated in all the landmark WVR IPO in Hong Kong, including Xiaomi and Meituan Dianping, demonstrating outstanding abilities to provide professional capital markets services to new economy companies. This is also the 7th Hong Kong IPO that AMTD has completed so far this year.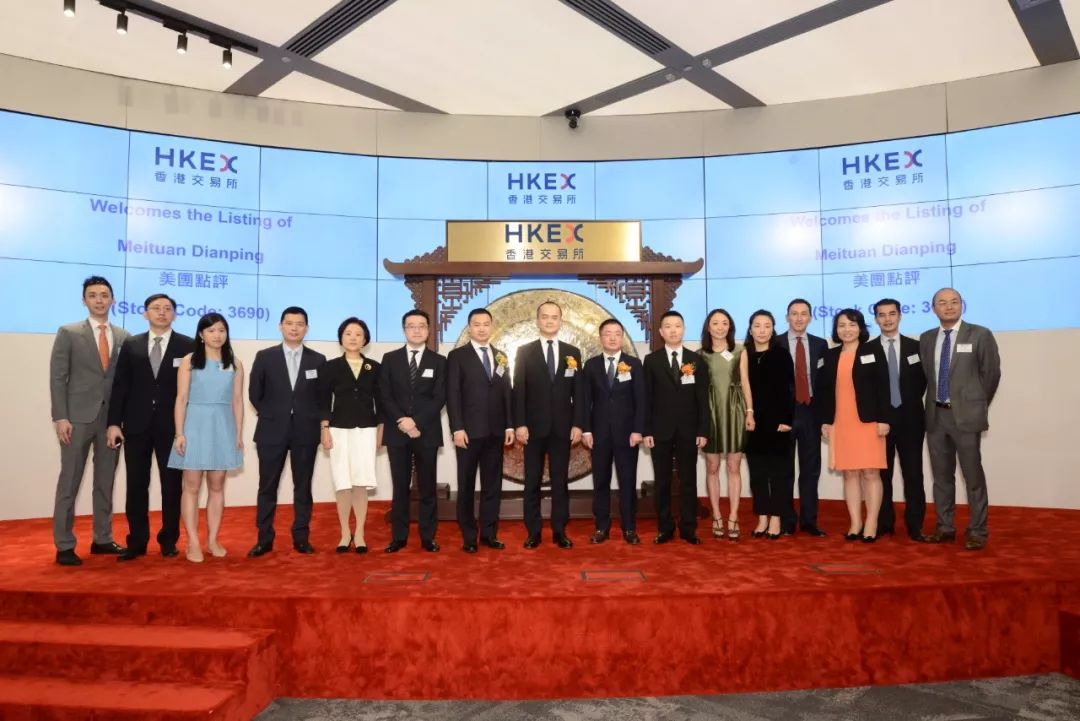 Calvin Choi, Chairman and President of AMTD Group (6th left), and Wang Xing, Chairman of the Board and Chief Executive Officer of Meituan Dianping (8th left), at Meituan Dianping's listing ceremony
With the mission of helping people eat better and live better, Meituan Dianping is an e-commerce platform for life services, connecting 340 million consumers and 4.7 million merchants in more than 2,800 cities and counties around China. Meituan Dianping provides various lifestyle and travel services via both online and offline channels, and their services range from food delivery and group purchase to hotel booking and car hailing. Meituan Dianping focuses on mass-market, essential and high-frequency services categories. Meituan Dianping operates the mobile apps Meituan, China's leading online marketplace for services, and Dianping, China's leading online destination for discovering lifestyle services. In addition, Meituan Dianping owns the Meituan Waimai brand for on-demand delivery services and the Mobike brand for bike-sharing services. All of the above are household brands in China and among the most popular mobile apps of e-commerce services.
Meituan Dianping IPO is the second largest technology IPO since 2014. The offer price was determined at HK$69.00 per share, which was near the high end of price range. Though the international financial markets were quite volatile and challenging during the book running process, with the best efforts of the company's management teams and underwriters, a lot of investors from different countries and regions actively placed subscriptions including Cheng Chi Kong, the Executive Vice-chairman and General Manager of New World Development Company, and many first-class institutional investors and long-term funds, like Oppenheimer Funds, Lansdowne and Darsana, fully demonstrating the recognition of Meituan Dianping from international capital markets. On the first listing day, the market capitalization of Meituan Dianping achieved HK$400 billion, enabling Meituan Dianping to become the 4th largest internet tech company in the world.
AMTD has always attached great importance to technological innovation and its transformative power. The Group is committed to undertaking the "super-connector" role between the fields of technology and capital and between the leading FinTech companies, internet tech companies and Asian capital Since 2016, AMTD has acted as joint underwriter to help various new economy companies successfully complete their IPO in Hong Kong and the US, including Xiaomi, the unique and comprehensive company that covers e-commerce, hardware and internet and the first WVR stock in Hong Kong capital markets; Meitu, the pioneer of tech IPO in Hong Kong's capital market in a decade; 7Road, China's leading web game developer and X Financial, China's leading FinTech company.